Dunhill Links Championship
It's time to come down from the high of winning the Ryder Cup. But this trio is going to take it slowly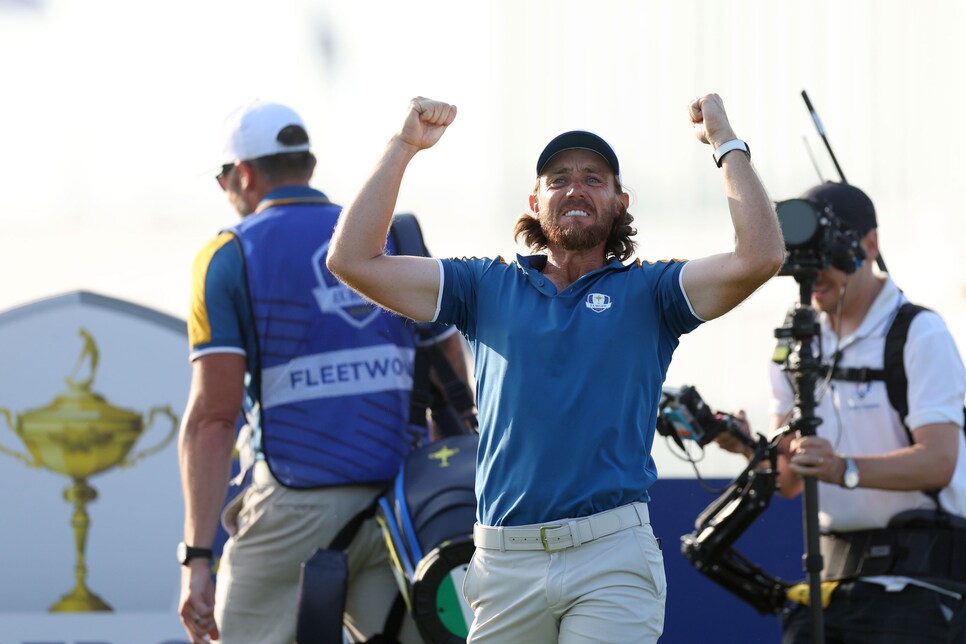 ST. ANDREWS, Scotland — It was the day after the day after tomorrow for those European Ryder Cup players who had somehow stirred themselves enough to make it to St. Andrews in the hungover aftermath of the Old World's comfortable victory over the Americans in Italy. All still looking and feeling a little delicate in the wake of raucous celebrations that transported them painlessly from Sunday night into Monday morning, Tommy Fleetwood, Matt Fitzpatrick and Robert MacIntyre were in the Auld Grey Toon looking back at Marco Simone more than forward to the DP World Tour's Dunhill Links Championship over the Old Course, Carnoustie and Kingsbarns.
As you might expect, all three had nothing but good things to say about the Italian Job the European team pulled off last week. By way of example, Fitzpatrick was especially enthusiastic. During his press conference, the former U.S. Open winner used the word "special" five times. "Amazing" came up twice. There were four "greats." But, disappointingly perhaps, only one "fantastic" and a lone "surreal."
Fleetwood kept that level of euphoria going, maybe even more so. The man who scored the clinching point on Sunday afternoon was his usual eloquent self during his presser, but the temptation to enthuse was never far away. The score for the 30-year-old Englishman came out at five "specials," an amazing 11 "amazings," four "greats" and, like Fitzpatrick, one "surreal."
As for MacIntyre, the young Scot can perhaps be forgiven the endearing level of giddiness he brought to the proceedings. Unbeaten in his three matches in Italy, the Ryder Cup rookie has every right to look back on his debut with nothing but unadulterated pleasure. His vocabulary varied a little from his older teammates, but the message was the same. For the record, there were two "greats," three "brilliants," one "incredible" and seven "dreams."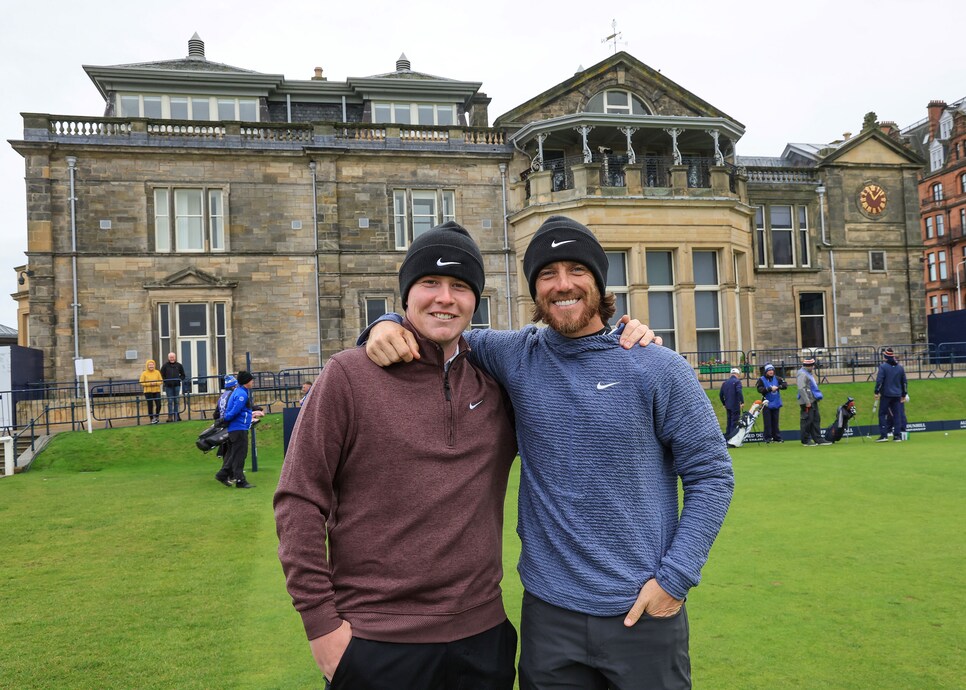 Robert MacIntyre and Tommy Fleetwood pose for a photograph on the first tee in front of the Royal and Ancient Golf Club of St Andrews clubhouse prior to the Alfred Dunhill Links Championship.
David Cannon
Still, beyond the inevitable hyperbole, each player was instantly able to identify particular moments of individual pleasure amidst the emphasis on team play that is the essence of the Ryder Cup. Fitzpatrick was especially touched by something his fourball partner, Rory McIlroy, said to him in the immediate aftermath of the pair's first day 5-and-3 fourball victory over Collin Morikawa and Xander Schauffele. In his third Ryder Cup, this was Fitzpatrick's first point.
"The best moment of the week for me was winning my first point with Rory," he said. "We hugged at the end and said, 'well done.' Then he told me that he was glad that it was with him that I got that first point. For me, that was so special. Especially as I had played so well. For the first seven holes I didn't miss a shot."
That is not to say Fitzpatrick was 100 percent satisfied with his own performance. Although at pains to emphasize that winning as a team trumps all, the 29-year-old Englishman admitted to mixed feelings when it came to his overall input to the common cause. Advice from a fellow Yorkshireman, England Test cricketer, Joe Root, helped.
"It's a weird feeling, being part of a team and not necessarily feeling like you contribute," Fitzpatrick said. "I look back at my last two Ryder Cups. I didn't contribute, but we lost. I can accept that more than last week when it was almost like you can't celebrate as much because you've not done as much. But Joe gave me some great advice. You have to understand it's about the team. I know it's definitely not about myself, it's about us as a team and that's why we do so well. But it was interesting emotionally for me. It was obviously disappointing to not do better for myself, but obviously absolutely delighted to win."
Unsurprisingly, Fleetwood had no hesitation in identifying the highlight of his week. When you are fortunate enough to be in the right place at the right time to score the match-clinching point, anything has to be almost irrelevant.
"All that I was thinking at the time was just what an amazing opportunity it was," he said. "You practice your whole life and all of a sudden, me, Tommy Fleetwood from Southport is there with one good shot [from the 16th tee] to win the Ryder Cup. I still can't believe it went straight to be honest. But I was very happy when I looked up and saw where the ball was heading. I couldn't really see where the ball landed. The sun shines at you, so all you have to do is wait for what the noise is going to be in the crowd. It was on the green and I was like, yeah, that will do."
As for MacIntyre, the Scot gave much credit to the steady improvement he saw in his own performance to his fourball partner, Justin Rose. Over the three games from which he emerged unbeaten, MacIntyre went from pretty awful to acceptable to eventually playing with some aplomb.
"Right from the first tee shot on the Friday, Justin saw I was nervous," MacIntyre said. "I was almost crying walking off the range. But when we had done all the [pre-match] pictures and all that, he put his arm around me. 'Everything is going to be all right. This will be over in 2½ minutes,' he said. He was brilliant. He's so experienced. He kept me calm. He trusted me. He believed in me. Even though I was terrible that day.
"Then Saturday, I was more solid. I was never out of a hole. I was never making a disaster. I was almost allowing him to be more aggressive because he was playing so good. I stood on 13 green and he was trying to help me read the putt. I was like, 'Justin, it's all right. I got this one.' And once I holed that, he put his arm around me and was like, that's what it's all about. He was incredible the whole week."
Indeed. But every member of the European team was other things, too. Special, amazing, great, fantastic, surreal, brilliant and incredible all come immediately to minds.