The Loop
Dufner wins and spikes the ball (or not)
Jason Dufner is not sleepwalking to stardom, though his demeanor might suggest otherwise. If he weren't an Auburn man, one might conclude that he is an adherent of the old Bear Bryant line, that when you get to the end zone, act like you've been there before.
He's now gotten to the end zone twice in three starts, the second coming when he holed a 25-foot birdie putt on the 72nd hole of the HP Byron Nelson Championship on Sunday to beat a 'Bama man, Dicky Pride, by a shot.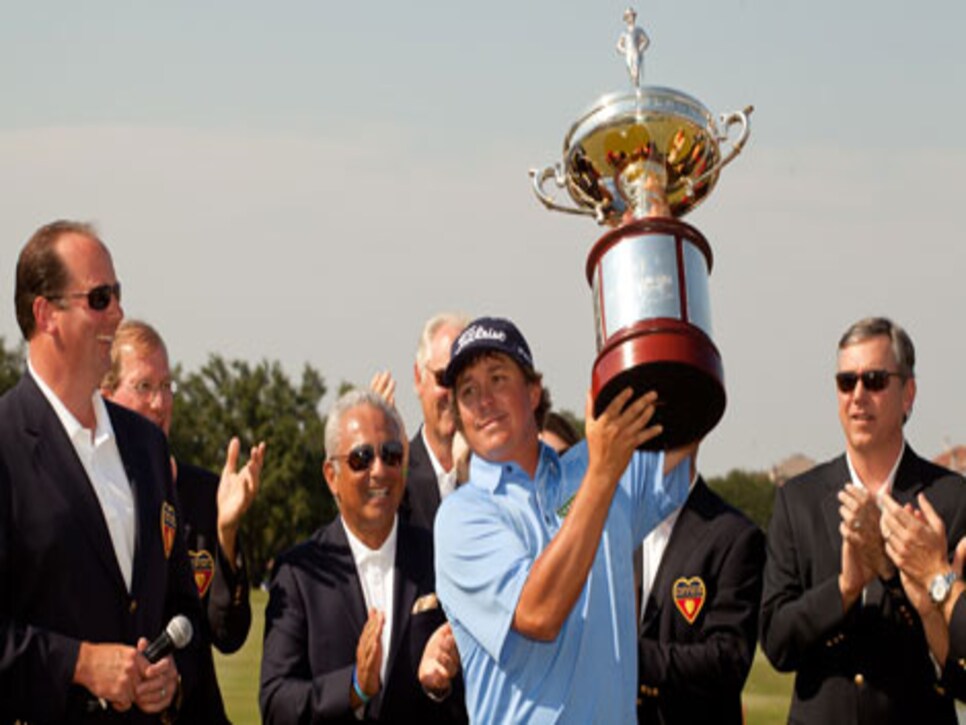 "Jason won by one, but we've got the national title, big man," Pride said, showing more emotion for finishing second than Dufner did for winning, perhaps for good reason. Pride, 41, had been 354th in the World Ranking and has now earned a return to the PGA Tour full-time.
"All my buddies on the Nationwide Tour?" he said. "Guys, I love you, but I'm staying out here."
Meanwhile, Dufner, 35 and following a nondescript start to his career, is now, in fact, sprinting to stardom, this victory carrying him to No. 14 in the World Ranking and evoking a hint of a smile in the aftermath. His two PGA Tour victories have come in the last month, in between which he got married. Presumably, though not undoubtedly, he smiled in the wedding photo.
These days, Dufner, like another 'Bama man, Forrest Gump, seems to be showing up everywhere. He was part of the story of the last two major championships, for instance, losing to Keegan Bradley in a playoff at the PGA Championship last summer and leading the Masters last month.
He earned a career-high $3 million last year, a figure that he has already exceeded this year in virtually half as many starts, and seems a cinch to be part of Davis Love III's U.S. Ryder Cup team at Medinah later this year.
It is likely a welcome victory for the Nelson, which needs the boost of bona fide stars winning to prevent it from sliding further on the PGA Tour apathy scale. Until Dufner broke through the clutter with birdies on two of the last three holes on Sunday, those who had at least a share of the lead were ranked 174th (Marc Leishman), 195th (Jonas Blixt), 264th (J.J. Henry), 354th (Pride) and 550th (Joe Durant).
Since the tournament's namesake, Nelson, died in 2006, and players no longer felt compelled to come to pay homage, the event has eroded to the point that only four of the top 15 players in the World Ranking were entered (albeit an increase of one over 2011) and nine of the top 50. It is played on a course, the TPC Las Colinas, that tour players generally rank among the most detestable on tour (49th of 52, according to a Golf World poll of players).
The marquee names about which the Nelson can boast are largely from the past these days. Its roll call of champions of an event to which he first lent his name in 1968 includes Nicklaus, Watson, Floyd, Crenshaw, Stewart, Els, Mickelson and Woods. Mickelson, incidentally, made a run at the leaders on Sunday before slipping to a tie for seventh.
As time marches on, history is often left behind. Is the Nelson destined to go the way of the Crosby and the Hope, its heritage pushed by corporate sponsorship to the background?
At least Dufner's win gave it the cachet it might otherwise have lacked and assured the tournament of this much, at least, that one of the game's best players would be back next year.