The Loop
Dream Trip to Scotland, Day 6: Royal Dornoch
Royal Dornoch Golf Club: When you get to one of golf's greatest treasures, we recommend staying at the Amalfi B&B. Not only is it a three-minute walk to the first tee, owners Ed and Marelle Mackay went out of their way to tend to all of our needs, which included accommodating my quirky gluten/lactose-free diet and helping us check on tee times at Royal Dornoch (they're members).
If you have a brother, or have ever been on a buddies trip, you won't be surprised to hear our pilgrimage wasn't void of typical brotherly buddy-trip disputes. One point of contention: Should we stick to the itinerary and do the scheduled 54 holes on day six (Dornoch, Golspie and Brora)? Or, should we simplify and focus our energy on 36 at Royal Dornoch? Mike is a stick-to-the-itinerary kind of guy. I was all about doubling up on Dornoch. Ed and Marelle were able to check online the previous night and confirm that afternoon tee times were available should I convince Mike to change our plans. And I had some support. "It might be the wisest thing you decide to do on this punishing trip," said Ed.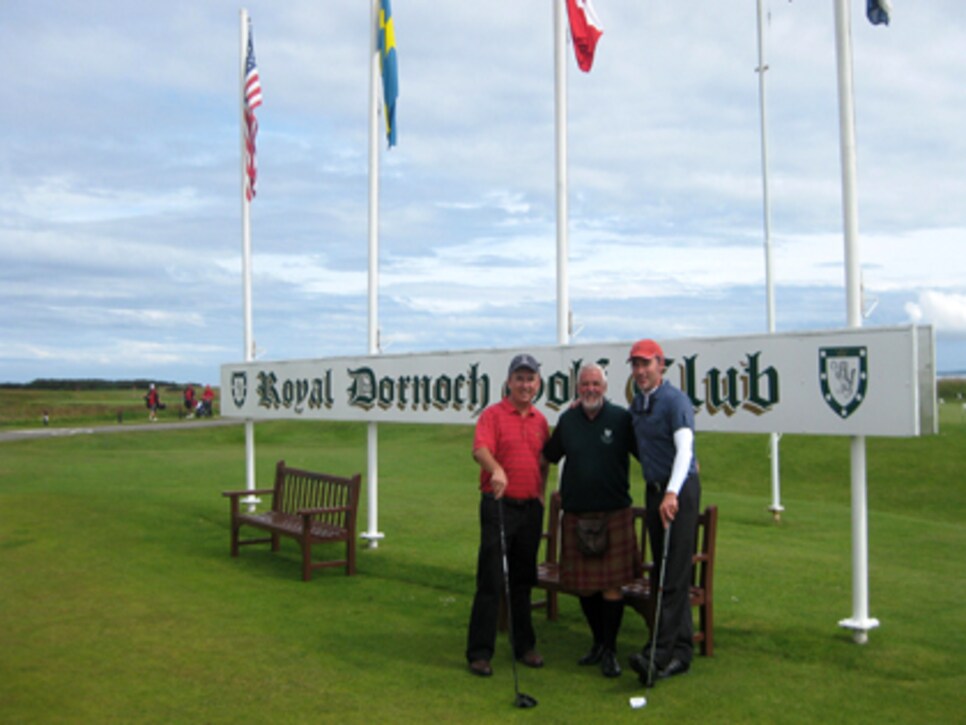 Before we finished the front nine, the drizzle became a rain, and thus justifying the $300 I had spent on rain gear as part of my pre-trip preparations. Then the sun came out on the tenth tee, the seaside par 3 known as "Fuaran," and we enjoyed blue skies all the way back to the restaurant.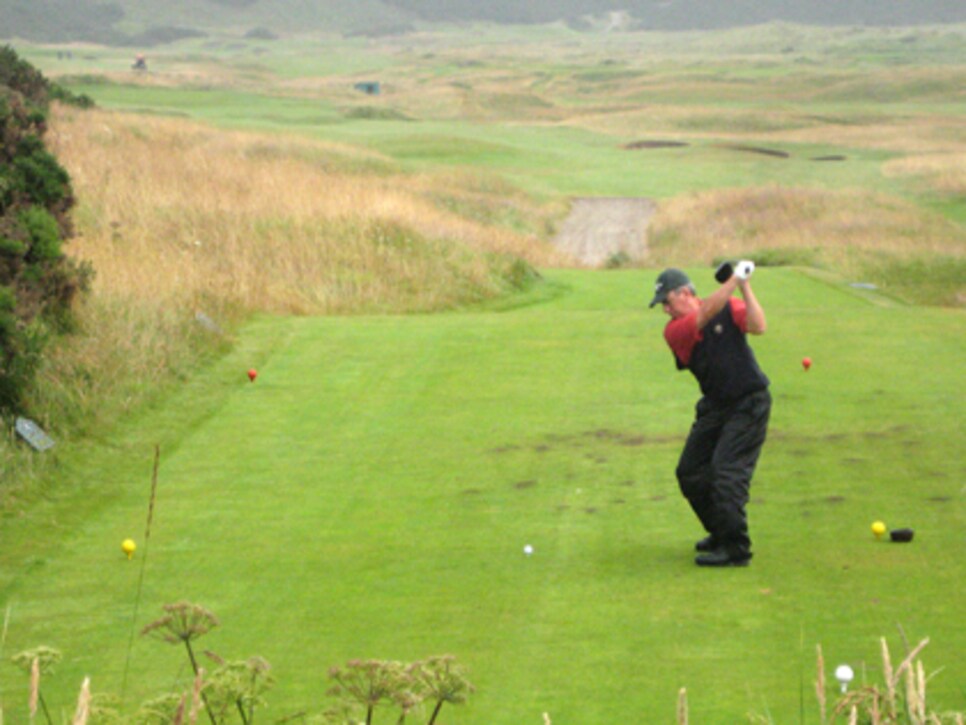 A classic out-and-in Old Tom Morris gem (he redesigned it and added nine holes in 1886), it was a fair and yet challenging layout, and all of it was easy on the senses. According to Tom Watson: "It's the most fun I've ever had on a golf course." And I recall Matt Ginella saying, "Royal Dornoch is like a cheese-infused sausage -- you can't understand how they can create something so perfect." I'd agree with both Watson and Ginella. So caught up in the beauty of the 445-yard 14th, appropriately named "Foxy," that I forgot my camera on the tee box. What seemed to be the only hole on the trip that didn't have bunkers, Harry Vardon called it "the most natural hole in golf." Dizzy from a run of great holes, after Mike and I finished the 17th, we accidentally started replaying the third hole instead of the 18th. The foursome of German gents playing the second hole weren't exactly thrilled with our mistake, and the course marshal was quick to put us back on the right track. (Scores: Mike 72; Kevin 93.) The post-round meal ($17) felt like dessert as we were treated to a sweet view of a rainbow.
Decision time: We resumed the masochistic itinerary debate at the end of our meal. We were scheduled to play Golspie at 1:30 and Brora at 6:30. Our option was a nap and Dornoch again at 2:40. My apologies to Golspie and Brora -- we'll see them in the future -- the Daly brothers decided it was best to rest and do Dornoch again. Mike was sure he could improve upon his 34-38, and I couldn't ignore my beaten body and tomorrow's 5 a.m., wake-up call. Round two was even more fun for me because I hit seven of nine greens on the back, but I still struggled with the putter. Scores: Mike 76, Kevin 90. Dinner and drinks ($25) were at the same table we had lunch.
Bottom line: I booked the tee time and made a $50 deposit to play Royal Doroch in January; I paid the balance of $100 on the day of play. The replay rate was $80; pullcart was $8.
Lodging: Another night with Ed and Marelle for $58, which included breakfast.
Total cost of day: $338__Six-day total:__ $2,026
I created a map of the courses we've played so far (11 rounds in six days):
(Day 7, Castle Stuart and Royal Aberdeen, will post on Tuesday. Follow me on Twitter @Matt Ginella.)