The Loop
Dramatic, unlikely, historic Olympic gold medal for Team USA in women's cross-country skiing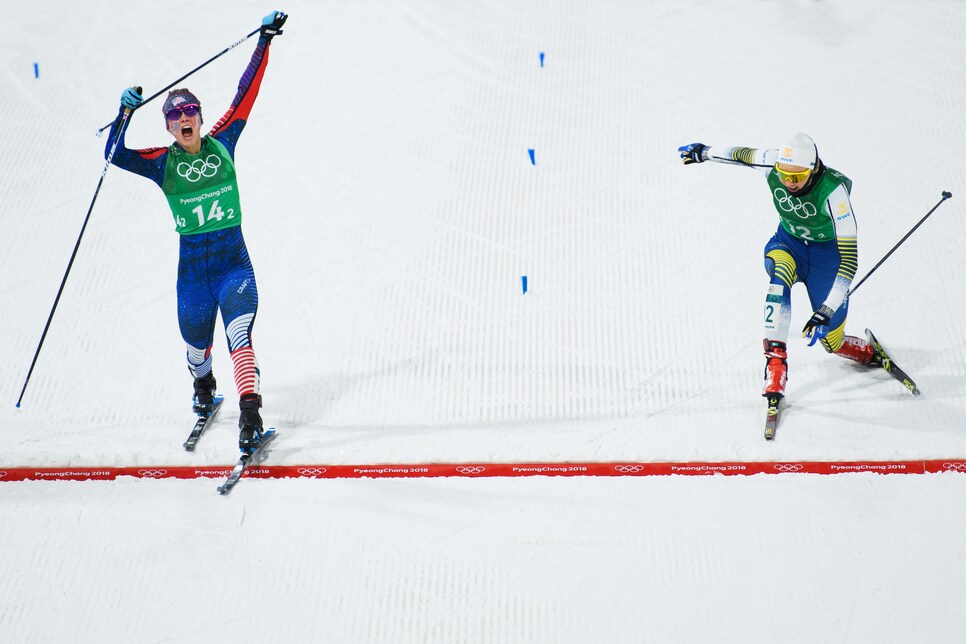 In what has been overall a humbling Olympics for Team USA, a gold medal came from an unlikely place: The cross-country ski team. The duo of Kikkan Randall and Jessie Diggins won the team sprint in a dramatic, lunging finish over Sweden to secure the first Olympic gold for American cross-country skiing ever and the first American Olympic medal in 42 years.
If you follow cross-country skiing (unlikely), you know the hype for the women's team coming into these Olympics was real. If you don't follow cross-country skiing (likely), you just need to trust that after a more than four-decade drought, a medal was a real possibility. It was this hope that has had the entire American cross-country ski community—a community that claims Bill Koch, who won silver in the 30-kilometer event in Innsbruck, Austria back in 1976, as its only hero—waking up at awful, early hours of the morning to watch the events live, to see if maybe a medal will happen.
But as the events came and went, no medals were won.
Diggins, a 26-year-old from Minnesota, came the closest, finishing 5th twice and 6th once in her individual events. Then there was the women's 4 x 5 kilometer relay, where it felt like the team would be able to work together to find whatever extra magic is necessary for an Olympic gold. But they just... didn't. They finished 5th. That left only two more opportunities for gold for the women: the team sprint and the 30 kilometer classic.
Randall skied the first leg of the team sprint at Alpensia Cross-Country Centre in Pyeongchang, South Korea for Team USA. The first skier of each two-woman team start together in a mass start, creating a bit of chaos over the first few laps as racers jockey for position. As the laps go by (there are six laps total) the leaders naturally begin to separate from the pack.
Cresting the last climb of the final lap, Diggins was in third, with Norway leading and Sweden in second. The three came flying down the final hill, Diggins moving into second. In the final straightaway, she pulled equal to and beyond the Swedish team. Both women lunged for the line. Diggins' boot crossed first, .19 seconds ahead of Nilsson. The Americans had won an Olympic ski race for the first time in history.
Making the win all the more sweet is the fact that this is Randall's last Olympics. The 35-year-old who lives in Alaska is the only mother on Team USA. After racing in each Winter Olympics since her debut in 2002 in Salt Lake City as a 19-year-old, she finished her career with this historic, dramatic win. She tackled Diggins in celebration in the finish area.
Afterwards, Diggins had to ask Randall if the win had actually happened.