The Loop
Drama at the finish line of the Race to Dubai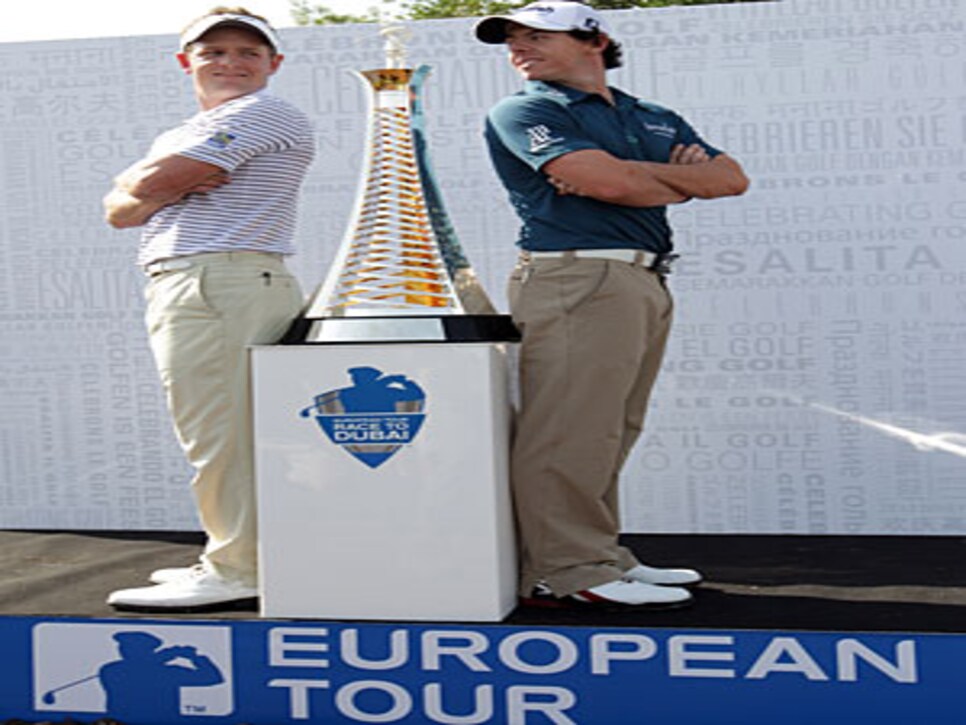 After 53 tournaments in 26 countries and what the European Tour likes to call 29 "destinations," it has come down to this: the world's two top-ranked golfers, one strong probability and a correspondingly slim chance.
For Rory McIlroy, nothing less than a victory in the grandly titled Dubai World Championship will do, if he is to have any hope of winning the season-long "Race to Dubai" -- what was once the Order of Merit. And even if the U.S. Open champion does follow up his latest victory in Hong Kong with another win against 57 of the 60 highest earners on the European Tour this year (expectant father Justin Rose and the injured Fredrik Jacobson are missing), a tie for ninth spot this week alongside one other player will be enough for (34 today) Luke Donald to hold off the young Irishman on the money list. Should that very scenario come to pass, Donald will, unbelievably, finish first by the measly sum of €5.
Still, for all that he is the unlikeliest of eventual champions, McIlroy was making hopeful noises before the off. "I've had some success around this course," insisted the man who has finished third and fifth in the two previous editions of this season-ending climax. "This time though, I've got to win and hope that Luke doesn't do what he has been doing all year and finish in the top-ten. So it's going to be a tough ask. But I'll give it my best to finish the year on a high."
Even world number three Lee Westwood -- winner of the inaugural event here two years ago, when he also clinched the money title -- was making positive noises regarding a possible showdown between the game's best players, statistically speaking at least.
"Anyone who enjoys watching golf likes to see the last event go down to the wire," insisted the Englishman, who arrived in the United Arab Emirates fresh from a successful defense of his Nedbank Challenge title in South Africa. "You don't want a foregone conclusion. It's nice to see the two of them battling it out, where one could have a putt to win both the money list and the tournament."
World No. 4 Martin Kaymer was just as enthusiastic, although he was more inclined to favor one of the protagonists over the other.
"The way he has played golf this year, he deserves to be number one," said the German of Donald, who has, of course, already finished on top of the PGA Tour money list this year. "I hope for him that he wins here this week, because that is what he deserves. He has just played great golf all season, so this would be nice for him.
"The whole thing is exciting, although it is obviously going to be difficult for Rory. But I'm sure he will be aggressive and try to do everything to win. That will put a bit of pressure on Luke for the weekend."
None of which seemed to be worrying the man with everything to lose and a lead of €789,789 to protect.
"There's nothing really easy in life," said Donald, who recently lost his father and gained a new daughter in the space of an obviously emotional few days. "You have to earn your successes. I fully expect Rory to play well and put some pressure on me. It's certainly made me more focused this week and I'm looking forward to the challenge."
Of course he is. When faced with a similar situation -- albeit in reverse -- in that he had to win the last PGA Tour event of the season in order to clinch the money title, Donald made nine birdies in his closing round to do both. And now he has the chance to make history as the first man, officially at least, to top both the Race to Dubai and the PGA Tour money-list in the same season (Tiger Woods has actually achieved that feat multiple times but has never played enough events in Europe to be eligible). Success this week would also be a fitting tribute to his late father, who introduced him to the game.
"We didn't play a lot but he would sometimes take me out in the mornings before school," said Donald with a smile. "We would go and play a quick nine holes. I have fond memories of that. His big line was that he taught me everything he knew. He always took full credit for my success."
Follow on Twitter: [@johnhuggan
](http://twitter.com/johnhuggan)