Obituary
Dow Finsterwald, winner of the first PGA Championship played as stroke play, dies at 93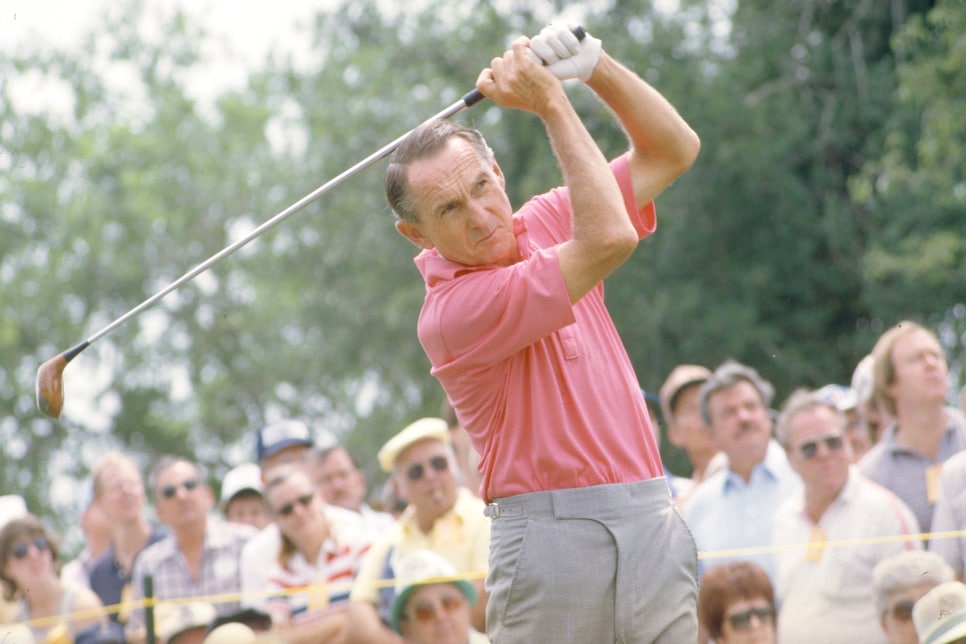 In July of 1958 the PGA of America was celebrating some notable milestones. It had switched its format to stroke play from match play, and for the first time, a national television audience would be able to watch the competition on the weekend. The CBS executives of the time had to be thrilled when both Sam Snead and Billy Casper contended into Sunday.
But it was a far less recognizable character who seized the moment.
"Gentlemen, you've got yourselves a colorless champion," Dow Finsterwald told the gathered reporters after he shot 67 in the final round at Llanerch Country Club in Havertown, Pa., to beat Casper by two and Snead, the third-round leader, by four. It was a redeeming victory after Finsterwald lost the PGA's final match-play final the year before.
The then-29-year-old was being modest, of course. He would go on to career of 11 PGA Tour wins, and though Finsterwald didn't capture another major (he and Gary Player lost a Masters playoff to Arnold Palmer in 1962), Finsterwald contributed to the betterment of golfers for decades. In 1963, he became the head pro at The Broadmoor in Colorado Springs, Colo., and served in the position for 28 years. He also was vice president of the PGA of America from 1976-78 and served on USGA Rules of Golf Committee.
Finsterwald died on Friday night at his home in Colorado Springs. He was 93.
"He did all he could for the game," his son, Dow Finsterwald Jr., the head professional at Colonial Country Club in Fort Worth, Texas, told the Associated Press. "He enjoyed his friends and they always remembered. He loved the rules and he cared about the game. He had a wonderful life and he felt like for sure it was complete."
Dow Finsterwald was born and raised in Athens, Ohio, and his father, Russ, played football at Ohio University and later coached the football and basketball teams there. Dow also played golf at the school, and father and son would both eventually be inducted to the university's Athletics Hall of Fame.
Dow Finsterwald turned pro in 1951 and won his first tournament in 1955. His last victory came in the 1973 Festival 500 Open Invitation. He played in four Ryder Cups and was the non-playing captain of the 1977 American team that was the last to face Great Britain & Ireland before all of Europe was tabbed to face the U.S. in the future.
Finsterwald won the Vardon Trophy for the lowest scoring average on tour in 1957 and at one point made 72 consecutive cuts—second at the time only to Byron Nelson.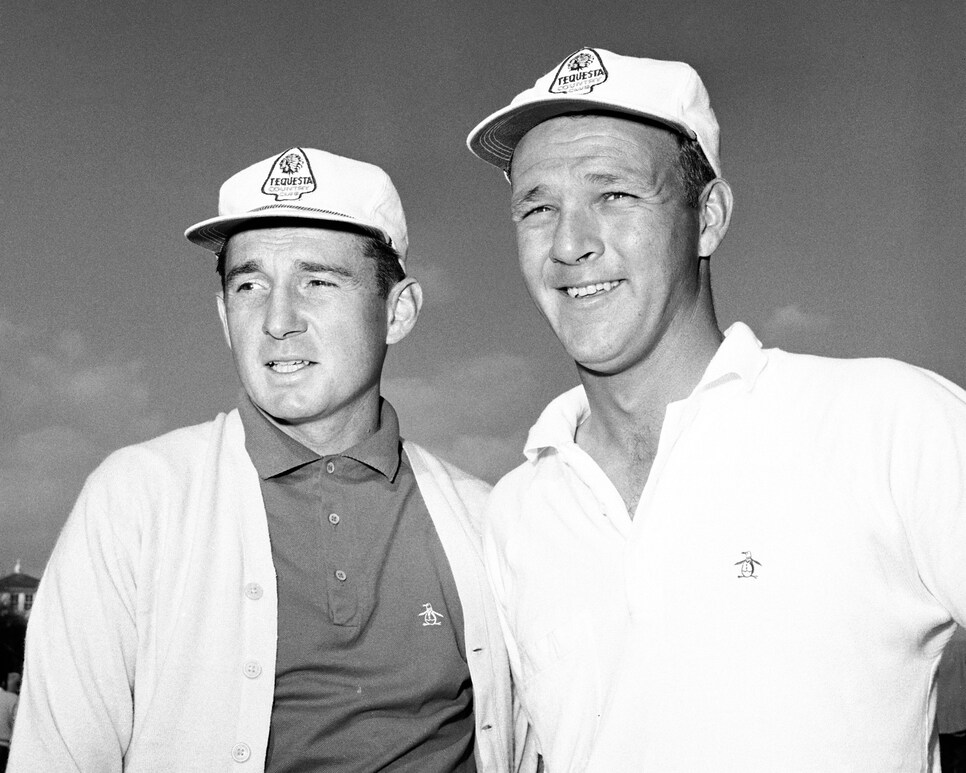 Dow Finsterwald and Arnold Palmer during the 1958 Masters.
Augusta National
One of the most cherished relationships of Finsterwald's life was his friendship with Arnold Palmer, who was born four days after Finsterwald in 1929. They met as college competitors when Palmer was playing for Wake Forest, and Finsterwald recounted Palmer shooting 29 in the first nine holes he ever played with the future Hall of Famer. "I didn't have much luck there," Finsterwald was quoted as saying.
The two would remain close until Palmer died in 2016 and Finsterwald spent many of his winters at Palmer's Bay Hill Club and Lounge in Orlando.
Palmer and Finsterwald had a fateful merging of career paths in the 1960 Masters. The King won his second green jacket by one shot over Ken Venturi and was two better than Finsterwald, who could have been in a playoff if not for calling a rules violation on himself. In Friday's second round, Finsterwald prepared to take a practice putt on a green after he'd finished a hole, and his playing partner, Casper, pointed out that that would be a rules violation. Finsterwald didn't realize that was the case and reported to the Masters Committee that he'd taken a practice putt in Round 1. He could have been disqualified, but the committee instead administered a two-shot penalty.
"I haven't dwelled on the past very much," Finsterwald told Golf Digest in 2016. "I've been very fortunate. Sure, there's some things I'd like to do over. Not a whole lot. There's a lot of shots I wish I'd hit better. Hey, life gets pretty sour—and I know some guys who've done that, and it's deterred them from having as happy a life as they could have."