News
Doug Ghim is playing in the U.S. Amateur final and taking his dad to Augusta National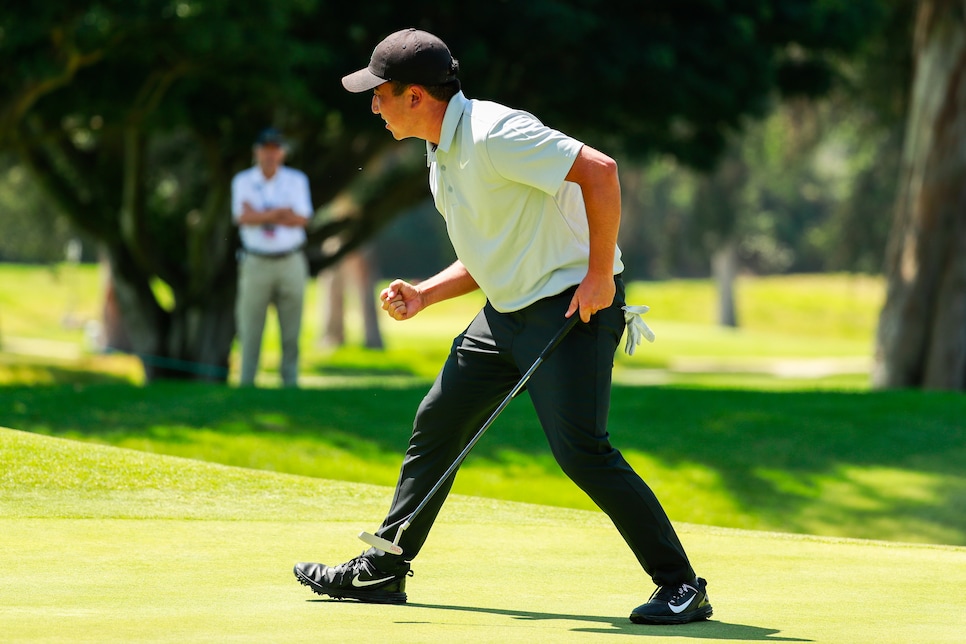 PACIFIC PALISADES, Calif. — The American dream is alive, its manifestations varied, and for Jeff Ghim, a South Korean immigrant, it has played out with the successes of his son.
Doug Ghim will play for the U.S. Amateur Championship at Riviera Country Club here on Sunday, and following his 2-and-1 victory over Theo Humphrey, he and his father embraced.
"We made the Masters," Jeff said to him.
The two finalists receive Masters invitations. Doc Redman, a Clemson sophomore, earned the other one by defeating Mark Lawrence Jr., 1 up. Ghim and Redman will play in the 36-hole final beginning at 7:30 a.m. (PDT) Sunday.
The happiest man on the premises on Saturday likely was neither Ghim nor Redman, but Ghim's father, his son's caddie and the only golf instructor he's ever had.
"The Bible says the child is the crown of the parents," Jeff said. "This is my crown. This is kind of my American dream."
Together, they take on Augusta National next April.
"I'm not really sure if I can quantify what it means to me to be out there with him tomorrow," Ghim said. "We've shared so many good moments and so many really difficult ones. To mention in 2014, that night after, I think I was OK, but I don't think the significance dawned on me, what I just did in blowing a 1-up lead on the 36th hole."
Three years ago, Ghim made the final of the U.S. Amateur Public Links Championship and wound up losing to Byron Meth. Only the winner was invited to play in the Masters.
"The difficult part was knowing that I could have walked out on the fairway of Augusta with my father, and that was kind of basically taken away from me," he said. "That was difficult. Then when that putt on 17 dropped [Saturday] it was the first thing that popped in my head. We're going to the Masters."
Ghim had a 2-up lead on Humphrey going into the par-5 17th hole. He hit his third shot to the fringe, leaving him with a downhill, left-to-right putt that he ran 5½ feet past the hole. Humphrey had a shorter birdie putt on a similar line that he narrowly missed.
So it came down to Ghim's par putt and the demons with which he acknowledged wrestling.
"I was just trying to feel my hands," he said. "I'm sure it was visible I was trying to calm myself down. So many thoughts in your head are going at that moment. For me, I've got a little bit of demons because of the Pub Links from three years ago. I was just trying to make sure I stay calm. Don't make the putt more than what it was.
"I'm a spot picker, so I picked a spot. I said, If it starts on this line it will go in."
And now, Ghim, a University of Texas senior, has an opportunity to deliver an Amateur double for the Longhorns. Last Sunday, Sophia Schubert, a Texas senior, won the U.S. Women's Amateur at San Diego Country Club. (And Riviera is a course where the Longhorn men also won their last NCAA title in 2012.)
Any final at this elite level promises to be a difficult one. Redman, 19, is less experienced than Ghim, but formidable nonetheless. He finished second in the prestigious Western Amateur earlier this month and also tied for sixth in the Northeast Amateur.
"He's a sneaky match-play guy," Ghim said.
Redman said he played "horrendous" in the 36-hole stroke play and snuck into match play in a playoff.
"I'm so excited to be able to compete for the championship tomorrow, especially after how I played in stroke play," he said. "I didn't think after I finished it I had any chance of moving on to match play.
"I think, as everyone knows in golf, you can't play well every week and stuff like that happens. It was disappointing more than anything that I didn't play better. But I knew if I could get in match play that it would be kind of the reset button and I would be OK."