The Loop
Don't forget: Nike's exit of club business doesn't mean it doesn't want to still dominate golf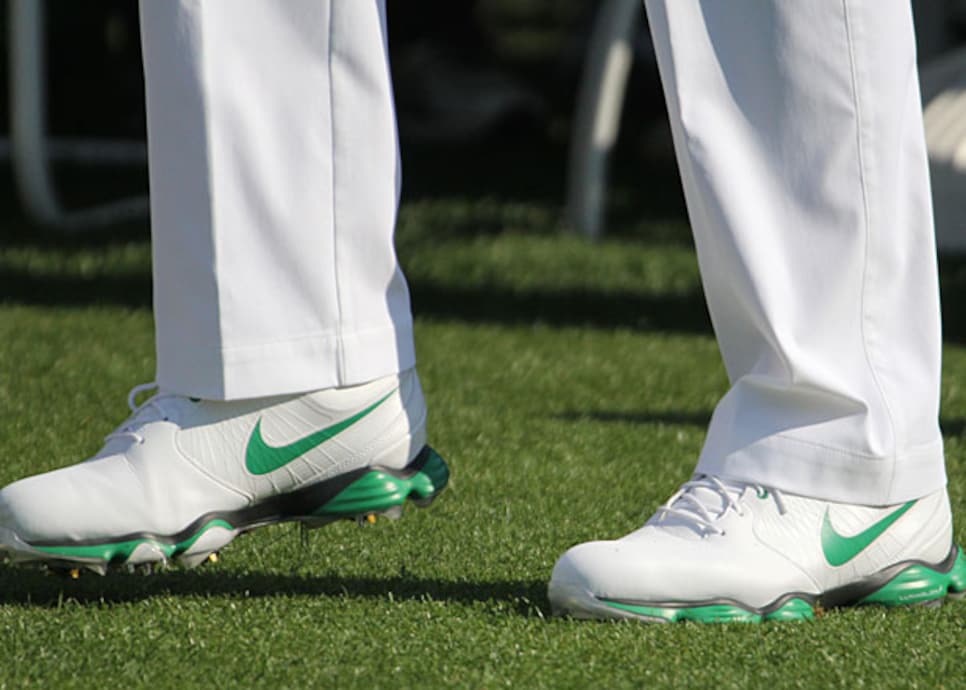 Nike Golf's decision to depart the hard goods side of the golf business may have sent shock waves to those poised to write off golf, but perhaps lost in the hand-wringing and I-told-you-so headlines is the company's main point: It's staying in golf and explicitly wants to dominate its core segments of golf footwear and apparel.
According to a Nike spokeswoman, "We have set a new vision to accelerate innovation in our golf footwear and apparel business. We've committed to being the undisputed leader in footwear and apparel—to serve more of the world's best athletes and drive growth for the category.
"This evolved strategy will leverage the power of the Nike brand—allowing us to invest in the areas of our business that drive the greatest return. We will accelerate performance and design innovation for athletes and we will deliver sustainable profitable growth for Nike Golf."
In practical terms, the largest effect of Nike's departure will likely be on tour endorsement contracts. Although the company declined to discuss player contracts going forward, it is conceivable that if Nike is committed to establishing a dominant position in footwear and apparel, it will do that with a significant presence on the professional tours.
According to Nike, it will maintain its tour truck to support players using its equipment through the end of this season. That means most of the more than 40 players on Nike's endorsement staff will likely need to consider both equipment and apparel changes starting as soon as the Safeway Open event Oct. 13-16, the first event of the 2016-17 season. "We will work with each of our athletes to manage the appropriate transition," said the Nike spokeswoman.
While Ping, Titleist and Mizuno declined to comment on Nike's announcement, Several equipment companies, including PXG and Wilson, already have expressed interest in filling the club needs of players currently using Nike equipment. Whether that will be practical for moderately high profile Nike players like Brooks Koepka and Tony Finau, let alone flagship icons like Tiger Woods and Rory McIlroy and Michelle Wie, remains to be seen.
Tim Clarke, president of Wilson Golf, points out that his company has seen similar arrangements in tennis with players like Roger Federer and Serena Williams, where each wears Nike apparel but uses Wilson rackets.
"We would be interested in the right kind of brand ambassadors for us in golf, somebody who fits the personality of what our brand is about," Clarke said. "It'll be interesting to see how it shakes out the future of endorsements. Nike certainly accelerated the endorsement dollars in golf, and it's probably natural to start to see a correction."
From Clarke's perspective, that correction means more clear-headed thinking instead of an arms race. Clarke says Wilson has started to see year-over-year double-digit growth by being conservative. That might not have been Nike's approach in golf equipment, which Clarke notes is a difficult culture to penetrate, especially in the current environment.
"The bottom line lesson that comes out of this is there's no way to buy your way into authenticity and success in golf," Clarke said. "You have to learn to tighten your business model. I think you have to keep three things in mind. You need a clear vision, you need products that have a "Wow!" factor and you need to be disciplined on the fiscal side."
It's telling that in 2016 Wilson's share of the iron market for example is very nearly the same as Nike's without anywhere near the marketing dollar investment on tour players.
It's why Wilson competed for certain player endorsement contracts and stepped aside when the dollar figures on those contracts stopped making sense for its level of sales in the golf space. Clarke questions spending exorbitant money on tour players who may or may not be successful, and more importantly even with success, may not have any demonstrable and direct impact on equipment sales.
Meanwhile, Nike officials declined to answer questions about what had changed either in the golf business as a whole or in its particular sector of the golf business that led to the decision to leave behind the clubs and ball business. The decision to exit the club business seems shockingly swift and yet predictable at the same time. It comes less than three years after the company signed Rory McIlroy to an endorsement contract of between five and 10 years worth a reported $20 million a year. At the time, Nike's then-president Cindy Davis told the Portland (Ore.) Business Journal, "Rory is joining us at a different time in our evolution and at a time when we are beginning, in a sense, to becoming, as we should ultimately be, the global leader in golf." Less than two years later, Davis, a golf industry veteran, announced she was retiring at age 52, and was replaced in the position by Daric Ashford, a Nike veteran with no experience in golf's hard goods side.
According to a Nike spokeswoman, its state-of-the-art club research and development facility in Fort Worth, called The Oven, "will remain open during this transition, while we continue to evaluate future business needs." The spokeswoman indicated Nike would continue to have employees working in Texas during the transition out of equipment, although several sources have indicated that the club and ball R&D employees have been let go.
The upshot of the upheaval is that Nike, to paraphrase F. Scott Fitzgerald, is trying to hold two potentially conflicting ideas about golf in mind at the same time and still retain the ability to function: being practical about its investment in the game and still wanting to be No. 1.
Said the Nike spokeswoman, "Nike remains committed to the sport of golf and we will continue working with more of the world's best athletes in the game."