The Loop
Don't expect a wave of wife-caddies on the PGA Tour anytime soon
JERSEY CITY, N.J. -- Justine Reed was at the center -- literally -- of husband and PGA Tour rookie Patrick's victory last week, carrying his bag as Patrick topped Jordan Spieth in a playoff for his first ever win. Justine has been Patrick's caddie since the spring of 2012, and the pair have since played their way first onto the PGA Tour, and now into the winners circle. So, is this the start of a new trend? "I value my marriage way too much to make my wife caddie for me," Brandt Snedeker, the defending FedEx Cup champion, said at Liberty National Golf Club, site of this week's Barclays. "I've talked to Steve [Stricker] about it, because he's had his wife caddie for him at times, so I guess it works for some people, but not me."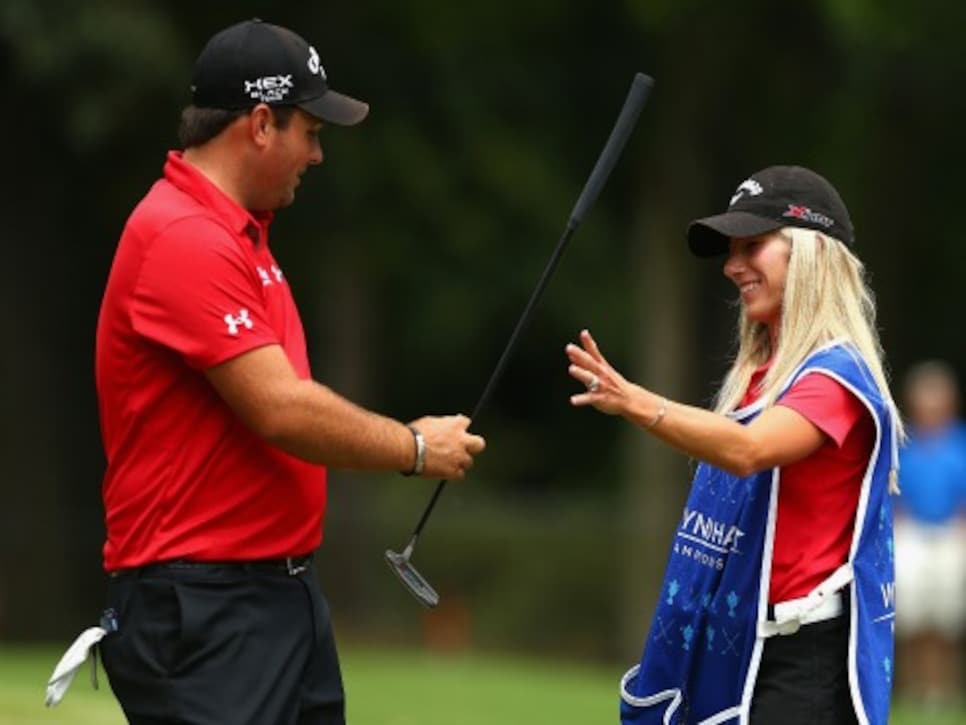 Jason Dufner says he doesn't even have to worry about it because his wife Amanda has no desire to caddie. But even if she did, he still wouldn't consider it. "I watched a little of [the Wyndham Championship] and Amanda turned to me and said 'I'm so glad you've never asked me to do it, because I wouldn't want to and we'd not have much fun,' which is probably true," Dufner said.
Related: PGA Tour Wives The 2013 PGA Champ, who's been with his caddie Kevin Baile for 12 years, added that it's more common on the mini tours where money is tight. But on the big tour, he prefers to keep the player-caddie relationship a professional one, and his marriage part of his support network for when he's off the course. But there's always exceptions to the rule. As a 22-year-old amateur in the 2010 U.S. Women's Open, South African Kelli Shean employed her boyfriend as her caddie and led for most of the first round, before sinking to a T-65 finish. Earlier this year, Jessica Korda made headlines when she fired her caddie mid-round during the U.S. Women's Open and employed her boyfriend in his place, although she would replace him with a professional caddie in the following weeks.
Related: This is when it's OK to yell at your caddie On the men's side, Steve Stricker has employed his wife Nicki on occasion, while Nick Watney's wife Amber stepped in at the CIMB Classic last year when his full-time caddie fell ill. And then there's Lee Westwood. Playing in the 1995 Mauritius Open, which Lee Westwood described as "half vacation, half tournament," Lee bought a pushcart for wife Laurae after she said she wanted to caddie for the week. "We got about halfway through the first hole when we came up to a steep 40 foot hill," Westwood said, fondly recounting the incident. "Once we got to the top, she turned to me and said: 'It's probably best to just get a local [caddie], and walked off.' At least she lasted one hole." But as someone who has tried it, does Westwood have any advice for those considering putting their wife on the bag? "Yeah," he said. "Don't."