The Loop
Don't blame Chambers Bay -- the best players are winning
UNIVERSITY PLACE, Wash. -- Here are some statistical facts about the current leaders of the U.S. Open:
Patrick Reed (-5): Has hit 29 of 36 greens in regulation (tied for sixth best in the field), has the lowest putts-per-hole average after hitting those greens (1.62), has three-putted once in 36 holes, has hit 23 of 28 fairways.
Jordan Spieth (-5): Has a 1.64 putts-per-hole average (T-8), hit 27 of 36 greens in regulation (T-22), has saved par out of the sand four of five times, only two three-puts in 36 holes.
Dustin Johnson (-4): Has a 1.61 putts-per-hole average (third in field), one three-putt in 36 holes, 332.5 yards driving average (T-6), 25 of 36 greens in regulation.
Branden Grace (-4): Has hit 29 of 36 greens in regulation (T-9), averages 321 yards off the tee (17), 1.79 putt average on his greens in regulation, only two three-putts in 36 holes.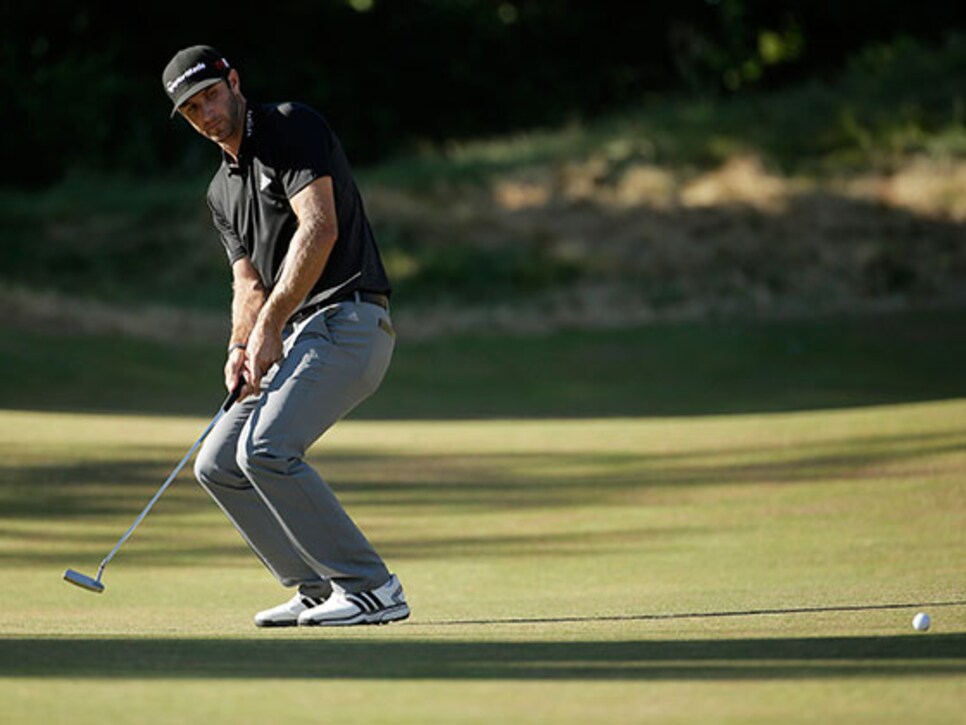 You'll notice these players have one thing in common -- they're playing consistent to excellent golf on a course that has been verbally torn to shreds by players and media alike. It seems that the injustices that hammer everyone else into submission seem to leave these four unscathed. If you're very observant, you'll also pick up on this: They're ranked second, seventh, 15th and 40th in the world.
So, is it possible that Chambers Bay might be a good test of golf? Is it possible that the best players in the world have soared to the top of the leader board by virtue of hitting greens and making putts? Is it possible that the course really has sorted out the real contenders, even in the midst of general discontent?
You wouldn't think so, at least judging by the sheer volume of complaints about the greens -- they're uneven, they vary in speed across the course, they change too much from morning to afternoon, and etc. The fact that each player has faced the exact same challenge doesn't mean much to the outspoken victims. Clearly, the golfers who played poorly over the past two days, up to and including Tiger Woods, were simply persecuted by the USGA and its punitive set-up.
The problem comes when you look back at those pesky leaders, whose success belies the rampant self-pity making its way around Tacoma this week. There are no special machines that smooth the greens out before they putt, or level out the wonky speeds, or protect them from the vagaries of an admittedly strange course. They're playing the same track, and they're playing it well. Earlier in the week, Jordan Spieth addressed concerns about the golf course, and the forward-looking attitude his words revealed tells you everything you need to know about his perspective and maturity.
"First of all, if you are going to talk negative about a place," he said, "you're almost throwing yourself out to begin with, because golf is a mental game."
Precisely. Which is why when we saw Bubba's tantrum during Thursday's round, it was clear that he had failed the mental test, and would be reduced to hovering around the cut line and trying to stick around for the weekend (he failed). Conversely, when Spieth became angry about the 18th hole playing as a par 4, he recognized the futility of whining.
"So all in all, I thought it was a dumb hole today," he told reporters after his round, "but I think we're going to play it from there again, so I've got to get over that."
That was Spieth's battle in 2014 -- overcoming the catastrophic thinking that sent him spiraling out of the lead at the Masters and Players Championship in a storm of self-criticism and bad body language. He fought that battle again at this year's Masters, and the way he overcame this last obstacle is the exact reason why he's in contention at another major.
It's not that there aren't legitimate complaints to be made about Chambers Bay -- I'm certain that Mike Davis of the USGA isn't thrilled about the way the greens roll, or the stark divide in course firmness between the morning and afternoon waves. The issue, instead, is the value of those complaints. What purpose does it serve for a player in the heat of competition to let a golf course get in his head. It's an old cliche, but they are literally all playing the same track, and the difficulties faced by one player are faced by them all.
Going a step further, is there any legitimacy to the idea that the course has affected the outcome? I would argue no -- there is nobody who missed the cut that would magically be in the lead if the grass had been a little different. Tiger Woods is not 23 shots worse than Dustin Johnson because there's a difficult par 4 on the back nine. Patrick Reed isn't getting lucky when he rolls in his birdie and eagle putts. He, and Johnson, and Spieth, and Grace are simply playing terrific golf.
That's why the attention on Chambers is so nonsensical -- yeah, it's a weird course, but the best players are still winning.
The problem is that many golfers are perfectionists, and are notoriously bad at accepting responsibility for their mistakes. This can serve them at times, since it preserves a tenuous self-confidence, but at times like these, it only functions as an excuse. How can we forgive ourselves for playing poorly? Easy: Blame Chambers. The fact that there are still players deep in red figures won't make them question the logic, but it should.
There's always a chance that a critical putt on Sunday will go offline, a la Darren Clarke's experience. If a rogue clump of grass near the hole costs someone a chance at a major title, then I'm all for a chorus of complaints. Championships shouldn't be decided that way. But missed cuts? That's down to more than a few architectural quirks, and certain players should accept responsibility for their failure and leave Chambers alone -- or at least give a slight tip of the cap on their way out of town.