TURNBERRY, Scotland -- Check your politics at the door and set aside your feelings for the man. Please, please try to have an open mind about Turnberry.
Or, as it is has been known since 2014 when the Republican nominee for president purchased Ayrshire's legendary resort, Trump Turnberry.
As Donald Trump has set sight on the White House, a prominent part of his life prior and during the run has been a revitalization of this historic resort. There is a reason he left the campaign trail to christen the re-opening: Turnberry has been a labor of love and a significant capital investment.
Turnberry is a marvel in every way. The resort has become one of the world's elite again, the stuff dreamers a century ago hoped for in putting a five-star hotel on a hill overlooking a links and majestic lighthouse. Should your budget allow and your pallet call for world-class links golf, dining and accommodations, Turnberry is an essential stop. But don't be in a hurry to leave.
Maybe more astonishing than the attention to detail and millions poured into the property is just how quickly the Trump organization, led by Trump's son Eric on this project and retention of most key longtime staffers, dusted off the oft-renovated gem to present a high-end experience that now awaits.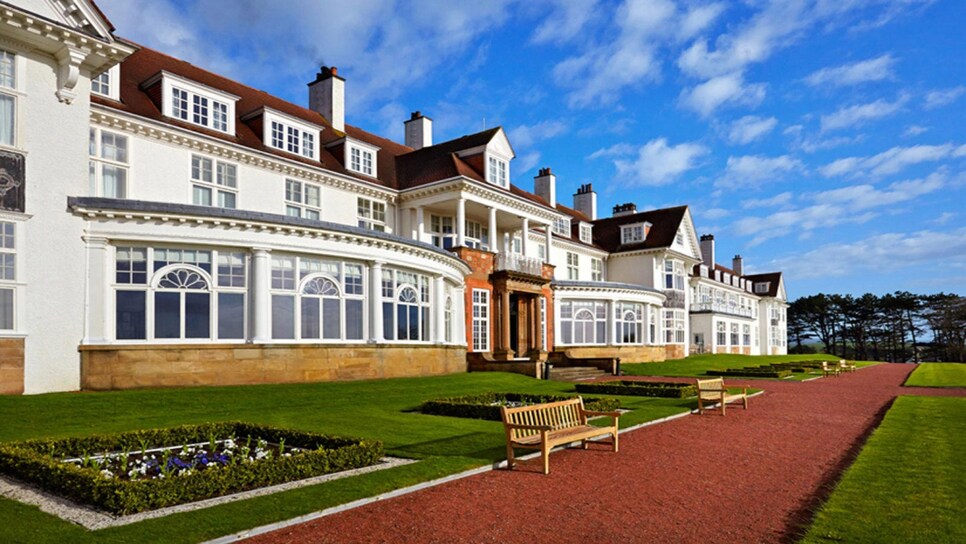 Golf architect Martin Ebert began his redesign of the Ailsa course last fall and an entirely re-imagined links opened when Trump visited June 24th (members had actually gotten on the course earlier). While always a beautiful setting thanks to the Ailsa Craig, the Firth of Clyde and the resort's own majestic lighthouse, the old Turnberry featured several uninspired holes and -- despite being home to four of the Open Championship's most memorable finishes -- a bland back nine.
Turnberry has reopened with almost no weak moments, improved views of the Firth, restoration of ancient-looking fringed bunkering and an abundance of thrilling shot-making opportunities. Furthermore, Turnberry's dramatically revamped 9th, 10th, and 11th holes are comparable to the best trifectas in golf: Pebble Beach (7th-8th-9th), Cypress Point (15th-16th-17th) or Augusta National (11th-12th-13th).
The R&A had suggested some of the Turnberry changes and endorsed many other good ideas by Ebert, who worked with Trump on nearly every detail of the redesign. Trump set an agenda that gave Ebert leeway while pushing back constantly, sometimes even sending notes on design plans. Ebert said this led to an intriguing process which ultimately made the final design better.
Here is what Turnberry is not: A traditional, lay of the land, or lovably quirky links. The course, which has been through many iterations in between its use as an air base in times of war, has always been fairly straightforward, a fine examination of many shots with beautiful views.
Ebert and the Trump's set out to improve all of the holes, but their primary purpose was to take better advantage of a seaside setting that was largely missed. After the first three holes play over rolling linksland with improved aesthetics, the first ah-ha moment comes at the par-3 4th hole set beside the Firth and featuring an exposed sandy area providing much needed texture and memorability.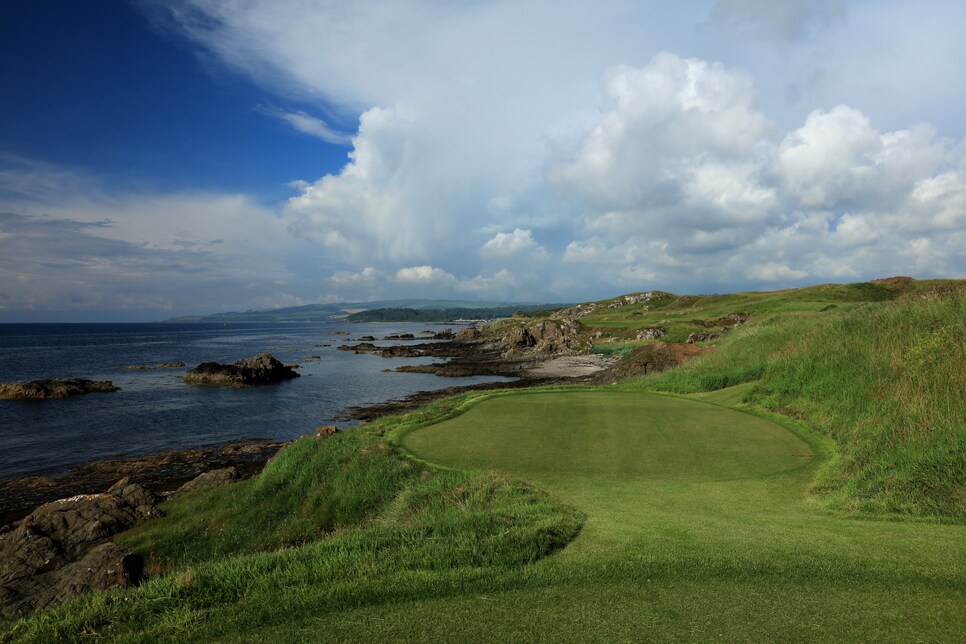 Trump, interestingly, insisted on the fifth playing as a par-5 for resort guests in the interest of fun, with the added benefit of keeping the front nine par at 35, fearing guests might look down on a 34 (the R&A would likely play it as a par 4). Either way, the hole, like so many on the new version of Turnberry, is a fun three-shotter through dunes that takes you to the new sixth, where a shortened par-3 tee shares a dune-top setting with the new 18th tee.
While the first five holes are much-improved appetizers, the combination of short, seaside pitch shots and the first clear sight of the lighthouse tells you the plot is about to thicken.
Ebert didn't have to do much to the par-5 seventh and par-4 eighth, as both are beautiful, left-turning holes playing through coastline dunes. It's at the new ninth where Ebert and many others (including R&A officials) pondered a better use of the cliffs and lighthouse setting. Ebert briefly toyed with a drivable par 4 but Trump insisted on a classic par 3 over the cliffs, a huge improvement over the par-4 tee shot that used to be played from the same tees.
The renovated lighthouse has been turned into golf's most incredible halfway house, complete with a full menu and seating where hotel guests also visit to take in the view and eavesdrop on golfer's telling their front nine stories. Two incredible (and expensive) hotel suites have been created in the lighthouse as well.
Then it's a short uphill walk to the par-5 10th, which has been kept in the same corridor but now features a new green site, the old donut bunker renovated and a stunning back tee that looks into a cliffside cave.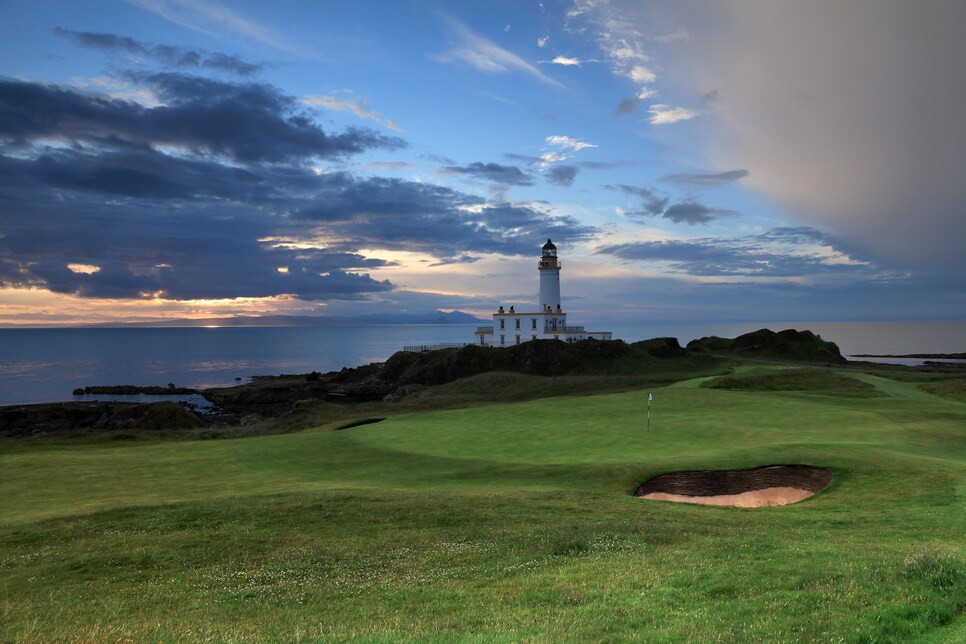 Ebert's new par-3 11th, like the ninth, plays slightly uphill over the sea but feels entirely different, highlighted by a pesky pot bunker and shorter yardage. This thrilling shot caps off a magnificent three holes which for some, could make the rest a letdown due to the exhilaration just experienced. But Ebert has injected plenty into the incoming eight holes to hold your attention.
The new fringed-edging to fairway bunkers, still showing some signs of newness to the trained eye and which will ultimately look sensational over time, bring so much life into the par-4 12th to the new 14th, a beautiful three-shotter that plays toward the lighthouse.
The 15th and 16th are similar to the old holes with minor touch-ups that heighten playing interest. The old par-5 17th, seemingly the scene of a great moment every time Turnberry has hosted The Open (except Tom Watson's heartbreaker in 2009), is now a par 4 that could be set up to play from many yardages. Ebert added a fairway bunker for interest, and while the two-shotter is a great test of skill if Turnberry gets another Open, the 17th is now probably the least exciting hole on the Ailsa.
The least-inspired honor formerly went to the 18th, but Ebert convinced Trump that a new 18th tee to the right of the 17th green would give golfers one last taste of the coastline, while making a more complete two-shot finisher a la other great Open venues. Trump signed off after much back and forth, and a beautiful new tee shot was born.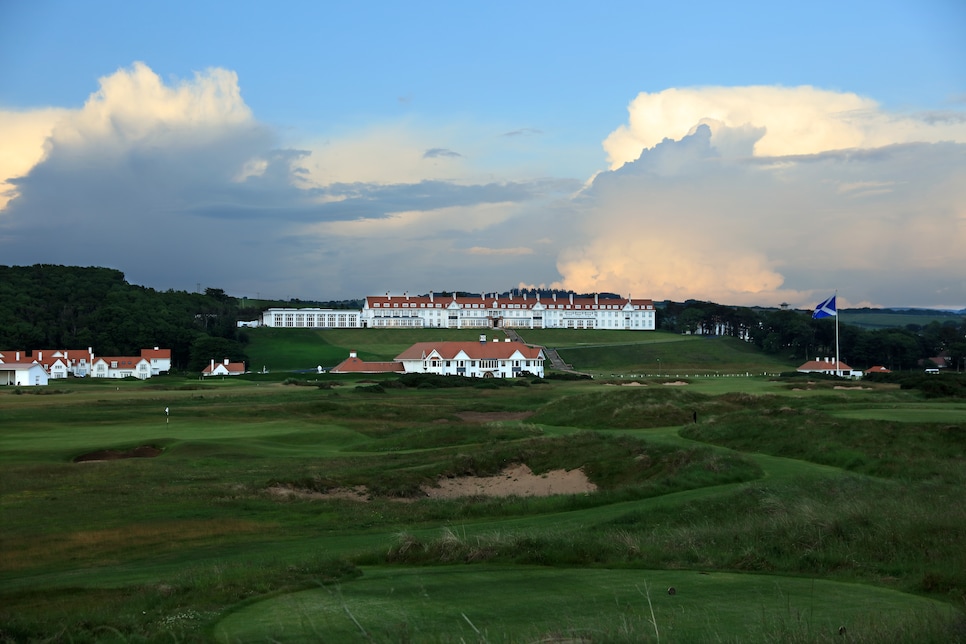 Turnberry makes no apologies for being an Americanized version of an authentic links. Trump added the same 10 foot wide ryegrass walkways that he insisted on through the dunes at Trump International in Aberdeen. While perhaps too clean and carpet-like for most, they do add an elegance to walks as your approach Ebert's square tee boxes (which fight the landcape a bit).
For those planning a visit, the Ailsa will be worth the premium price to play already thanks to greenkeeper Allan Patterson's almost mind-boggling effort to have great turf for golf in such a short time. By 2017, Ebert's redesign of the Kintyre course will feature an improved set of seaside holes and architectural character. But there's more.
Beyond the premium golf, Turnberry wisely offers alternatives for those not wanting the full 18-hole experience. The current Arran executive course is a lower profile joy for everyone, especially beginners and kids. Ebert's wonderful redesign of the pitch-and putt-course set below the hotel, has been the site of so many joyful evening matches and brings golf on the tiniest of scales in the grandest of settings.
On the second day I visited, the 18-hole short course that Ebert says can also be played in 7 and 12 hole versions, was getting plenty of play from kids. The infectious laughter could be heard from afar.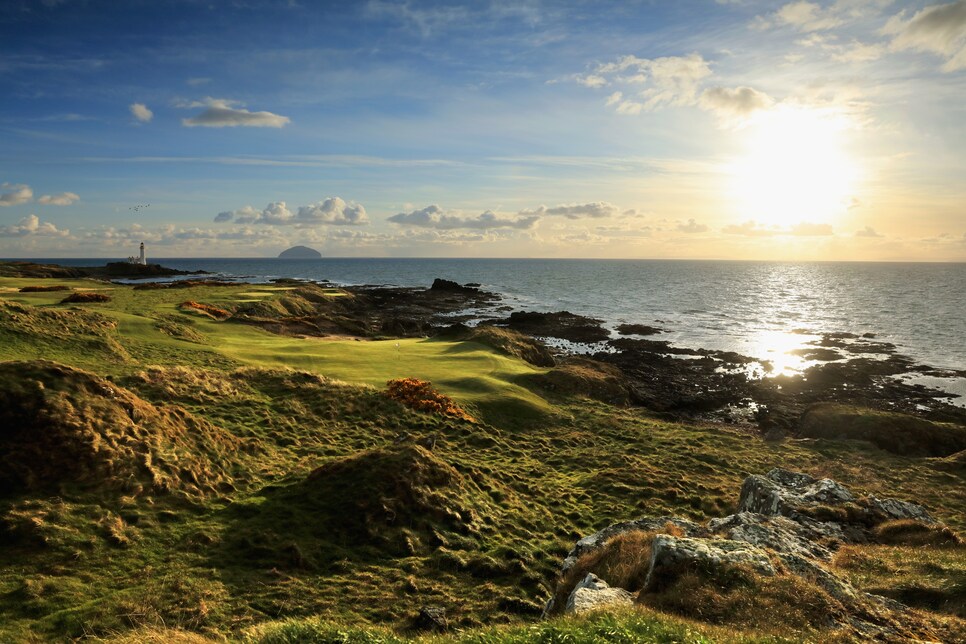 Besides a huge locker room and wonderful upstairs dining space, the clubhouse offers two excellent conference rooms with grand views. Before you play, carve out time to walk the lobby perimeter to enjoy historic imagery and memorabilia from Turnberry's historic past. The interior design's history-based approach only heightens your affinity for golf, Scotland and Turnberry, leading guests to further appreciate Trump's restoration of the iconic property without the developer taking credit.
The Trump's faced a tricky task in renovating James Miller's 1906 hotel design: Appeal to the aspirational international traveler expecting a modern luxury experience while respecting the hotel's Scottish roots.
That meant less garish gold and even less of the Trump branding. There is one small painting of Trump hitting a tee shot after buying Turnberry, otherwise the walls are adorned with massive-sized old photos of great players enjoying early links golf or Turnberry images or even old railway art.
The re-imaging of both interior and exterior is intentionally minimalist -- except for the signature Trump fountain that almost fits the hotel's courtyard. Almost.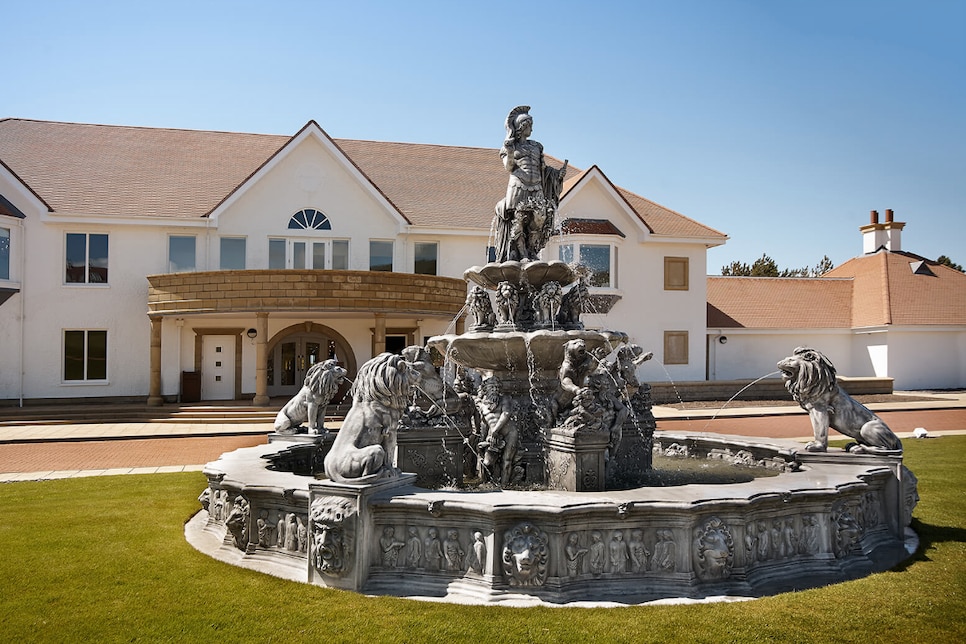 Turnberry apparently faces an uphill battle to host The Open because of the R&A's aversion to the New York real-estate magnate's inflammatory campaign trail rhetoric and his potential for upstaging an event. Few in Scotland have forgotten his Women's British Open campaign appearance last July, or his premature mention of Trump International Links in Aberdeen landing a three-year deal to host the Scottish Open.
Last December The Independent on Sunday reported that Trump Turnberry was out of the rota over various incendiary comments by the candidate. However, new R&A Chief Executive Martin Slumbers denied that during the 145th Open at Royal Troon.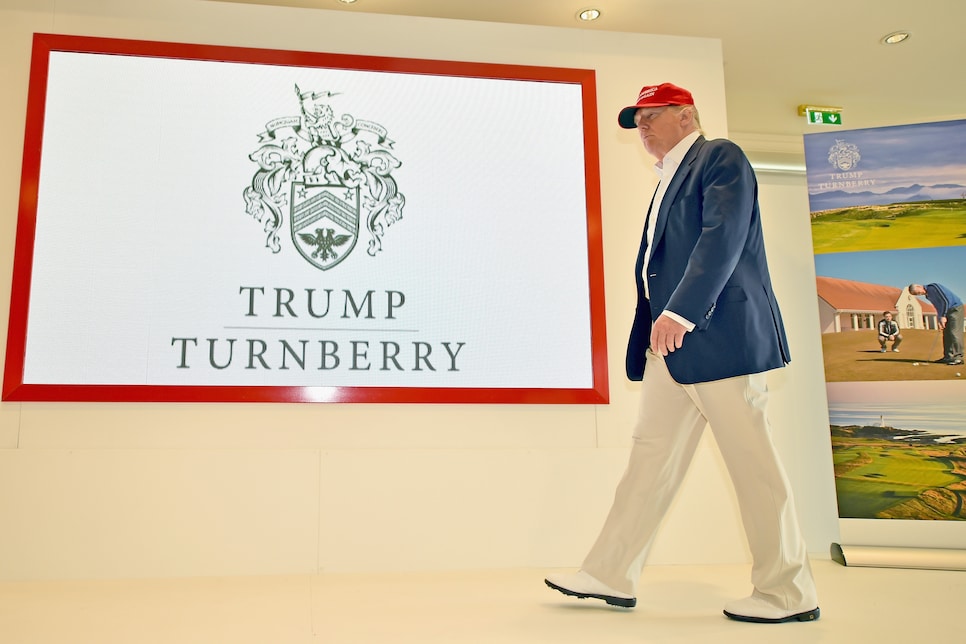 "Turnberry is, was and is, part of the pool of courses for the Open Championship," Slumbers said at a Tuesday press conference. "There are at the moment nine courses, and Turnberry is one of those."
Slumbers pointed out that The Open is booked between now and 2021. Only the 2020 and 2021 locations are to be announced, with Royal St. Georges and St. Andrews the likely venues, the latter to celebrate The Open's 150th anniversary in 2021. Already announced venues include Royal Birkdale (2017), Carnoustie (2018) and Royal Portrush (2019). Muirfield, the host of 16 opens since 1892, is currently out of the rota because of its vote earlier in the year not to accept woman members.
It means the R&A's ultimate decision on Turnberry will probably come when Trump is not as polarizing. Or as Slumbers said, "We don't have to consider beyond that for a couple of years, and we'll pick that up in a couple of year's time."
If the R&A stays away from the iconic venue of Tom Watson-Jack Nicklaus 1977 "Duel in the Sun", as well as Watson's near-miracle at age 59 in 2009, they'll be depriving themselves of a links that their own committees and executives helped improve. But most of the credit goes to Trump family for bringing together a team of architects and designers to return Turnberry to its rightful place as an iconic, once-in-a-lifetime lodging and golf experience.