The Loop
Donald Trump: The PGA Tour hasn't parted ways with Doral just yet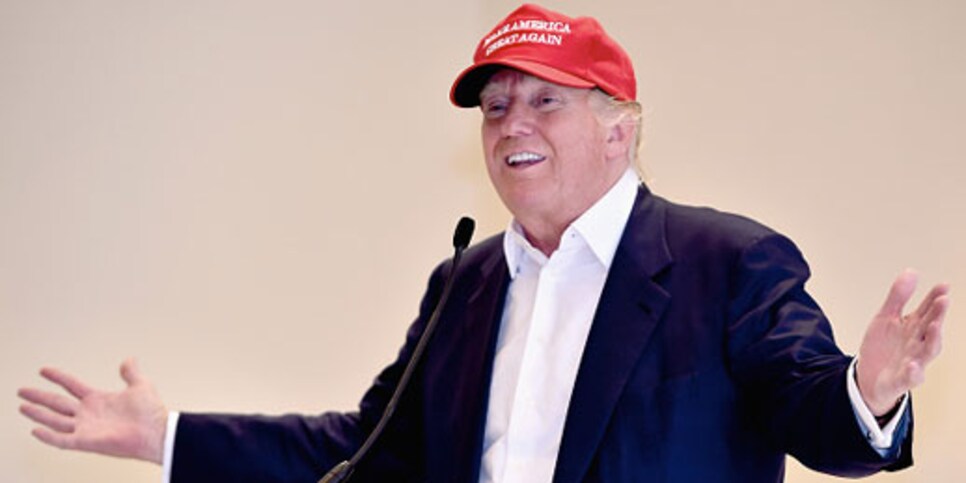 Things are good right now for Donald Trump. The Republican presidential candidate enjoyed a runaway victory in the New Hampshire primary on Tuesday and continues to top nationwide polls.
In the golf world, however, it's still not entirely clear if PGA Tour will "vote" for Trump. Since the tour released a statement in December stating it was exploring "all options regarding the future" of the WGC-Cadillac Championship at Doral, chatter has been that the event might not return to Trump National Doral after this year.
Trump says tour officials have not discussed the matter with him, even with this year's event being less than a month away (March. 3-6). The billionaire owner also cautions that the tour might want to think long and hard before moving the event.
"They do not want to do that," Trump told Golf.com. "There's no site like Doral in Florida. I have the greatest site in all of Florida."
Doral held a PGA Tour event every year since 1962, so a break-up will likely be a tough move. But the PGA of America moved its Grand Slam of Golf from Trump International in Los Angeles this past fall, and reports suggest that the R&A is moving away from Trump Turnberry, so there's precedent for parting ways with The Donald
Here's the tour's statement from December:
"We continue to stand by our earlier statement, and the statement of other golf organizations, that Mr. Trump's comments are inconsistent with our strong commitment to an inclusive and welcoming environment in the game of golf," it read. "The PGA Tour has had a 53-year commitment to the Doral community, the greater Miami area and the charities that have benefited from the tournament. Given this commitment, we are moving forward with holding the 2016 event at the Blue Monster. Immediately after the completion of the 2016 tournament, we will explore all options regarding the event's future."
The clock is ticking on needing to make a decision, as Trump continues to keep winning in the political realm.