The Loop
Donald Trump had a suit specially made for David Feherty right before going on his show
On Tuesday, NBC/Golf Channel made its new exclusive deal with on-air talent David Feherty official. It wasn't exactly "The Decision" by LeBron James that captivated the country five years ago, but in the world of golf, the TV funnyman is about as big of a free agent get as there is.
Feherty had a press conference to talk about his decision to leave CBS after 19 years, and for the most part he said all the things you'd expect. It was a tough call. He's excited for the new opportunities, which will include Ryder Cup and Olympics duties. He'll miss his former colleagues, but he's also looking forward to hanging with Johnny and Rog. Obviously.
Amid Feherty's standard answers, though, came a great story about having Donald Trump on his show, Feherty:
"You know, I really enjoyed being with The Donald," Feherty said. "The show was two or three years ago now at Trump Tower in New York. The first thing he did was look at me and decide I needed a suit, so he had one made in about an hour and a half and delivered, which I think I wore during it."
That's pretty quick for a custom suit. And it looks like it turned out well: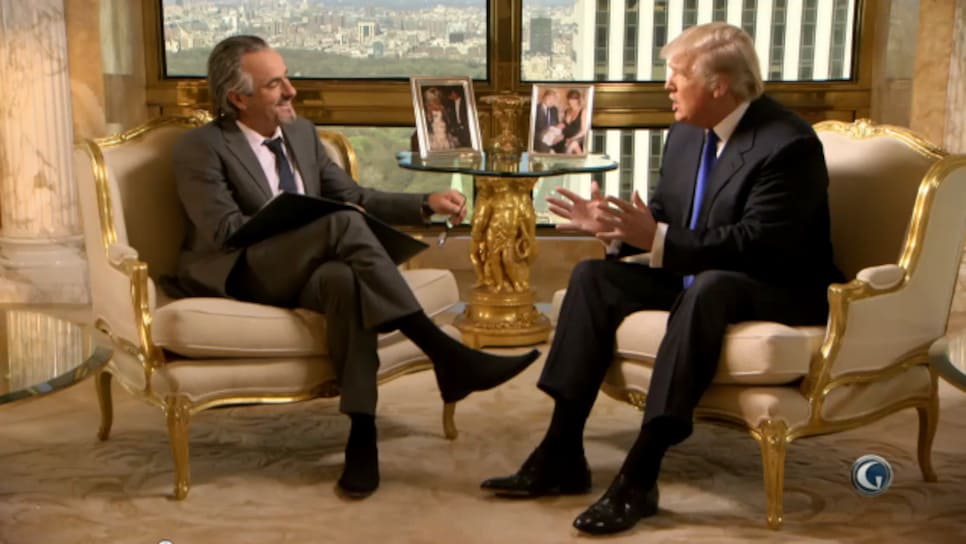 In case you're interested in watching Feherty's interview with the now Presidential candidate, Golf Channel is re-airing the episode on Tuesday at 10 p.m. ET.