In firing president Ted Bishop over a Tweet in 2014, the PGA of America announced "We must demand of ourselves that we make golf both welcoming and inclusive to all who want to experience it, and everyone at the PGA of America must lead by example."
That same year, USGA head Thomas O'Toole stated the "spirit of building an inclusive and more welcoming game worldwide has become pervasive across many of our core functions beyond our championships," at the organization's annual meeting. These sentiments were copy-and-pasted by the PGA Tour this summer in condemning Indiana's controversial Religious Freedom Restoration Act.
Clearly, creating a socially conscious and accommodating setting is at the forefront of American golf.
A tenet that's at odds with the campaign of Donald Trump.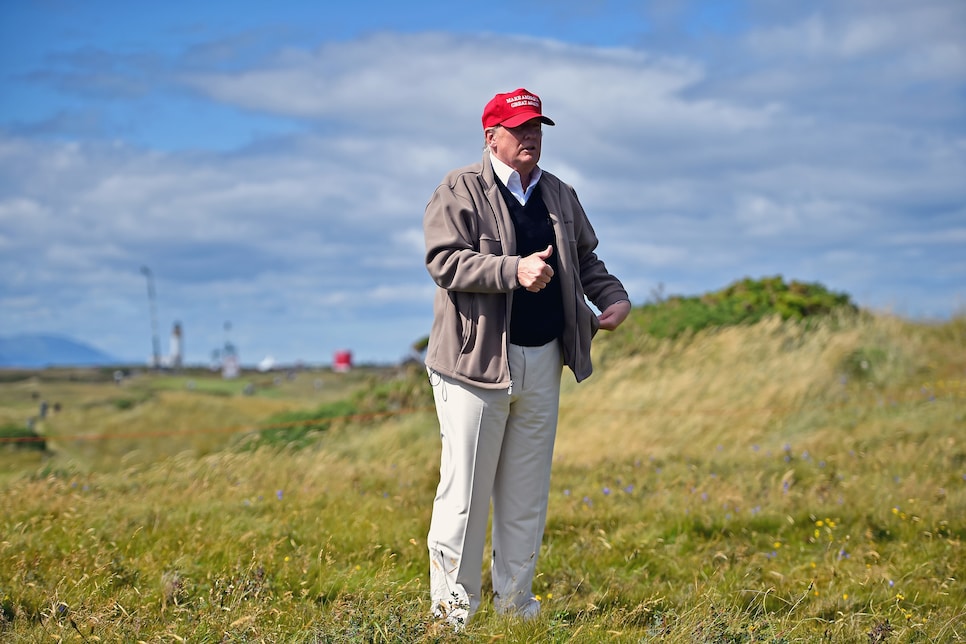 In the five months since Trump announced his presidential ambitions, the real estate magnate has made contentious remarks towards Muslims, Mexicans, Asians, African-Africans, Jews, Seventh-day Adventists, POWs, women, and the disabled. If his campaign, which has a 20-percent lead in the Republican national polls, continues its cadence, it's probable more sects will be disparaged.
The only groups that apparently haven't been insulted are the PGA Tour, PGA of America and USGA. For, despite his progressing insolence, all three organizations have major events still scheduled at Trump properties: The annual WGC-Cadillac Championship at Doral, and the U.S. Women's Open in 2017 and the PGA Championship in 2022 at Bedminster.
The PGA of America did condemn Trump's Hispanic comments, pulling its Grand Slam of Golf tournament from his Los Angeles course in early July. However, at this year's PGA Championship at Whistling Straits, PGA CEO Pete Bevacqua reiterated the 2022 event will remain at Bedminster.
"We have a relationship with the Trump organization as a golf entity. That's what we're focused on," said Bevacqua. "The Trump organization is also an employer of PGA of America members, that's critical, in their wonderful facilities."
Bevacqua and the PGA of America were hoping the controversy would fade over time, that Trump's fiery rant towards Mexicans would be forgotten. Since Bevacqua's affirmation, the flames have only risen.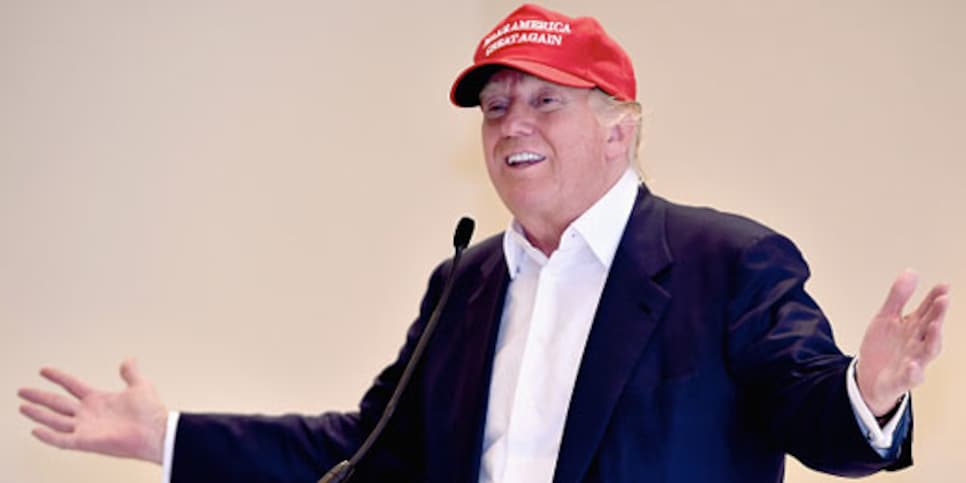 To a point, it should be noted, that Great Britain has classified Trump's dictum as "hate speech." As such, there will be a hearing on January 5, which will determine if a nationwide ban of Trump should reach the floor of Parliament. Scotland additionally announced it has stripped Trump of his ambassador role.
This is noteworthy to golf, as Trump's Turnberry course is a candidate for the 2020 British Open. While the Royal and Ancient Golf Club -- the ruling golf authority outside the United States and Mexico -- said it was in no rush to give Turnberry the Open following Trump's words on Hispanics in July, the proposed ban will likely play into the R&A's verdict. (UPDATE: The R&A has decided Turnberry will not host the British Open due to Trump's "toxic" reputation.)
Which brings us back to American golf. The USGA, PGA Tour and PGA of America are now in a precarious spot. If the R&A disassociates itself from Trump on the grounds that he's a detriment to the sport, what would a U.S. non-response say to the rest of the game? That they're inadvertently advocating his beliefs?
Waiting for another bombshell before rendering a decision is likewise a problem. Basically, an inherent message of, "Well, the knocks against Hispanics, blacks, veterans, Muslims and women were one thing...but THIS is crossing the line."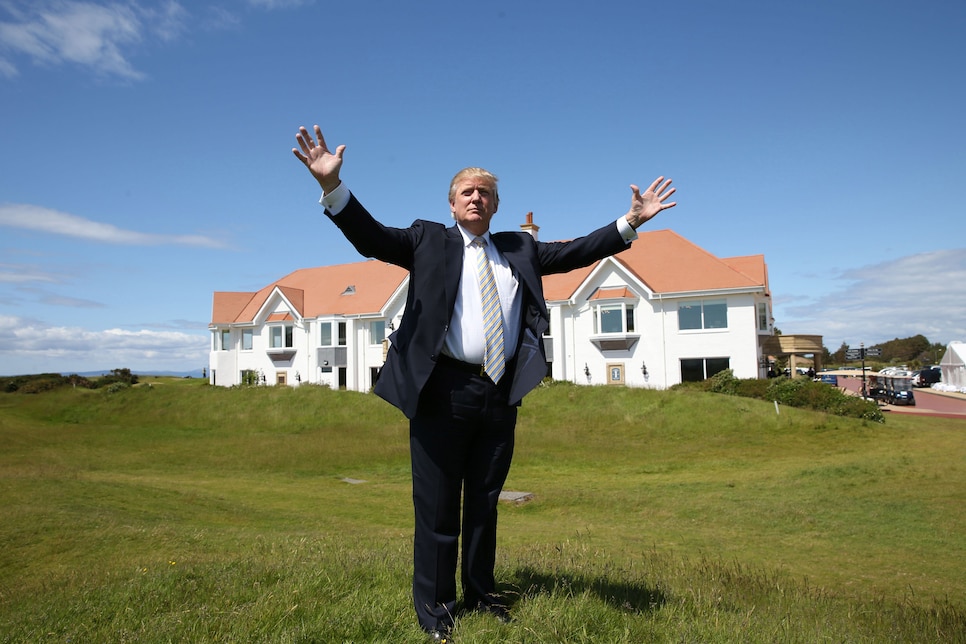 Golf has a checkered history with omission and segregation, which is why the game has been proactive in diversifying the sport. It explains the universal "welcoming" and "inclusivity" rhetoric.
But what about the hypocrisy of Trump "welcoming" Latinos to Doral, given the billionaire prohibited Univision employees from his resort after the American-Spanish broadcast company decided to stop televising his Miss Universe pageant?
Sixteen of the top 20 players in women's golf are non-American. Will Trump's views towards gender, immigration, or Asians make them reconsider playing in the 2017 U.S. Women's Open?
"We're not here to talk about presidential politics," Bevacqua reiterated at the PGA Championship. But if there is a genuine desire to create a welcoming environment in golf, the sport may be forced to recognize Trump's campaign contradicts that ambition.