The Loop
Donald the beneficiary of Els' painful fade
The last man standing on Sunday was the right man in the wrong place, Luke Donald, the best player in the field, cashing in an opportunity to reclaim No. 1 in the World Ranking. But the Transitions Championship was never his tournament to win. It was Ernie Els' tournament to lose and he lost it.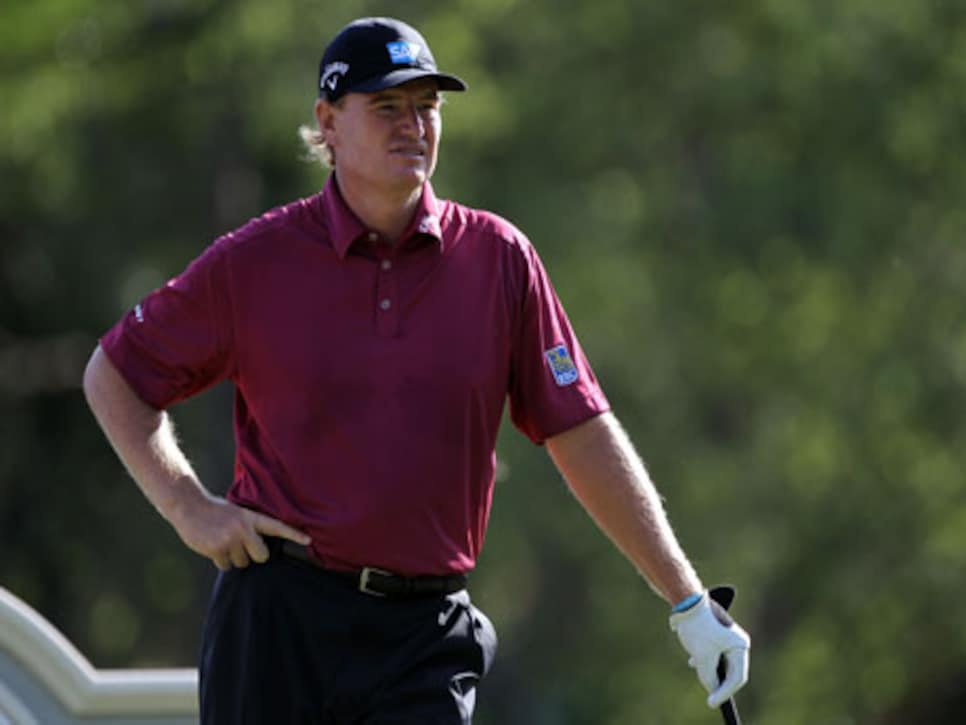 Ernie Els bogeyed his last two holes to fall one shot short of entering a playoff.
The awkward post-round interview that NBC's Steve Sands conducted with Els unleashed the wrath of the Twitter set ("How do have your front teeth knocked out in 10 seconds from the big easy. Stupid question," Ian Poulter wrote). But it was less painful than watching a Hall of Fame player in his 40s, a former world No. 1, succumbing to potentially his most debilitating opponent: his nerves.
Els, 41, who hasn't won on the PGA Tour in two years, needed a victory to earn an invitation to the Masters, a tournament in which he has played 18 straight years, finishing second twice. His goal to complete the career grand slam -- he needs Masters and PGA Championship victories -- is slowly slipping from his grasp, compounding the pressure late on a Sunday afternoon.
He did not handle it with aplomb. He pulled a four-foot birdie putt at 16 that would have increased his lead to two; missed the green wildly at 17 that led to a bogey and dropped him into a tie; then badly pulled a four-foot par putt at 18 that bumped him from a playoff.
Then came the interview that was neither man's finest hour, Sands fumbling the questions and Els agreeing in the first place to go on camera in the immediate wake of his collapse. It reads only marginally better than it sounded:
Sands: "With a very disappointed Ernie Els. Ernie what happened after that drive at the 18th hole?"
Els: "What happened? Well I pulled my second left, chipped it up there, didn't have a great lie on my third shot. and I pulled my putt."
Sands: "Did you have the confidence to make that putt for four there?"
Els, appearing incredulous: "Yeah, I guess so. I just pulled it a little bit."
Sands' execution might have been off, but the subject was spot on. Short putts have been a nemesis in Els' decline in recent years, even inducing him to go to a belly putter for a time, despite his vociferous opposition to them ("As long as it's legal, I'll keep cheating like the rest of them," he said at one time). Those were less than confident strokes he put on matching four footers at 16 and 18.
Els' foibles ruined one good story that was replaced by another as a result of the dead heat that evolved in his wake, a four-way tie and a playoff. Donald, 34, prevailed against Jim Furyk, Robert Garrigus and Sang-Moon Bae by sneaking a four-foot birdie putt in the left side of the hole on the first extra hole.
The cup doesn't tend to move as much for those in their 30s, of course. And while the 40s don't necessarily undermine one's career (see Vijay Singh and Steve Stricker), the loss of nerve can expedite one's decline.
Is this where the man known as the Big Easy is at in his career? At the very least, the moniker has become a misnomer. Easy? It wasn't even easy to watch.