A Dad, A Son, And A Dream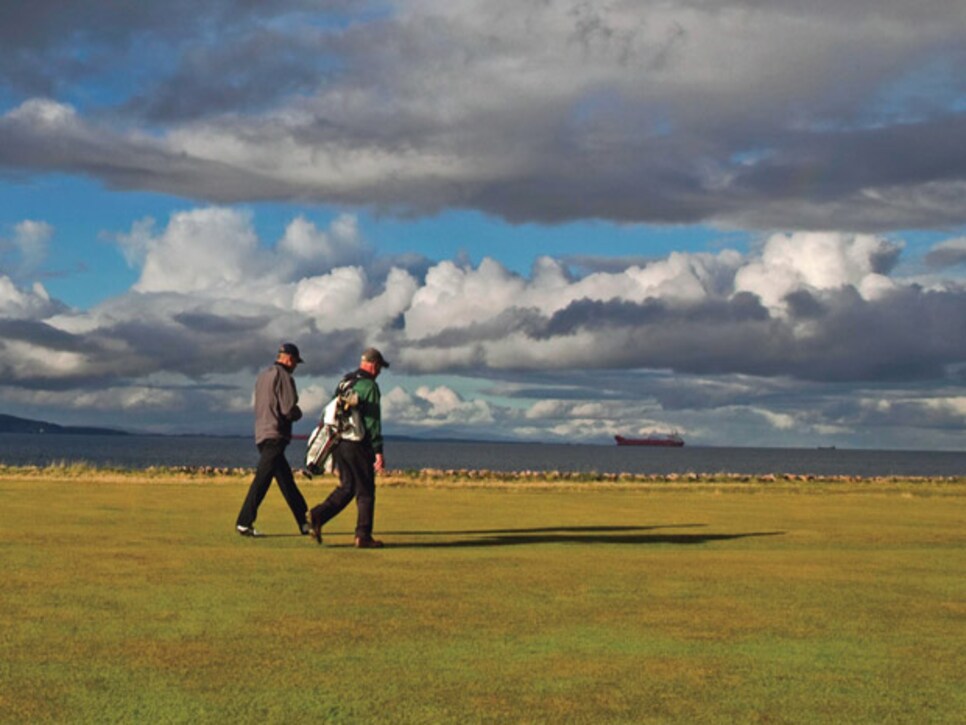 Adapted from Walking With Jack* and published by arrangement with Doubleday, an imprint of the Knopf Doubleday Group, a division of Random House Inc. Copyright © 2013 by Don J. Snyder, 336 pages. Hardcover, $25.95; e-book, $12.99.*
I was 57 years old in the winter of 2008 when I left my home in Maine and went to St. Andrews, Scotland, to work as a full-time caddie, to learn as much as I could from the veteran caddies there so that one day I could meet a promise I had made to my son almost two decades earlier: If he ever became good enough at golf to play on a pro tour, I would be his caddie. It was a promise I kept reminding Jack of during his teenage years, when he seemed to despise me. And it was the last thing I reminded him of when he left home three days after graduating from high school to work in the bag room at Inverness Club in Ohio, and then again two months later when he made the University of Toledo golf team as a walk-on.
I spent the winter in the village of Elie, where I played myself back into the game and into good physical condition by walking 36 holes a day with rocks from the shore of the North Sea in my golf bag. As winter was ending I presented myself to Davey Gilchrist, the caddiemaster at Kingsbarns, and asked for a job. Davey was struck by my mission. "You'll be one of my oldest caddies," he said. "But if you are willing to work the 187-day season without taking a day off, and if you never say no to a second loop if I need you, no matter how cold or tired you are, I'll give you a chance." We shook hands, and my education began.
It was a steep learning curve. When you're the new caddie standing on a green with your golfer and three experienced Scottish caddies and their three golfers and you proclaim to your man that his putt is going to break two cups from right to left, once his ball starts rolling, there is no place to hide. I made my share of mistakes and took all the advice my colleagues offered me, including that from Kenny, who sent me out on the course by myself at the end of the day to kick a golf ball from the first tee to the 18th green to learn the contours of the land.
After being locked in rooms writing for almost 35 years, I felt set free and blessed, and I learned very quickly that a good, hardworking caddie doesn't complain if his golfer is an ungrateful jerk, or if he's not properly paid, or if it's pissing rain for five straight hours, or if the wind is at gale force and knocks him back a half step for every step forward, or if he spends hours in the rough searching for balls or marching up and down hills to the wrong fairways, or if his bag is too heavy, or if he's hot and thirsty and his back is aching, or if he has finished 18 holes and just rolled a cigarette to relax for a few minutes when he is summoned to the first tee to begin another five hours with cold rain running down the back of his neck, or if at the end of a 10-hour day he misses his bus home by three minutes and has to wait an hour in the pouring rain for the next one, or if he comes in on the 6 a.m. bus for an early tee time only to have the golfer cancel and to be sent home having earned nothing, not even the money to cover bus fare. It is a point of honor to accept the caddie's code with equanimity—that we are out there each day with billionaires, millionaires and the scum of the earth, and that we treat each of them with equal respect. This is how I earned the trust of my fellow caddies and of the strangers I caddied for. And in the end, trust is all that matters to a good, hardworking caddie.
Early on I realized that shepherding my golfer past the hazards to good ground, and believing in him even when he no longer believed in himself, was precisely what I had done with my four children. All fathers are caddies, I suppose.
A SON'S STEADY HAND AT THE CASTLE COURSE
On one beautiful day in July, one of only 17 days that season when I didn't wear or bring my long underwear, I was out with a father and son from California. The golf trip to Scotland was a graduation present for the son, who had just finished grad school, earning his MBA. In a month he would be leaving his father behind in California, moving to New York to work for an investment bank. They were close, best friends. And the father had been knocked down by multiple sclerosis so that he could barely walk. I had to drive him in a buggy around the course, and he had to hold my arm to steady himself as we walked onto the greens. The disease was progressing. He was losing the control of his right hand and could barely hit the ball, though he had once been a college golfer and had played a fine game with a plus-2 handicap. On the fourth hole he told me that he didn't know how he was going to get through each day after his son moved away. His son could hit the ball a mile, like Jack, and we were cheering him on all the way around the course. At one point the father said to me: "I just love seeing my son play the game so well. It was different with my old man—he taught me to play, but once I began beating him, he would never play with me again."
When we finished, the two of them stood on the 18th green while I took their photograph. I was standing maybe 20 paces from them and was looking at them through the lens of the camera when I saw the son lift his hand to his father's face. It took me a moment to realize that his father had begun to cry and that the son was brushing away his tears.
That was the moment I realized that I was going to learn to be a good caddie in Scotland, and if I kept my eyes open I was going to learn a lot more.
TURNING AROUND A BAD BLIND DATE
For caddies in most of the world, the term "double" means you carry two bags, one on each shoulder, caddieing for two golfers and dividing your time between them. There is none of that permitted in Scotland, where the term "double" means you do two loops in one day. The reasoning for this makes perfect sense: In Scotland the majority of golfers have traveled here from somewhere and are unfamiliar with the ground and need careful supervision to avoid disaster. One caddie attempting to provide sufficient attention to two golfers at the same time would be rather like one man attempting to romance two women simultaneously, with the result being that neither woman felt sufficiently looked after.
I did the back half of a double late one August day with Paul, a retired policeman from Glasgow with a gleaming shaved head and the rugged build of a lumberjack. All summer I observed a mounting anxiety in all the caddies, even the vets, as their time to go out approached. It was a blind date for all of us; one never knew what to expect, and secretly we all feared the same thing: being stuck for five hours with an irredeemable jerk. Paul was the only caddie among us whose calm demeanor didn't change as he made his way to the starter's hut. "Once more unto the breach," he said to me as we walked side by side.
"Ah, Shakespeare," I said.
"Henry the Fifth. I said the same thing before each shift on the police force." He gave me a handshake and said, "It will be nice to be out here today with someone who knows his Shakespeare."
Paul had the best greeting lines I'd heard so far. On the first tee he said, "Gentlemen," then waited for all four golfers to turn to face him. "Just remember: You're not here to have fun today. You're here to play golf."
All four gentlemen laughed, and we were off on what promised to be an enjoyable loop with four heart surgeons from Los Angeles. But the trouble started on the first green when Paul's man glared at him after he missed a three-foot putt for bogey. It was just a glance, but enough for Paul to know that a storm was brewing. On the way to the next tee he said to me, "I've got a real wanker on my hands here."
He was right. Over the course of the next three holes the surgeon made a series of horrible shots and found a way to blame Paul for each of them. I watched closely as Paul bided his time and kept his distance, giving the man the line for each shot and the read for each putt without expression and then promptly walking away from the man like he might be carrying an infectious disease. After each shot, Paul reached for the doctor's club, then marched out ahead as he shoved it back into the bag. The whole time I had the feeling Paul was going to walk off the course and leave the doctor to his misery.
And then we came to the eighth hole, and the poor fellow's ball came to land in a footprint in a bunker. He looked down at the lie, opened his arms to appeal to the heavens and cried out, "That's not fair!" By now all of us had gathered around to have a look at the injustice. "That's not fair!" he cried out again.
Paul casually handed him his wedge and said, "Life isn't fair, doctor. And it's a good thing it isn't, or we'd all be in Africa right now starving alongside those poor bastards instead of playing golf in Scotland." A great hush fell over us as Paul stood the man's golf bag on its legs and leaned over it with his head resting on the driver as if he intended to take a nice nap now that he had delivered his sermon. His golfer took three swings to send the ball out of the bunker, then climbed out, handed Paul his wedge and said very calmly, "You're right."
The effect on the doctor was nothing less than stunning. He began behaving like a grown-up instead of a child. And within the next hour he and Paul were walking side by side and chatting each other up. At the clubhouse when we finished, the doctor had one of his pals snap a photograph of the two of them with their arms around each other.
Walking back to the caddie shed, I told Paul that I had never seen such a transformation. He smiled and held out his hand to show me what the doctor had paid him. "One hundred and sixty pounds. Best tip I ever got," he said. Paul had made more in one round than I made in my double. "That's because you taught him something about life," I said.
"Sometimes we have to," Paul said. "It's in the job description. In the fine print." He gave me a grin, and we walked on.
HELPING A DAD AND AUTISTIC SON EXPERIENCE THE OLD COURSE TOGETHER
I ended the season caddieing in the European Tour's Dunhill Links Championship, then returned to the States just in time to drive through the night from Maine to North Carolina to watch my son compete in his first big NCAA event, where he was up against golfers from all the celebrated Division I schools that were never interested in him. On the second day, when a sleet storm blew in and the fair-weather golfers from California and Florida were fading away, Jack shot a round of one under par, one of only three under-par rounds that day.
I thought we were on our way to the stars.
But life, like golf, is often not a straight line, no matter how hard we try to make it one, and soon Jack was dropped from his team because of poor grades. For most of a year he and I didn't speak to each other. The next time I saw him we were standing in the rain at a cemetery in a small town in Pennsylvania, burying my father. I had driven down from Maine, Jack from Toledo. There was a shadow across his eyes, and I saw in one glance that he was losing his belief in himself. Golf is just a game, this is true. But for the two of us it had been a chance to fulfill an old dream. A lot more than a game was at stake.
At a Citgo station near the entrance to the Pennsylvania Turnpike, I filled his tank with gas and bought him a coffee and a sandwich for the road. We shook hands and said goodbye without smiles or embraces. Then I watched him turn onto the highway into the procession of cars moving off into the distance before he disappeared among the other sons who had left their fathers' worlds. Despite the broken banks and factories and schools and churches and hospitals, this was still the land of dreamers. Maybe without our dreams of being better than we are, without our dreams of becoming something we are not, we don't care enough, and we stop trying. It left me feeling so damned sad. I drove home to Maine with these words banging around inside my head: We can't count the ways we can lose the people we love best in this world, but when we look back we see that it was usually our fault.
Ten days later I returned to Scotland to caddie for a second season to show Jack that I had not given up on him or on the promise I had made. This time I worked for the St. Andrews Links Trust, where I did my share of loops out on the Old Course and where I seemed to be surrounded by fathers and sons.
Late one afternoon I stepped onto the first tee and met a fellow in his 50s who had recently lost his father, a man from whom he had been estranged for many years. We talked about fathers and sons for the first two hours, and when we reached the ninth tee he told me the story of his autistic son, now 30, whom he and his wife had been caring for since the beginning. He had never been able to walk a golf course with the son because of the loud sounds the boy makes and the way he waves his arms uncontrollably. The father confided to me that in truth he was embarrassed.
We got to the 10th green, and I asked if he had made the trip to Scotland by himself. He said, "No, my wife and our son are here in the hotel." It was around 6 p.m. by then. When we made the turn for the homeward holes I realized that there were only four groups behind us left on the Old Course. I told the man that if he wanted to sit for a while and let everyone play through we could then be the final group, and we could call his wife and tell her to bring the son to the 14th tee so he and his father could walk a few holes together, side by side on the Old Course.
It all worked out perfectly. The son was making his loud noises and swinging his arms, but it was beautiful to witness the two of them. It was something I'll never forget. I wondered what it must have been like for this father to never be able to fix what was so broken in his son. What I did for him, I did for myself also, and for fathers everywhere, I think. And for my father, whose presence I felt that day. I think he was looking down at us from wherever it is we go next.
A SON AND FATHER CHASE THE PRO DREAM
Iwas away from home another six months, living with no telephone or Internet and no communication with Jack until I turned my cellphone on when I returned to the States. I was walking through Logan Airport in Boston when Jack called me to say he had been working on his game and had turned pro. "Are you still interested in caddieing for me if I can make a pro tour?" I heard him ask.
My eyes filled with tears. "You bet I am," I told him.
And so it came to pass that we spent the winter in Houston, playing on the Adams Golf Pro Tour and living in one motel room for four months without killing each other. So often in that room when we started out talking about golf we ended up talking about life, and I got to spend the kind of time with my son that most fathers never get. It was all a privilege, though it took me the first three tournaments to realize that Jack didn't need a father walking beside him, he just needed a good caddie. And this set up a curious equation: I had walked almost 2,000 miles in Scotland caddieing for golfers from all over the world, and pretending each time out that I was caddieing for Jack, fighting to make each shot. Now in Houston I had to pretend that I was not caddieing for my son, but just for a golfer.
We chased the dream together that winter in Houston, but I didn't realize until the end that my son's version of the dream was different from mine. We finished our final round of the last tournament, and while Jack was changing his clothes I had a chance to talk a bit with the two boys from our group that day. Noah was 24, and this was the end of the road for him. He had a beautiful game and hit the ball a mile, like Jack. "No," he said solemnly, "I gave myself this tour to see if I could putt. I never sank a single putt the whole time. I'm through." Brian, on the other hand, was planning to play a full schedule of events on the Adams Tour that summer.
"Q school for you in the fall?" I asked.
"You got it, sir," he said.
"What about Jack?" he asked.
Even as I was explaining that Jack was not a dreamer like his old man and that he was ready to go back to the real world, I was doing the math in my head. He had finished his last round on the tour at three over par, hitting 16 greens in regulation to match the 16 he had hit the day before. He had hit every fairway except one again. This was a triumph to me for a kid who had not played any competitive golf in almost three years before Texas. But Jack wouldn't see it that way. In today's round he had seven tap-in pars, which to him meant seven more missed birdies to add to the seven he had missed the day before.
But what I'm always going to remember from our last round of golf together was Jack spending a few minutes with Barry O'Neill, a splendid Irish lad on the tour who had taken Jack under his wing. Jack gave Barry a couple hats from Inverness Club. And Barry very sweetly tried to persuade Jack that he had a future in golf. "You play fearlessly, Jack. You were only behind me by a few strokes these last couple of events, and I've played in a hundred tournaments. Think of the progress you've made. I'm just saying, think about it. Look ahead five years and think what you could accomplish in this game."
And there was Jack thanking Barry and telling him how he saw things. "I never played up to my potential here, Barry. There were three or four rounds when I embarrassed myself. I have to be honest about this. You're either the real deal in this game, or you're just a pretender, lying to yourself. I don't want to do that, man. I came here, and yes, I made some progress, but I never played up to my potential. I wish I had. But I didn't."
I watched them shake hands. In that moment I understood something about my son. He saw the grace in an ordinary life lived honestly. Something that big dreamers like myself almost never see. I will always remember Jack rolling in his last putt for a par with a golf ball that had his girl's initials on it. And how he cheered on his playing partners through the round, even though they were his opponents. And then the moment today when I looked up through the mist and rain and saw Jack walking toward me, wearing the black jacket that I had bought him when he was 17, where this journey of ours began. Six years ago, I thought; like anyone I wanted to get those years back.
And in a way I got them back in Texas.
I will remember all of it for as long as I can. The handshake on the last green. The quick embrace. And the walk to the parking lot when Jack said, "That's that, man. It was real, wasn't it?"
"Yeah, Jackie," I said. "It was real."
By noon we were on Highway 59 heading north out of Texas into winter, just another father and son in this world who would soon say goodbye without any clear idea when we would ever see each other again.
In May, Doubleday published a book I wrote about this journey. In the acknowledgements to the book I wrote: "In the curious geometry of life, it turns out that some of the best philosophers and psychologists in the world carry golf clubs for a living in Scotland. They are as tough and determined as sled dogs, and they are also generous teachers and spiritual advisors, raconteurs and even meteorologists when they are called to be." I thanked each of them by name and then ended with these words: "Of all the fine philosophers I worked with in Scotland, Stevie Morrow, who walked me through some early-season jitters, delivered the best caddie line I ever heard. 'Don,' he said one sunlit morning as we made our way to the first tee of the Castle Course, 'when I get stuck out there with a real wanker, I give him the bronze treatment instead of the gold, which means the same lousy reads but without the smile.' "
I have a deal with Stevie. When I'm old and facing the end, I'm going to ask my wife, Colleen, to take me back to St. Andrews for one last walk on the Old Course with some of the old caddies who were still young when I knew them. I will wear my black rain jacket with the Links Trust emblem over my heart and the word CADDIE on my left sleeve. Stevie will help me out to the 11th green, and then we'll turn and slowly make our way back toward the timeless embrace of the old grey town, and I will remember.
I saw Jack only once during the year I'd spent finishing Walking With Jack, but we speak all the time now. He finished his management-training program with Sherwin-Williams and runs his own paint store in Cleveland, where he and his girl are busy planning their wedding. I thought that our journey in golf was over, but just before Father's Day, I told him about a book I'd read by a PGA teaching pro named Judy Alvarez who is working with wounded veterans, getting them back out on the golf course. "You know, Daddy, you and I should take some of these wounded soldiers over to Scotland to play the Old Course," Jack said. "Wouldn't that be cool?"
Another promise. Another dream.