News
Domestic truce equals great golf for Stupples
RANCHO MIRAGE, CALIF.-  We have a new leader in the clubhouse. Karen Stupples shot her second 69 of the week Friday and was practically glowing when she came off the course, in a share for the lead with Lorena Ochoa at six under par. After spending 2009 playing mediocre golf while recuperating from an emergency appendectomy and laser treatment to the veins in her legs, she admits her game has gone through a rebirth in 2010, partly thanks to a lot of physical training during the off-season and partly thanks to her husband, Bobby Inman. What did the player's better half do that helped so immensely? He stopped being her caddie.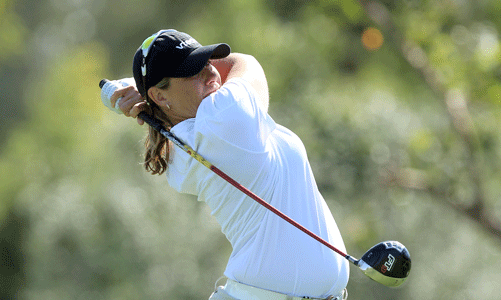 *"Logan, my [almost three-year-old] son is fantastic, but he's not easy," Stupples said after her round. "We have had many sleepless nights, and with my husband on the golf bag, it's been very difficult, both of us not getting any sleep while trying to have to work on the golf course together. There were many times when I would try to chase him down on the fairway for an argument, just because. We were both tired. And that's not a good look for anybody. There were many times, I could see it in his face, he was as frustrated about it as I was." After getting through last season, the couple decided to call their working relationship quits and hired Jerry Woody to take over the looping duties. "He's been out here for many years, and he's actually one of Bobby's best friends," Stupples said. "So it works out really well.  He feels like family anyway."
The change has resulted in better golf for Stupples -- and a happier marriage for both spouses. "I don't get the black looks anymore," Stupples added with a laugh. "Although Bobby would say I was the one giving the black looks."