The Loop
Does Tiger Woods withdraw at an unusually high rate? Our rundown
Tiger Woods withdrew after the 13th hole on Sunday at the Honda Classic, citing a bad back. We've seen Woods, 38, walk off mid-round a few times in recent years, including twice during final rounds. But does he withdraw from events at a higher frequency than most or do we just notice more when it's him pulling out? Overall, it was the sixth WD for Woods in 297 starts on the PGA Tour. Here's how that stacks up against other players.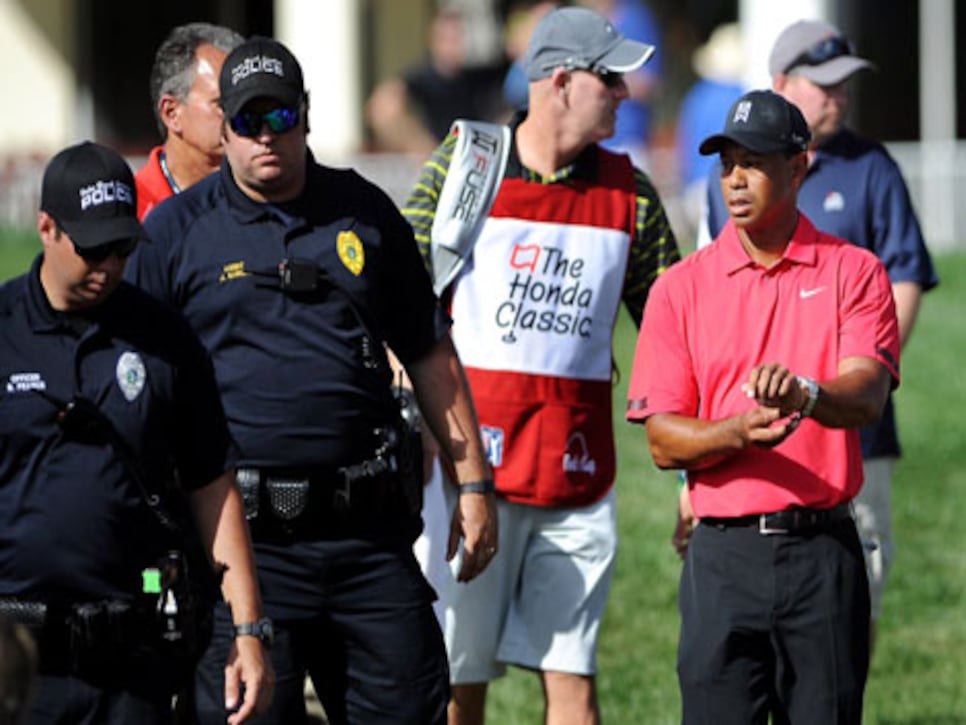 Phil Mickelson: Four in 492 starts, all since 2004. That includes his WD/protest for fans using cell phones at the 2012 Memorial. Mickelson reportedly sent an angry text message to PGA Tour commissioner Tim Finchem and didn't return after an opening 79. WDs don't always stem from an injury. . .
Ernie Els: Two in 366 starts, with none since 2000. Is the "Big Easy" getting more durable with age?
Vijay Singh: Seven in 529 starts. Always known for playing a lot of events, Singh almost always sticks around for all four rounds.
Fred Couples: Six in 607 starts, none since 2008. Now, this is surprising. Certainly, Couples' chronic bad back has greatly limited his schedule throughout his career, but he has the same number of WDs as Woods in more than twice the starts.
Davis Love III: Nine in 687 starts, but only three prior to turning 38.
Jim Furyk: One in 507 starts. Of course, he once pulled out before a tournament (didn't count as an official WD) for injuring himself brushing his teeth and was disqualified from the 2010 Barclays for oversleeping and getting to a pro-am late.
Zach Johnson: Two in 269 starts. Gritty!
Adam Scott: One in 218 starts. The man with Tiger's swing circa 2000 seems to be holding up pretty well.
Rory McIlroy: One in 73. His wisdom-tooth walkoff at the 2013 Honda is his only WD. Then again, Woods only had one WD in his first 196 starts.
David Toms: 13 in 556 starts. Right about Woods' pace.
Stewart Cink: One in 455 starts. Ironman!
Matt Kuchar: Two in 306 starts. Kuchar has smiled a lot more than he's grimaced during his career.
Steve Stricker: Two in 430 starts. One of the tour's nicest players is also one of its most durable.
Briny Baird: 11 in 371 starts, plus three more on Web.com Tour.
Woody Austin: Three in 519 starts. The guy fell in a lake once and kept playing. OK, so that was the Presidents Cup, but still.
Tommy Armour III: 30 in 617 starts, but only nine of those coming before he turned 38.
Bill Haas: Zero in 246. The apple doesn't fall far from the tree. His dad, Jay, only withdrew six times in 799 starts.
__Mark Calcavecchia:__26 in 754 starts, but 17 since 2003. Calc has been plagued by injuries throughout his career. This is not a surprise.
Jack Nicklaus: 7 in 595 starts. Hey, Tiger only needs one more to catch his idol! Of course, Nicklaus only had one WD by the time he was Tiger's age.
Tom Watson: 1 in 610 starts! Sorry, Stewart, we're giving your "Ironman" nickname to Watson. You still get to keep the claret jug you took from him in 2009, though.
Johnny Miller: 20 in 412 (10 before 38). Probably a big reason why Miller during TV broadcasts doesn't seem to come down hard on Woods for pulling out.
Arnold Palmer: 23 in 734 starts (14 before 38). The King
Lee Trevino: 17 in 481 starts (10 before 38).
Greg Norman: 10 in 330 starts.
Nick Faldo: Four in 302 starts. Another stat that shows Faldo was better at finishing tournaments than Norman.
It's interesting to note that the older generation seemed to WD more frequently than today's players, with Nicklaus, Watson and Faldo being obvious exceptions.