OAKMONT, Pa. -- Pittsburgh is associated with toughness, grit, resolve, and in that way Oakmont Country Club, 14 miles to the east of where steel mills once dominated the banks of the Allegheny, Monongahela and Ohio Rivers, mirrors the city.
To wit, this is arguably the hardest golf course in the world.
"Trepidation," Rory McIlroy said when asked the prevailing emotion for players going into this year's U.S. Open. "This week it's definitely -- it's not excitement. It's definitely not that.
"To be able to win on a course like this with the conditions the way they are, it would probably be my, I don't know, maybe my biggest accomplishment in the game. But definitely would make me feel like a more complete player."
"You know you're going to be put under a lot of pressure on basically every single golf shot you hit out there. So you have to be prepared for that. You have to be prepared for how mentally demanding it's going to be, how much concentration you're going to need out there."
A win by McIlroy this week at Oakmont would be his second U.S. Open title and fifth career major victory. It would also be so much more for the 27-year-old Northern Irishman.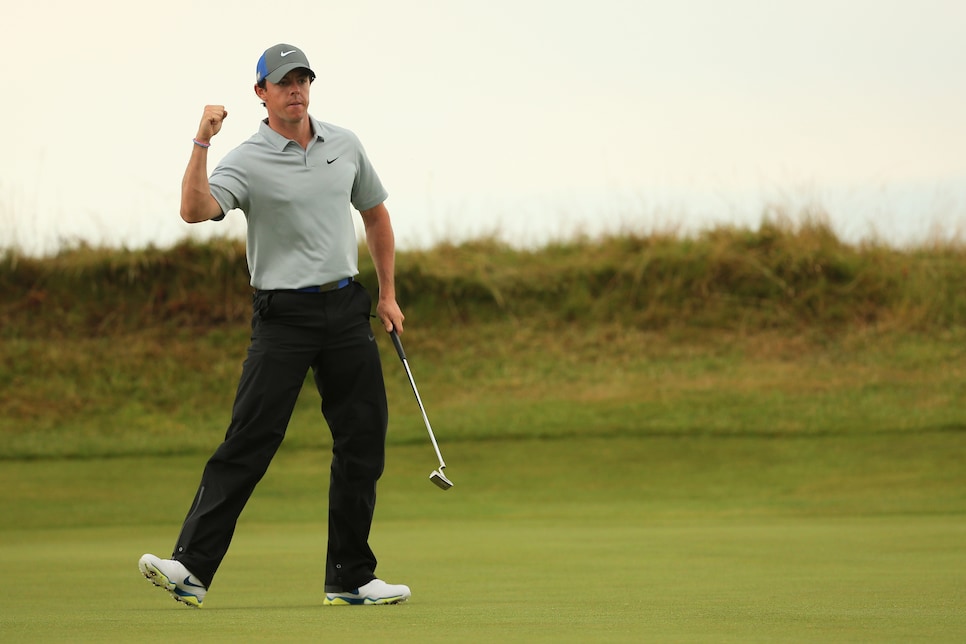 McIlroy's first two major titles, at the 2011 U.S. Open at Congressional and 2012 PGA Championship at Kiawah, were by eight strokes apiece. The venues were rain-soaked, and neither course had an aversion to par. Two years later, conditions were equally soft and benign at Royal Liverpool when he took a six-stroke lead into the last day of the Open Championship and won by two.
Fair or not, the knock on McIlroy is that his biggest wins have come when par isn't necessarily at a premium. This, by the way, isn't something that's exactly lost on McIlroy.
"I'd be very proud if I won on a golf course like this," he said. "To be able to win on a course like this with the conditions the way they are, it would probably be my, I don't know, maybe my biggest accomplishment in the game. But definitely would make me feel like a more complete player."
As great as McIlroy's accomplishments have been to this point in his career -- along with Jack Nicklaus and Tiger Woods he is one of just three players to have won three majors by age 25 -- the mental side of his game has never quite matched with his physical talents.
Few players in the game drive the ball as well as McIlroy, both in length and accuracy, and his ball-striking is as good as anybody's. The weakest parts of his game, meanwhile, have always been once he gets closer to the hole or once this start to go sideways. McIlroy himself acknowledges he needs his bad golf to be better.
Statistically, McIlroy is sixth in greens in regulation and leads the tour in birdie average this season. But he is also 123rd in sand saves and 88th in scrambling, signs that his mental toughness at times hasn't been its sharpest. Two years ago, he said that in order to be happy he felt like he needed to play "pretty golf."
When Tiger Woods was at his best, his greatest strength was perhaps turning 72 in 70. For McIlroy, it has often worked the opposite.
Entering the weekend this year at the Masters, McIlroy trailed leader Jordan Spieth by just a stroke but shot a sloppy 77 on Saturday before eventually finishing in a tie for 10th. Last year at Chambers Bay, he charged from eight shots back at the start of the final round and was within two of the lead standing on the 14th tee but went on to miss a good birdie chance on the par 4 and then bogeyed two of the next three holes. He shot 66 -- the second-lowest score of the day -- but tied for ninth.
In 2011, McIlroy led by four going into the last day of the Masters only to card an 80 in the final round, his inability to stop the slide epitomized by a tee shot on No. 10 so far left it nearly left the property. The previous July in calm conditions during the opening round of the 2010 Open Championship at St. Andrews, McIlroy tied for the lowest score in a major with a 63. A day later in the wind, he shot 80.
When it comes to Oakmont, with its lightning fast greens and thick rough, discipline will be of the utmost importance.
"You could go a whole round here without hitting it at any pin," he said. "I'm an aggressive player as well, so there's just going to be times where I'm going to have to rein it back a little bit."
That's not to suggest pretty golf wouldn't go a long way.
"You still have to hit good shots," McIlroy said. "You can't slap it around here. You have to flight your iron shots. You have to still hit high quality golf shots to give yourself a chance.
"You just have to be so disciplined and just plot your way around the golf course. Mentally, that's what's going to win it for you this week, is how people can keep their calm and keep their composure. And when you feel like you've hit a good shot and it runs off the green, but you get it up and down and you keep the momentum going ... I think that if you can just string a lot of pars together and maybe pick up a birdie or two here and there and try to limit the mistakes ... but I still feel like you need to hit very, very good golf shots to be able to do that. So I don't think it changes it that much."
A win at Oakmont for McIlroy, though, would change plenty.