News
Does momentum matter on the PGA Tour? A dive into the numbers reveals a surprising answer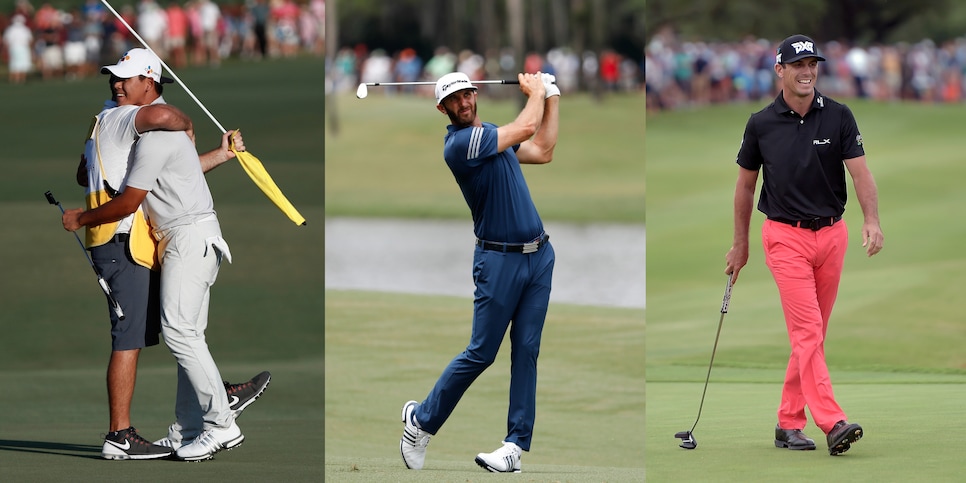 The past two weeks on the PGA Tour may have left you with the impression that golf forecasting is for naught. How else can one explain Si Woo Kim earning a breakthrough victory at the Players after failing to play on the weekend in four of his previous five starts? Or Billy Horschel racking up four consecutive missed cuts before capturing the AT&T Byron Nelson? From the airwaves to social media, two consensuses became clear: Golf is an ever-changing drama where anything can happen, and momentum means nothing on the PGA Tour.
The first is undeniable. That second, not so much.
Certainly, if any sport seems less conducive to momentum, it's golf. What other game's dimensions radically change from week to week? (And before you shout "baseball," the last time we checked the pitcher's mound is 60 feet, six inches across the board.) Similar factors -- constant travel across time zones, varying weather conditions and playing surfaces, the fickle nature of the swing and short game -- theoretically make parallels between week-to-week tenuous.
And yet, our institution told us different. So we took each winner from the past calendar year, starting with Jordan Spieth's triumph at the 2016 Dean & DeLuca Invitational at Colonial, and explored four weeks of results prior to each victory to see if momentum really is non-existent.
To lay some groundwork, we discounted alternate events from our study, as well as the Zurich Classic team event. Failing to advance out of the round-robin format at the WGC-Dell Match Play was labeled a missed cut. And a prior tournament didn't have to be a PGA Tour competition to count in the four-event lead-up, such as Henrik Stenson's BMW Championship victory on the Euro Tour before winning the claret jug.
Four conditions were mined to define momentum: top 25s, top 15s, top 10s and the tournament before. Here are the results.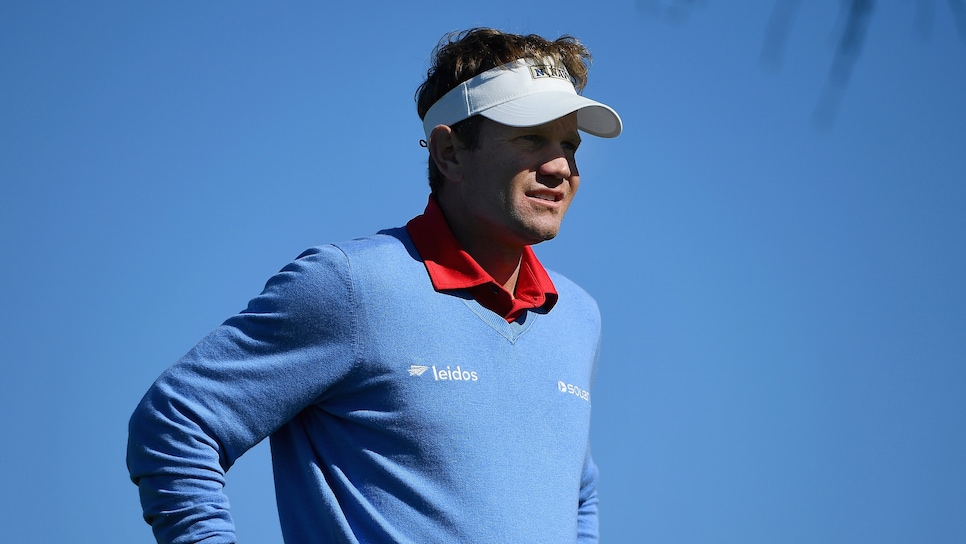 In 95 percent of the 41 cases we broke down, a winner logged at least one top-25 finish in one of the four events leading up his victory. In fact, there were only two instances where that didn't happen: Horschel, and Billy Hurley III's W at the Quicken Loans National. (The former serviceman REALLY came out of nowhere, with six missed cuts, a T-41 and T-52 in his previous eight tournaments before winning at Congressional Country Club) Also of note: Shriners Hospitals for Children winner Rod Pampling, who had to go to the Web.com Tour Finals to secure his card for 2017. But in the minor-league series, Pampling had two top-15s and a top-25. Mentioned above, momentum is not bound to the PGA Tour.
Perhaps that's fishing with too wide a net; anyone can backdoor a top-25 performance. But a large sum of winners—70.7 percent—posted at least two top 25s, with more than a third (36.6 percent) achieving this feat three times. While this doesn't mean a player was lighting the world on fire, it shows a sizable amount of victors showed signs of formidability.
However, what constitutes a positive showing varies, so we took our next cut at the top 15, a finish that shows, while not necessarily in the mix on Sunday, the player was working his way into contention before his moment of glory. A substantial amount of players made at least once appearance in the top 15 before victory, to the tune of 82.9 percent. Perhaps more illuminating is a winner turning in two top 15s in our designated sample 51.2 percent of the time, with three occurrences not trailing far behind at 29.2 percent.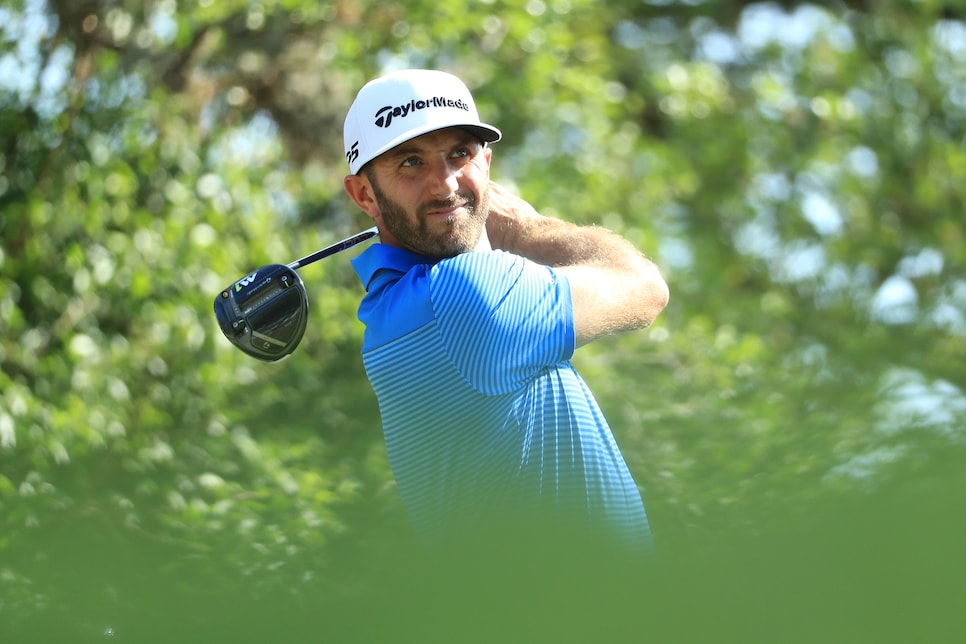 OK, one could debate the merits of a handful of 14th place finishes too. But there's no disputing the caliber of a top 10. Or for that matter, its barometer of future success.
More than 63 percent of winners had at least one top 10 in their previous four events, with a fourth (39 percent) submitting two top 10s. And if a player is especially hot heading in with three top 10s, that bestows its fair share of blessings, evidenced in 19.5 percent of winners racking up these figures before win. It's far from a guarantee, but in the world of sports forecasting, it's a significant oracle of upcoming fruition.
We showcased the benefits of a bit of confidence, but what about a lack thereof? The results are not kind to those coming in cold. In the past year, only four winners—Horschel, Hurley, Mackenzie Hughes and Sergio Garcia (who failed to advance out of round-robin play at the WGC-Match Play before putting on the green jacket) won after missing the cut in their prior outing. More than a third of the time (34.1 percent), a victor placed inside the top 10 in their previous event, with a top 15 not far behind at 43.9 percent of instances.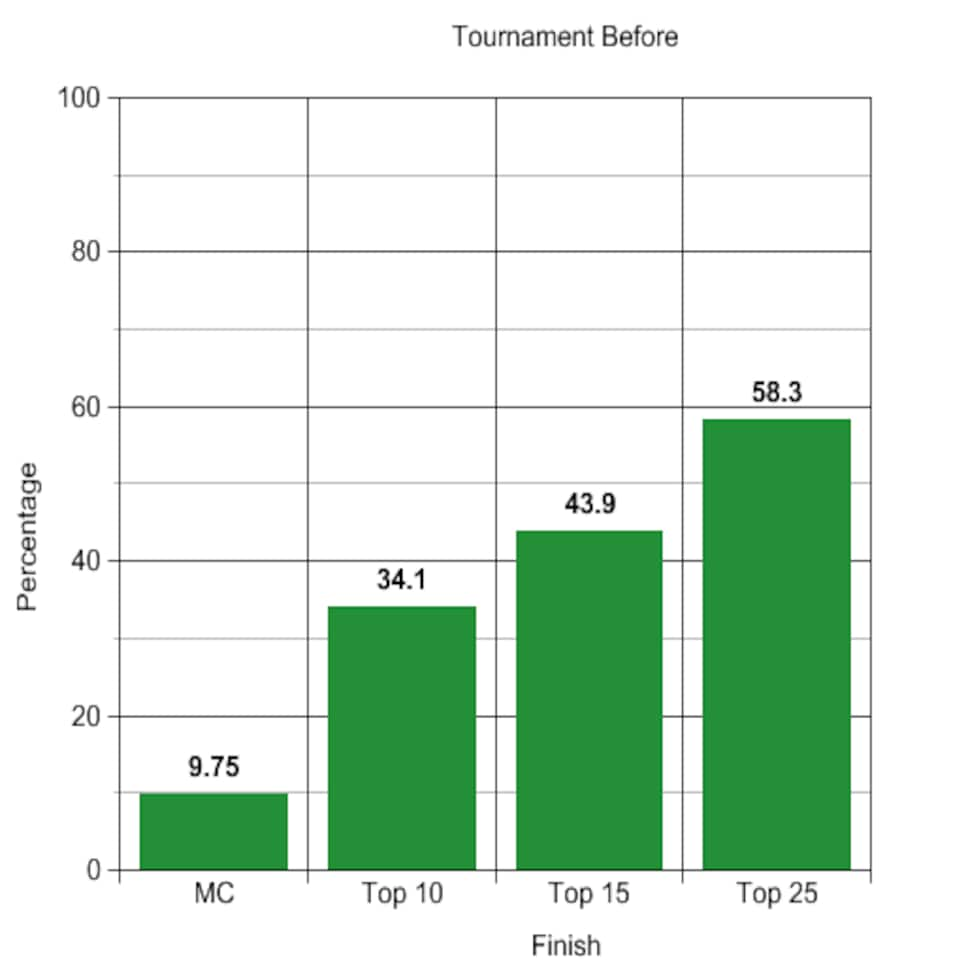 Considering the framework of professional golf—one player against 140-150 competitors in a given week—the correlation from tournament to tournament is jarring. And before you counter that amazing displays from Dustin Johnson or Justin Thomas jade these figures, there is always a hot player in a given season. Just look at Johnson's 2016, Jason Day's seven wins across 17 events, Jordan Spieth's 2015, etc.
As Kim and Horschel proved, the unexpected can happen. But it's unexpected for a reason.