The Loop
Does momentum matter for the PGA Championship? The answer will shock you
With a win at the Canadian Open and a near-miss at St. Andrews, Jason Day finds himself as one of the favorites heading into the PGA Championship, with only Jordan Spieth and Rory McIlroy owning higher Vegas odds.
This might not come as breaking news; his victory at Glen Abbey vaulted the Australian from ninth to fourth in the world rankings, and with six top-five major finishes since 2011, it is concedable that Day should be in contention at Whistling Straits.
Yet, does momentum really matter in golf? A host of factors -- including travel across time zones (or in some cases, continents), difference in course layouts, weather influence, etc. -- would seem to make correspondence between events nebulous, at best.
However, we looked at past Wanamaker winners and their performance prior to the PGA Championship, and the correlation between the two came as a shock:
Well, there was that little matter of hoisting the claret jug at Royal Liverpool the month before. McIlroy also captured the Bridgestone Invitational leading up to Valhalla last year, where he bested Phil Mickelson for his second career PGA Championship win.
After three days of so-so golf, Dufner posted a Sunday 67 at Muirfield during the British Open, and carried that display to Akron for a fourth-place finish. Dufner's 2013 victory at Oak Hill was spurred by a Friday 63, and his final-round 68 gave the Duf his first -- and to this point, only -- major championship.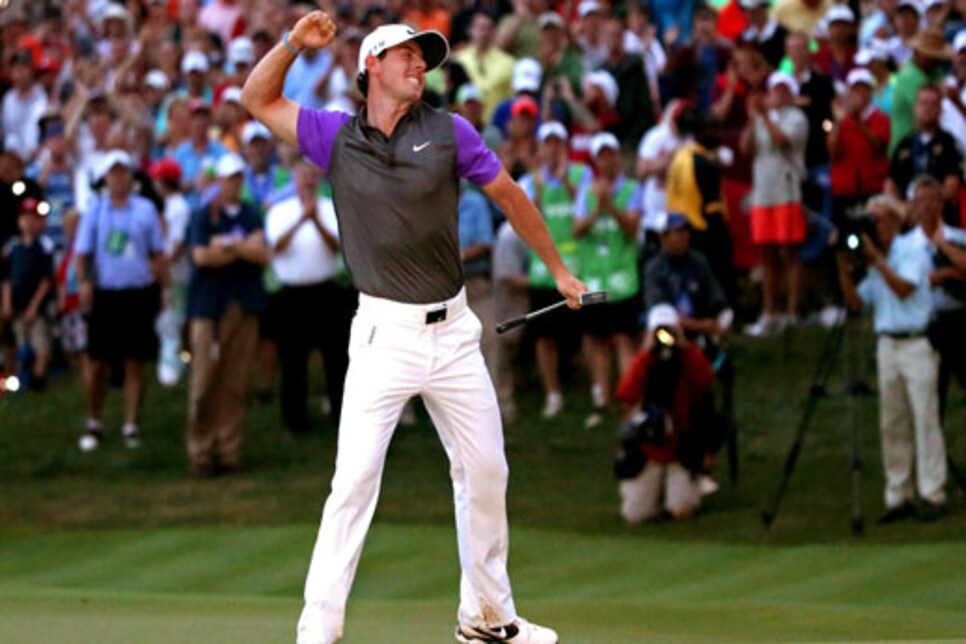 Although he was a non-factor at the British Open, McIlroy did finish fifth at Firestone prior to unleashing havoc at Kiawah Island, where he won by eight shots. By the way, if the tour wants to know why the FedEx Cup hasn't caught on, Rory's 2012 campaign is primary evidence to public aversion. Despite winning four tournaments, include two of the four postseason events, McIlroy still lost the cup to Brandt Snedeker, who didn't play in the U.S. Open, missed the cuts at Sawgrass and Kiawah and, prior to his victory at the Tour Championship, hadn't won since January...no, I didn't have money on Rory's playoff odds, why do you ask?
Bradley is the exception to our list. He wasn't playing poorly before his triumph at Atlanta Athletic Club, as he entered Sunday at the Bridgestone among the leaders until a 74 submarined his chances. Conversely, the 2011 PGA Championship was Bradley's first appearance in a major, and had just three career top 10s on tour prior to "glory's last shot."
Two top 10s at the U.S. and British Opens, with a t-6 at the Open de France squeezed in. Poor Kaymer. Not a soul remembers his win at Whistling Straits thanks to Dustin Johnson's hiccup at the 18th. (Thinking...) You're right, he has two majors on his mantle and nearly $36 million in career earnings from the PGA and Euro Tours. He doesn't need our sympathy.
Certainly Yang would be an outlier, right? Not quite. Though he pulled off one of the great upsets in major history, Yang wasn't foreign to success on tour, boasting a t-8 finish in the Canadian Open and a fifth place showing two weeks before the PGA at the Buick Open. That should provide some solace to Tiger.
We could continue to extend the sample size - 2008 champ Padraig Harrington won that year's British, Tiger was in the midst of a remarkable run in '06 and '07 - but you get the drift. And if you don't, that's on you.
In that regard, Day is in good shape for his trip to Wisconsin. It also gives importance to this week's Quicken Loans National and the forthcoming World Golf Championships-Bridgestone Invitational.
For if history repeats itself, the player raising the Wanamaker Trophy will be a familiar name to recent leader boards.