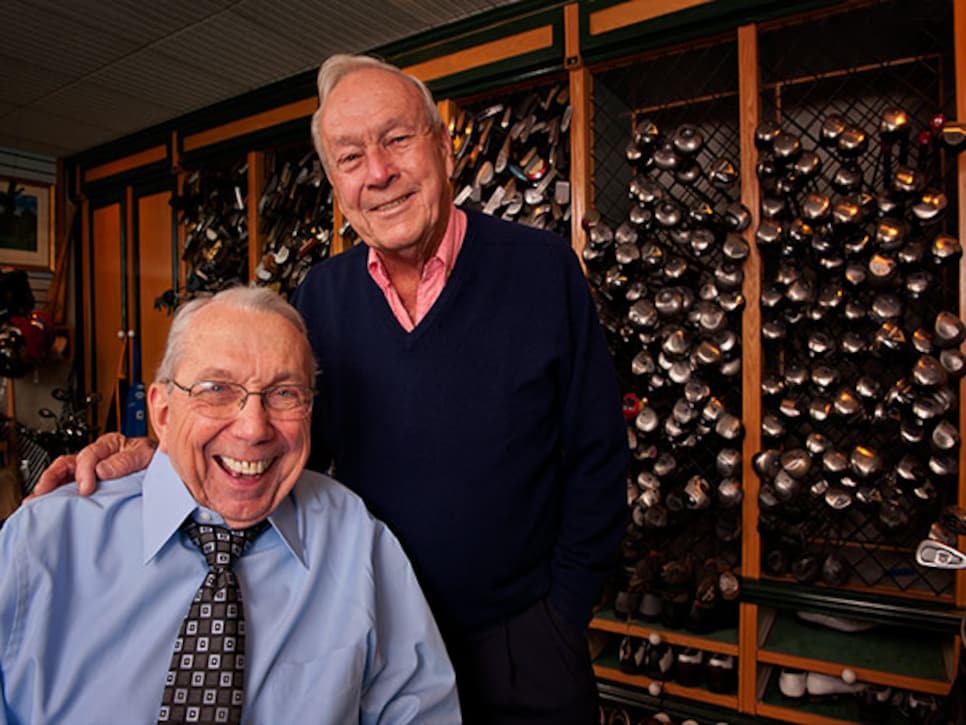 Doc Griffin and Arnold Palmer in Palmer's office Latrobe, Pa.
Every tour pro has an agent. But very few of them have a Doc Giffin on the side. And only one of them, Arnold Palmer, has Doc. Since 1966, Giffin has been along for Palmer's ride, leaving the business matters to Mark McCormack and his successors, seeing to the human details instead. "There are vice presidents and everything else now," Doc says, thinking back to when the office was small, "but I'm still just 'assistant to Arnold Palmer.' "
"Maybe Doc's real title," Palmer says, "should be 'friend.' Or 'everlasting friend.' Don't we all wish every player had a Doc Giffin? Someone very straight. Someone you can trust with your life. A good guy who always steers you in the right direction. In addition to everything else he does -- and he does a lot -- that's what Doc has been to me."
A life shaped by Myron Cope, Beano Cook, and Bob Drum
Donald W. Giffin was born 83 years ago, 10 months before Palmer, in Crafton, Pa., the same Pittsburgh suburb that shaped Bill Cowher. Not everyone in Western Pennsylvania came from the smoke, the mills and the mines. Some came from the soil, the fields and the river valleys. But, wherever they came from, they all practiced the same religion: hard work. On Crafton's playgrounds, young Giffin was known first as "the Perfessor" and later as "Doc." "I like to think it was because I was good at tending minor injuries," he says, "but it might have been because my grandfather had a drugstore." His father, a banker, died when Doc was 6.
At the University of Pittsburgh, Giffin thought of studying law until he got permanently smudged by the ink of his college paper, the Pitt News. As a junior, Doc was its sports editor; as a senior, the editor proper. Traditionally, the sports editor wrote the column, but Doc deferred in favor of a pint-size dynamo half a year behind him, Myron Sidney Kopelman, who wrote under the byline Myron Cope. " 'Cope, you're gonna write the column,' I told him, because I knew he could write rings around me as a columnist."
In later years, when Cope was introducing strange words like "yoi" to Steeler broadcasts and inventing something called The Terrible Towel (earning millions for disabled children), Pittsburgh forgot what a gifted writer Cope was. But the evidence can still be found in the archives of Sports Illustrated and The Saturday Evening Post.
The editorship of the Pitt News came with a full scholarship for Doc. Better than that, it gave him entree to the journalism community of Pittsburgh. But, having barely started at United Press International ($47.50 a week), he was drafted into the Army. "I tried to enlist twice before, after high school and in ROTC at college, but flunked the physical. Once the Korean War broke out, they decided I was just fine, and I'm glad. I wish we had Selective Service today. I think everyone could benefit from a couple of years in the military. It's a great way to mature."
Most of Doc's couple of years were spent in complete irony at Camp Gordon (now Fort Gordon) in Augusta, Ga., where before the end of the decade khaki-wearing soldiers manning the Masters leader boards would embrace this new fellow Palmer and trigger the legend of Arnie's Army. Being just a corporal, Doc never made it to Augusta National in the '50s. But he got there eventually. Upon discharge, he was hired by the now-defunct Pittsburgh Press and assigned to the copy desk. "That was the greatest place to start on the entire paper, I swear," he says. "If you wanted to learn about the newspaper business, how to put it all together, that was the place. At the time, there were about six editions of the Sunday paper. We'd start putting them out at 2:30 Saturday afternoon, including quarter-by-quarter football scores. I had helped enough in sports that, when a soccer writer retired, they brought me into the department. Luckily, I didn't have to cover soccer."
He covered Game 6 of the 1960 World Series at Forbes Field. "My assignment was the Yankees' locker room. They won that day, 12-0 [Whitey Ford's second shutout of the Pirates], so it was pretty easy pickings." For the seventh game, Doc stayed back in the composing room, with a typewriter and a radio, poised to get out an extra. As Bill Mazeroski hit his homer in the bottom of the ninth, Doc jumped. "We were on the street in 10 minutes," he says. The excitement is still in his voice.
One of the copy boys was Carroll Cook, who went on to become a national sports oracle known as Beano. Doc's path through life has been strewn with interesting people.
Pittsburgh had its share of hack writers, but the standouts (Roy McHugh, George Kiseda) dazzled Giffin, who says, "I couldn't compete with those guys, they were so good." ("Doc's a good writer, too," Palmer says. "I correct his stuff, but that's all right." Arnold tosses back his head and laughs. "No, to hear him tell it, everyone else was better. But that's Doc.")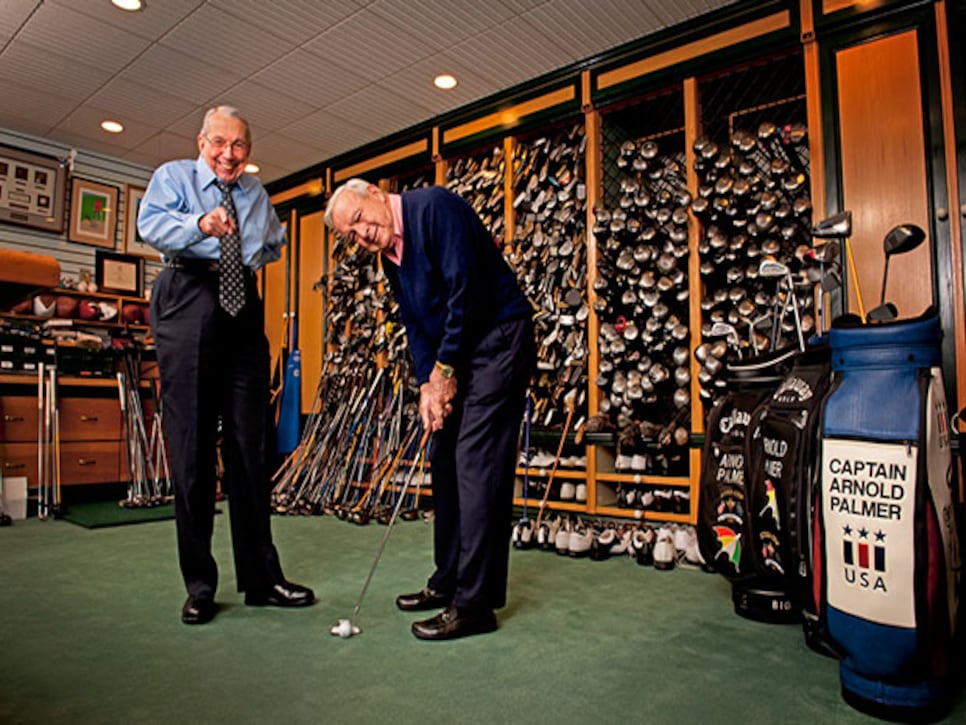 The golf writer at the Press was a large and larger-than-life percussion instrument, Bob Drum, who was funnier standing up than sitting down. Drum's humor seldom made it into his copy, but he brought laughter into the press box. And he was the first one to realize what was bubbling in Latrobe. "Drum picked up on Palmer when he was a freshman or sophomore in high school," Doc says, "and by the time Arnold won the West Penn Junior at 17, everyone in town was convinced, including me."
It was Drum who introduced them in 1959, and it was Drum who closed the deal when the PGA offered Doc the job of tour press secretary before the 1962 season. "Doctor, if you don't take that job," Drum told him, "I'll never speak to you again." Giffin was 33.
The Legend of Champagne Tony Lema
Doc became a one-man traveling band who, besides chairing the leaders' post-round birdies-and-bogeys sessions, worked out all of the statistics by hand and in his head as he shifted from tournament to tournament. The pressroom at the smaller stops might be just a corner of the men's locker room.
That first fall, at the Orange County Open in Costa Mesa, Calif., 28-year-old Tony Lema was looking for an official PGA victory to go with the unofficial Sahara Invitational he won a month before. "There were three or four writers in Costa Mesa, total," Doc says, "and a cooler of beer for refreshments. I think Charlie Curtis was there for the [Los Angeles] Times. After the third round -- I remember it so well -- Lema dipped into the cooler, held up a bottle of beer and said, 'If I win tomorrow, men, we're having champagne in here.' "
A light bulb came on over Doc's head. "I went and hunted up the club manager," he says, "to make sure we were prepared." Lema beat Bob Rosburg in a playoff, and the writers had their wine. "After a couple of the guys wrote it that way, 'Champagne Tony' was off and running." In quick order, Lema struck a deal with Moët and won a slew of tournaments like the Crosby (including a couple where Palmer finished second) plus an Open Championship at St. Andrews by five strokes over Jack Nicklaus.
Similarly, any time Lionel Hebert was in the hunt, Doc had to make sure a trumpet was handy. "At Memphis in '62," he says, "Hebert, Gene Littler and Gary Player played off. Lionel birdied the first extra hole to win, and at the awards ceremony, just before he put the horn to his lips, he turned to Gene and said, 'Hey, Lit, do you want me to play you some blues?' Gene laughed. They could get away with things like that in those days because they loved each other."
At the Western Open in Chicago, Giffin prevailed upon Palmer to grant 10 minutes to a college student with a tape recorder. When the interview ended, the kid realized in horror that he forgot to turn on his machine. "That's OK," Palmer said softly.
"Let's start over and do it again."
Doc thought, This is a good guy.
When Palmer asked Giffin to throw in with him in 1966, Doc remembered that tape recorder. Arnold was already 10 years into a career that typically lasted 15. As a matter of fact, though nobody knew it yet, he was finished winning major championships. "Friends asked me, 'But what are you going to do after he's done?' 'Well,' I said, 'I think this guy's going to need an assistant the rest of his life. He's that big, and he's going to be bigger.' I turned out to be right."
The day Doc joined Palmer, July 24, 1966, Tony and Betty Lema were killed when their light plane crashed into the Lansing Sportsman's Club golf course in Illinois.
Modern stars tend to hire a Haldeman to say no and sometimes even an Ehrlichman to reiterate hell no. They don't have handlers to tell them this is a dinner they should attend or this is a writer they should know. As a result, the tone-deafness some exhibit in their public-relations emergencies can be stupefying.
"Arnold trusted my input about things he should do or people he should talk to," Doc says, "but I was never his handler. He didn't need a handler. People ask me, 'Why is Arnold Palmer so popular?' The answer is simple. He likes people, and they know it. His public face and his private face are exactly the same. He's not one of those guys who turns it on in public and turns it off in private. He'll tolerate fools that most people, myself included, won't. He just likes people."
In 1986, after making holes-in-one on the same hole two days in a row in Maryland, Palmer drew a media crowd for the third try. When that last 5-iron shot didn't go in, a newsmagazine writer whispered to Giffin, "I can't wait until the end of the round, Doc. I'm on a killer deadline." "If you can do it in three minutes," he whispered back, "I'll see if I can get Arnold to walk with you from the next tee to his ball."
"That's great," Palmer says now.
And almost every golf writer has an equivalent story. "I think so," Arnold says gently. "I hope so."
Could Tiger Woods have used a Doc Giffin?
"No question about it," Palmer says.
After a pause, he goes on, "But Tiger isn't cut out like that. Let me make sure I say exactly what I want to say." He looks out the window for a moment. "Let's not put a name on it. Let's not talk about anyone specifically. Let's just say that not everyone in golf or sports wants to share his life with the public, or for that matter, with anyone else at all. I think that's the simplest way to put it. I've liked sharing my life. I think being out there among the people, letting them know you and sincerely wanting to know them, too, is the happier way to go. But everyone has to go his own way."
Throughout the years, at the end of their workday, Palmer and Giffin have come together for a drink and what they call "debriefing." "We've done that every day, every year, for almost 50 years," Palmer says. "We enjoy it. They're just bull sessions, really. We start discussing the tasks at hand but end up talking about everything. Old victories. Old losses. Life. How short we're both hitting the golf ball now. Terrible, terrible. Time has gone by so fast."
In Doc's bachelor days, when he patrolled Route 30 schooling Latrobe's bartenders in the proper construction of a Manhattan, Palmer nicknamed him "the Highwayman." But Doc settled down in 1977, wed Bernadette (Bunny) Horwat, married into two lovely daughters, Deborah Ann and Gina Marie, and now has the world-champion granddaughter, Hannah.
Doc's tour-secretary days continue to echo in the distance. "Ken Still called the other day," he says, "and I just got a note from Frank Boynton."
So, a life with golf and Arnold Palmer has been a good life?
"It's been wonderful," Doc says. "I could never dream of a happier life."