The Loop
Do the Rules of Golf violate the Rules of Golf?
Not long ago, I played in an inter-club tournament on a nine-hole course in the northern part of my state. The club has two features I like a lot (in addition to the course): a curling club next door, and my favorite kind of driving range: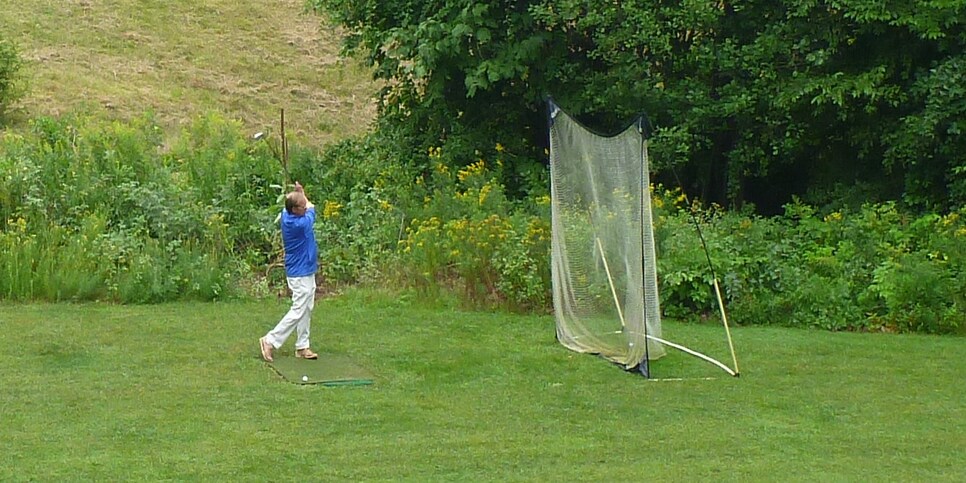 On one hole during the tournament, I lipped out a par putt, leaving a tap-in for bogey. I tapped it, but it didn't go in. The head of my putter looks like this: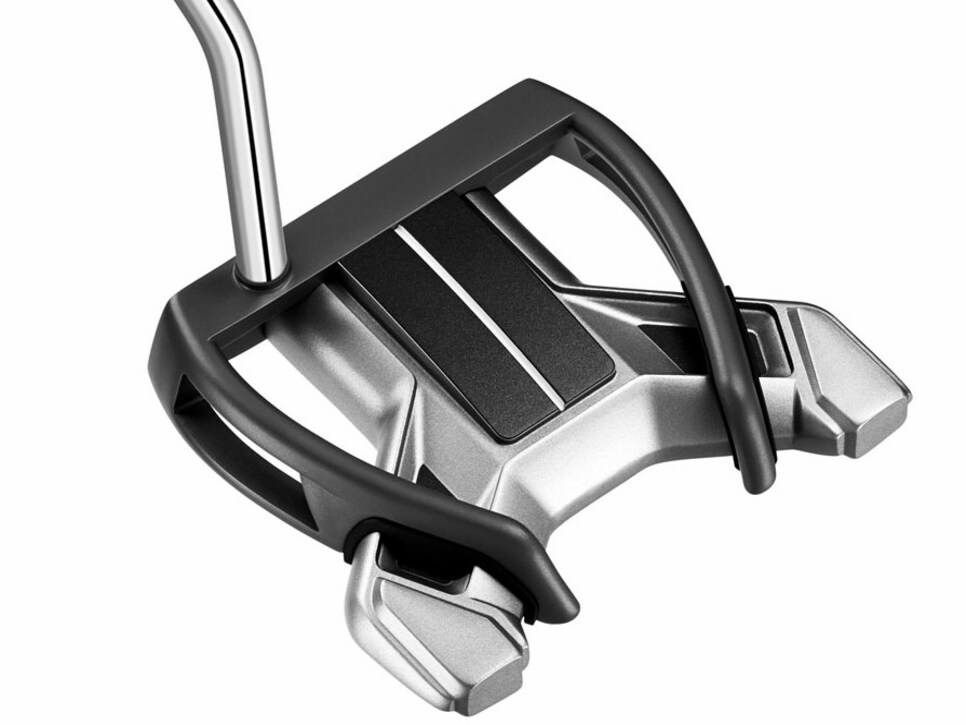 I had struck the ball with what I guess would be considered the putter's "toe," and the wingy thing made it squirt off at a weird angle, and I ended up with a double bogey. I told my pro later that, at least, I knew I'd never make THAT mistake again, but he said that, based on his own experience, I was probably safe for only about five years.
Later, I got to wondering: was my stupid muffed tap-in even legal? And that made me think of Bill Collins, a reader in Scotland, who has written to me several times to complain about what he believes to be a serious inconsistency in the Rules of Golf. Bill is 80 years old. He lives in Edinburgh with his wife, Mary, and he plays two or three times a week, all year long, at Silverknowes Golf Club, which has swell views of the Firth of Forth and beyond: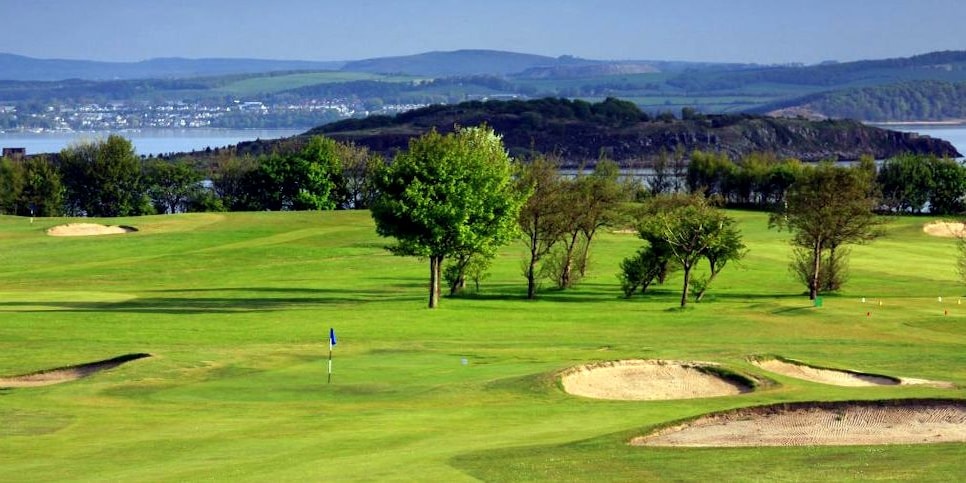 "I served an apprenticeship in a shipyard in Leith on the River Forth and have been in engineering most of my working life," he told me in an email. "For the last 15 years of my career, I was offered a position in quality control, because of my engineering background, and was quite happy to put down my tools. I picked up a lot of information on specifications and their importance in maintaining procedures. That is why I can't get Rule 4 and Rule 14 out of my head. They are not compatible." Here's another look at Silverknowes:

Collins's concerns first arose during the 1996 Open, at Royal Lytham & St. Annes (won by Tom Lehman). "During the tournament, it was indicated by a well-known golfer and what I took to be a representative of the R&A that one could strike a ball with the face, back, heel or toe of a putter. I phoned the R&A and the BBC reps at the Lytham course, and I managed to reach the R&A desk. My message was accepted by a lady, but I received no reply from the BBC, and no reply from the R&A."
His question was prompted by what was then part of Rule 4.1, governing the form and make of clubs (the text now appears in Appendix II) -- "The clubhead shall have only one striking face, except that a putter may have two such faces if their characteristics are the same, and they are opposite each other" -- and what seemed to him to be a conflict between those requirements and Rule 14.1: "The ball must be fairly struck at with the head of the club and must not be pushed, scraped or spooned." Collins continued, "Over the past 20 years, I have allowed the above to take over large amounts of my time trying to convince people. From reading magazines and listening to comments, I know there are lots of golfers who agree with me. What convinces me even more is the lack of response to my enquiries. I have been informed by the R&A, but not convinced, that one may strike a ball with the face, back, heel or toe of a putter."
If a putter may have only two striking faces, why are you allowed to strike a ball with a third? Furthermore, Collins wrote, "Take a moment on the green, if you have a Ping-type putter -- and, if not, borrow one -- and scoop up the ball. Just before you flick it up into your hand, look at the ball nestling in the back of the putter. What do you see? You see a ball resting between two striking faces. Nice way to pitch. Is it legal? Rule 14.1 says yes; Rule 4.1/Appendix II says no."
On the other hand, pondering the Rules of Golf can send your brain into a tailspin. I once saw someone -- Chi-Chi Rodriguez? -- successfully extract an embedded ball from the wall of a bunker by fiercely striking the sand just below the ball with the toe of his putter, as though he were swinging an ax. In effect, he used the putter head as wedge, compressing the sand and causing the ball to squirt onto the green. Cool shot! But should it be legal? For that matter, is the ball "fairly struck at" in ANY bunker shot, since when you play the shot what you are actually striking at is sand?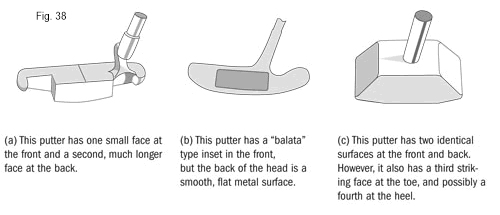 I haven't done full justice to Collins's argument, but I'm afraid that if I do I'll spend the next 20 years brooding about it, too. If you want to pursue this with Collins himself, get in touch with me the way he did, through the link below, and if you don't seem too much like a nut I'll forward your email to him. Curling season is almost here, and that means we'll soon have lots of time for idle cogitation. Now, about the out-of-bounds rule. . . .