News
DJ, Todd fire 61s to set up showdown of opposites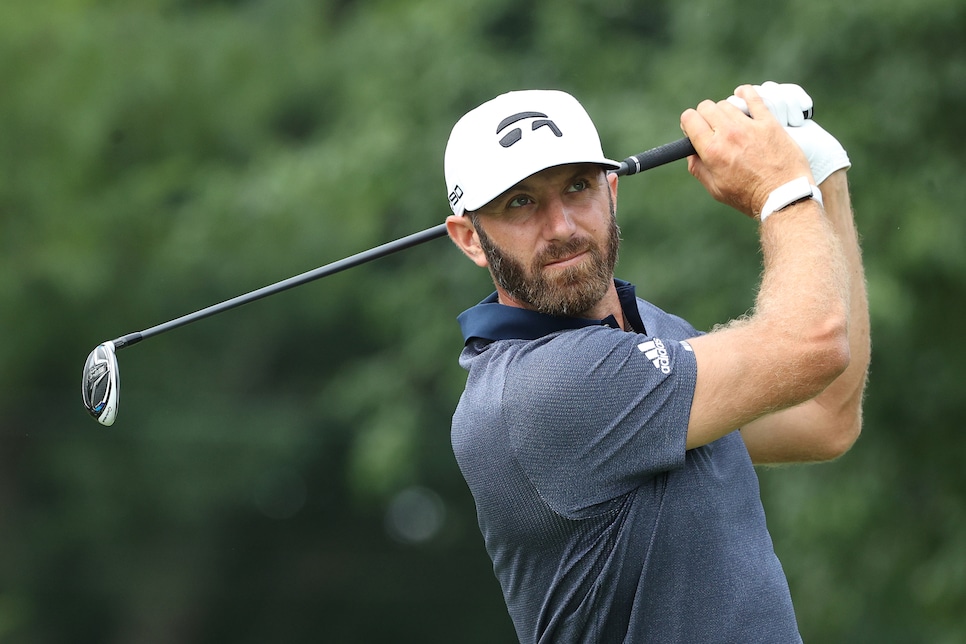 Dustin Johnson hits a drive on the seventh tee in the third round of the Travelers Championship.
Maddie Meyer
CROMWELL, Conn. — Golf is a beautiful question, because it allows for multiple equations to produce the same answer. On Saturday at TPC River Highlands, that answer was 61. The formulas were Brendon Todd and Dustin Johnson.
Our apologies for reducing players to precepts. Yet the only commonality between these two figures is that they'll be playing in the final group at the Travelers Championship.
"We're both kind of peaking this week at the same time," Todd said. "Hopefully [tomorrow] we can both go low."
Let's start the comparison with what transpired in the present. Beginning his round six back of 36-hole leader Phil Mickelson, Johnson climbed the leader board thanks to eight 3s in a nine-hole stretch. He did it the way Johnson usually assaults courses, his prodigious distance leaving short-iron approaches, and letting the short game take care of itself. His lone mistake was a three-jack on the par-5 sixth after reaching the green in two.
That is, if one can make a mistake en route to a bogey-free 61, the lowest score in Johnson's PGA Tour career.
"I hit a lot of nice putts that hit the hole from that eight- to 10-foot range, probably had four, five or six of them that I probably should have made," Johnson said. "I made some nice putts, too. I'm very happy with the way I played. I gave myself a lot of looks."
Then there is Todd, whose Toddaissance was the storyline of the fall series. Todd is not a bruiser with the big stick. Anything but: Entering the week, he ranked 222nd out of 226 players on tour in driving distance. He compensates this lack of power with precision, an accuracy on display this week by missing just one fairway through 54 holes. The iron game has been stout (5.439 strokes gained in approach) and the putting solid (2.431 strokes gained on the greens). He had a shot at 60, but his birdie attempt from 10 feet slid by on the final hole.
Still, the performance translated to a two-shot lead heading into Sunday.
"It seems like since the fall, whenever I get a two- or three-week stretch in a row, I tend to be playing better by the end of it," Todd said. "That's just something I'm using to my advantage now after missing two cuts; I'm peaking in the third week, and hopefully I can get it done tomorrow."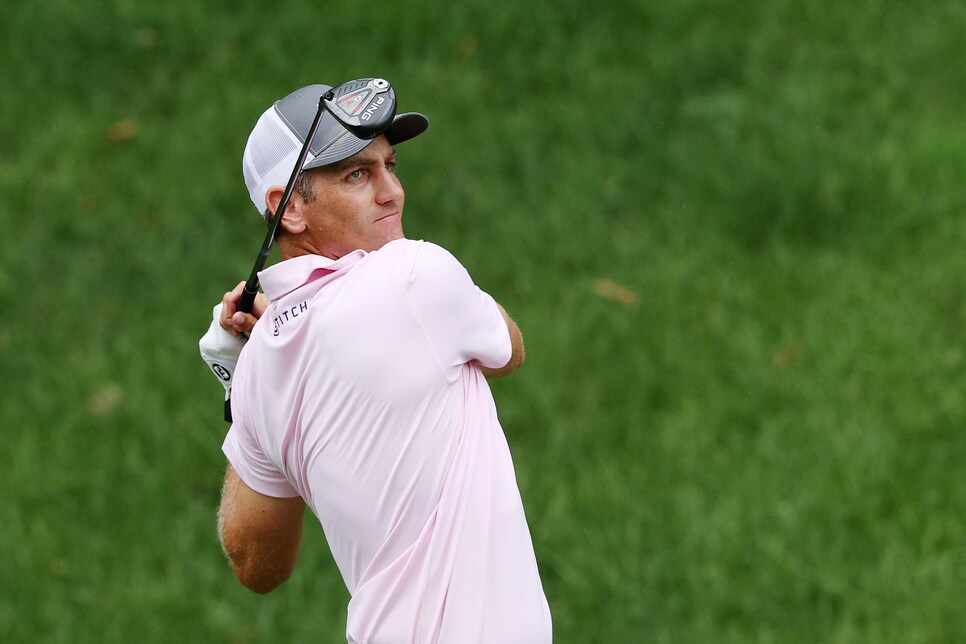 Brendon Todd hits from the 15th tee in third round of Travelers Championship.
Rob Carr
Only five players are within five shots of Todd. Kevin Streelman will start Round 4 three back of Todd's 18-under score, followed by Mackenzie Hughes (four) and Bryson DeChambeau and Kevin Na (five). But the spotlight will be on Todd and Johnson, which will be a treat in contrasting characteristics.
Johnson's strategy is blunt-force trauma; Todd is surgical. Johnson is golf's version of Dirty Harry, a synergy of dispassion and swagger. Todd has the strut of an accountant. Johnson's been one of the more consistent performers the tour has seen in the past 40 years, while Todd's battle with the swing yips nearly forced him to quit.
However, it is Todd with two victories to go along with a T-4 this season and Johnson who has been in the wilderness—his last top-five finish coming at the 2019 PGA Championship. And though Johnson is an intimidating presence, Todd is not short on temerity.
"It's hard to miss the leader boards obviously, so [Johnson's] name was up there from a pretty early point," Todd said. "I just use it as motivation to go out there and make some more birdies.
For what it's worth, Todd is looking forward to playing with DJ. They haven't played together since the final round of the 2012 Pebble Beach Pro-Am, where Johnson finished T-5 to Todd's T-9. "He's easy to play with, nice guy, doesn't show too much emotion out there," Todd said, qualifying for the understatement of the month. "So I think we're going to have a really good time and probably a really good battle."
There will be a question asked by River Highlands on Sunday, along with the question each will pose to the other. "My job is going to be to go out there and get off to a good start, and just try to make as many birdies as I can and see if I can't shoot another good round," Todd said. Added Johnson: "I feel like I'm rolling the putter well, so I just need to get myself in a position where I've got a chance to make a putt."
How they answer should be fascinating.