The Loop
Distance irons: Tour players chasing average golfers?
TaylorMade chief technical officer Benoit Vincent stood in the middle of a driving range in Times Square on Tuesday and helped another person who had never played golf before understand the benefits of modern technology.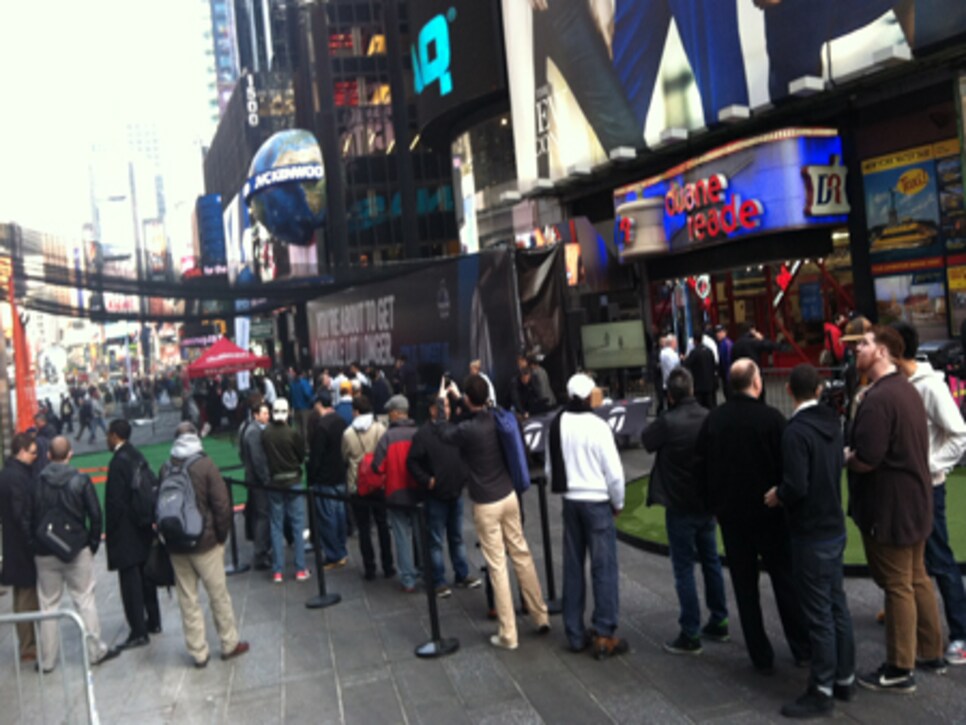 "Here's what you do," he said to a woman who had just hit three grounders in a row. "You go to a driving range and instead of using a 6-iron, just try a wedge. You will see the ball getting up in the air. That's where the distance will come. I know you will like that."
His point was distance isn't just about swinging fast, it's about changing ballflight.
Vincent was part of TaylorMade's invasion of Times Square at mid-day to get golfers and more than a few non-golfers to experience the company's SpeedBlade iron, which features a slot in the sole designed to make the clubface flex more at impact. It's an effort to do for your approach shots what high spring-like effect drivers have done for tee shots.
"We are changing the launch parameters for an iron," Vincent said. What he's suggesting is that a flexible face iron not only can create more ballspeed, it can help shots launch higher. And it can do both of those things without creating additional spin. In short, these are exactly the launch conditions--high launch, low spin--that have allowed drivers to fundamentally change distance potential over the last decade. All of that is happening in the time it takes for impact to occur, about half a millisecond or faster than the typical flash on a camera.
What's different with irons, Vincent says, is that average golfers very likely are going to experience these benefits before tour players. In fact, increasingly, they already are. In yesterday's Speed Pocket World Challenge, TaylorMade had consumers try a 6-iron from only a couple of years ago, the R11, to the SpeedBlade, which was introduced last fall. Routinely, players were seeing a difference documented by FlightScope launch monitors. Although not every player gained yardage, the overwhelming majority did and some gains (more than 30 yards) were laughably freakish. Admittedly, the exercise--a contest where players knew they would earn a prize if they achieved the largest distance gain with the new iron--was not exactly scientific. See the results here.
Naturally, Vincent believes the slot in the sole of an iron creates this possibility for quantum leaps in iron distance in a way nothing else can. "There have been three mechanisms to change launch parameters: loft, friction or grooves and gear effect," he says. "We see the slot as another mechanism. The ball climbs longer, reaches its apex farther out and then it lands at a steeper angle from higher in the air."
Vincent says average players have fewer barriers to making the change to faster-faced irons because they aren't burdened by constraints of cosmetics and shape. It is harder to make a meaningfully flexible face in a compact iron head, for instance. There's also been the issue of making iron faces not just especially fast in one particular point, but consistently hot over a larger area. Tour players make their living with irons that only fly specific distances; average golfers aren't as particular. He thinks tour players may be the last to fully embrace the technology, and even then they'll lag behind average golfers.
"It may be five or six years before tour changes the specs in irons, maybe 10," Vincent said. "But look at how they improved with the driver."