News
Displaced as Jason Day's caddie, Colin Swatton remains squarely behind his student and friend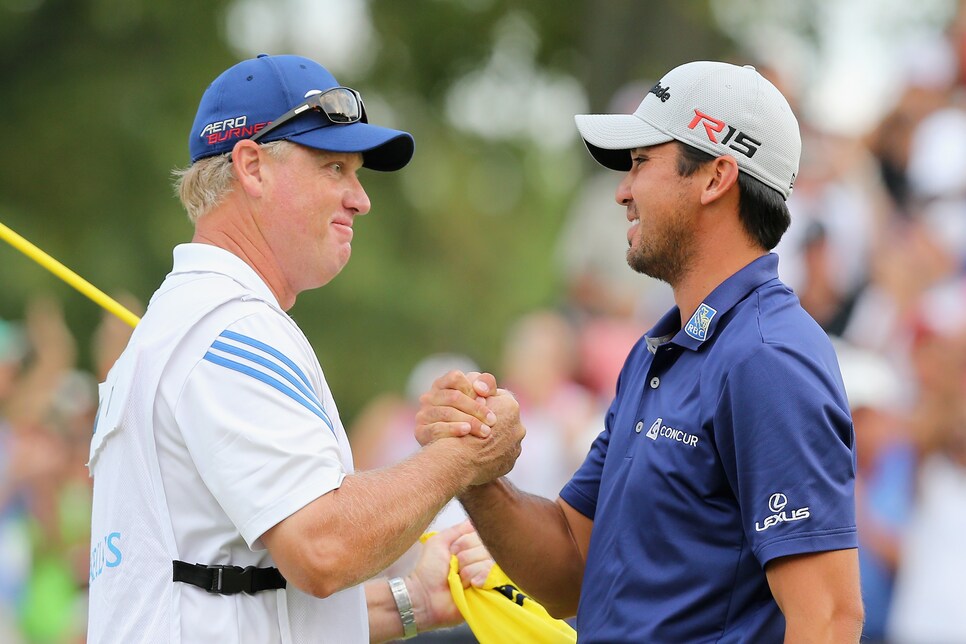 There was nobody happier to see Jason Day shoot 64 in the opening round of the BMW Championship than Colin Swatton, and not because it made the swing coach look good. It made Jason Day look good, and that's what their relationship has always been about.
"I am thrilled," was Swatton's response after only the second tournament he wasn't on Day's bag in 11-plus years. How did Swatton handle it? What did he do? He watched the telecast and followed along on Shot Tracker. He helped neighbors clean their property on Hilton Head Island that in parts were completely underwater. And he texted back and forth with Jason after his round: "Will do the same after today's round," he responded Friday morning in a text.
So much has changed, yet so much has remained the same. Swatton will remain part of the Day camp, which is a rarity for displaced caddies in tour golf. He will still be Day's instructor, and that is a unique relationship, just as their relationship has always been unique.
You have to go back to the days when Day's mother, Dening, enrolled Day in a golf academy, hoping to save his life in a way, after his father had passed away at 12 and Jason was heading down the wrong roads. Swatton was his father figure and mentor through some of the early days when Jason was still rebelling. Through golf, under Swatton's guidance, they peaked with a 2015 PGA Championship win and a No. 1 ranking.
But on another level, away from the course and the spotlight, they were "best mates," and the best men at each other's wedding, which in part is why Day made the move when he did, "hoping to save a friendship" as he said on Wednesday.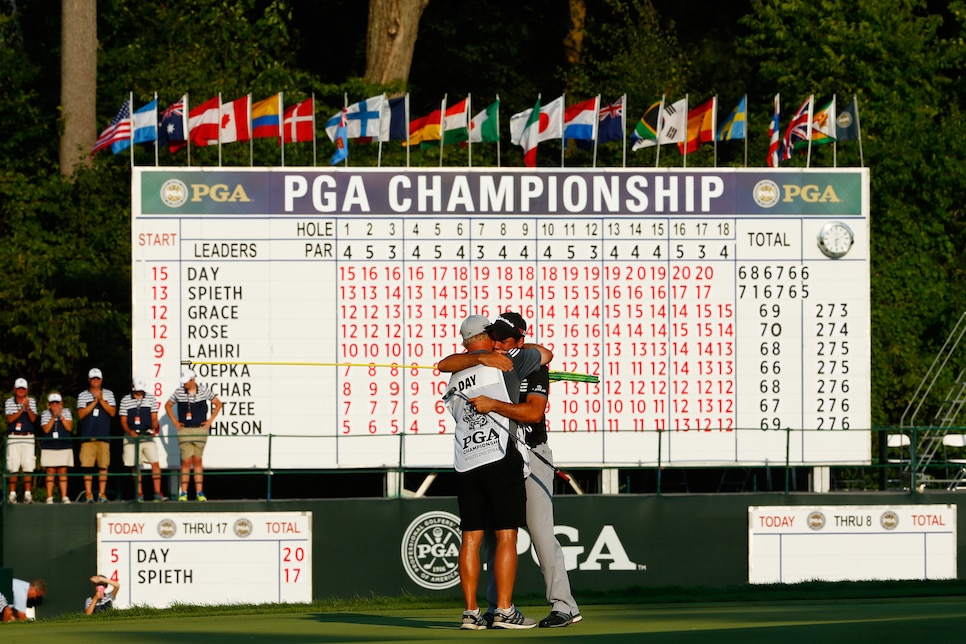 "It's totally one of those timing issues," Swatton told me after Day met with the media following his pro-am round on Wednesday. "We always made a pact, that when I started the whole caddie thing, if it ever felt wrong for either person, either Jason or me, we'd be honest and up front and talk about it. Obviously, Jace came to me and said, 'This is how I'm feeling.' While you never want to hear that, it's disappointing and confusing in a certain degree, you obviously know that day is going to come at some point. As his coach and friend my role is to support him and do what's best for his golf. If he feels like a change might ignite a spark, I want to do that, and support him as coach and as his friend, and do what may not necessarily be the right thing, but I want to try and do what he feels is the right thing. That's what he feels is the right thing, so the decision was made."
Swatton is already looking down the road of his coaching career, and the opportunity this brings. He is hoping to discover or help coach the next Jason Day that comes along. Among the many ironies to this story is that one of his students back in the days of the academy was Luke Reardon, Day's friend that is replacing Swatton on the bag. "I've done it once," Swatton said. "I almost want to try to do it again as a coach, to see if it was a fluke or if it's something that potentially could happen."
The "caddie thing," as Swatton described it, was a byproduct of Jason coming to the United States at such a young age that he wasn't allowed to drive a courtesy car. "I said to his mother I would go help his transition onto the tour, try to get him through the [Web.com Tour], try get him on PGA Tour," Swatton explained. This was 10 years ago. Jason was 19, having come from Australia boasting he wanted to take on Tiger Woods and be No. 1. He's approaching 30 in November, with a wife and two children at home. The demands of the job made it harder and harder for Day to find time with himself.
"I don't want to say he wasn't motivated," Swatton said. "But he was obviously in a different place. Having been around the game for a while, you see these types of things."
Swatton sees the big picture. He sees that Rory McIlroy did the same thing with his friend Harry Diamond. He understands the day-to-day conversation is easier with somebody you can relate to, and the energy is better because it's someone new, someone you've shared a lot with growing up, hanging out. Swatton is a young 48, but he's still 48. And when the results aren't there, when the heart for the game isn't there for physical issues and emotional letdowns, it's time for the caddie to be reassigned.
"Hopefully the mojo will be much better and he can go out feeling more relaxed and he can freewheel it," Swatton said before Day did just that, shooting his second-lowest round of the year. Winless since the 2016 Players, the pressure is so high right now—with Jordan Spieth and Justin Thomas, both in their early 20s, winning the last two majors—that Day would make this move after top-10s in the PGA Championship and the first playoff event. At TPC Boston, the vibe was different.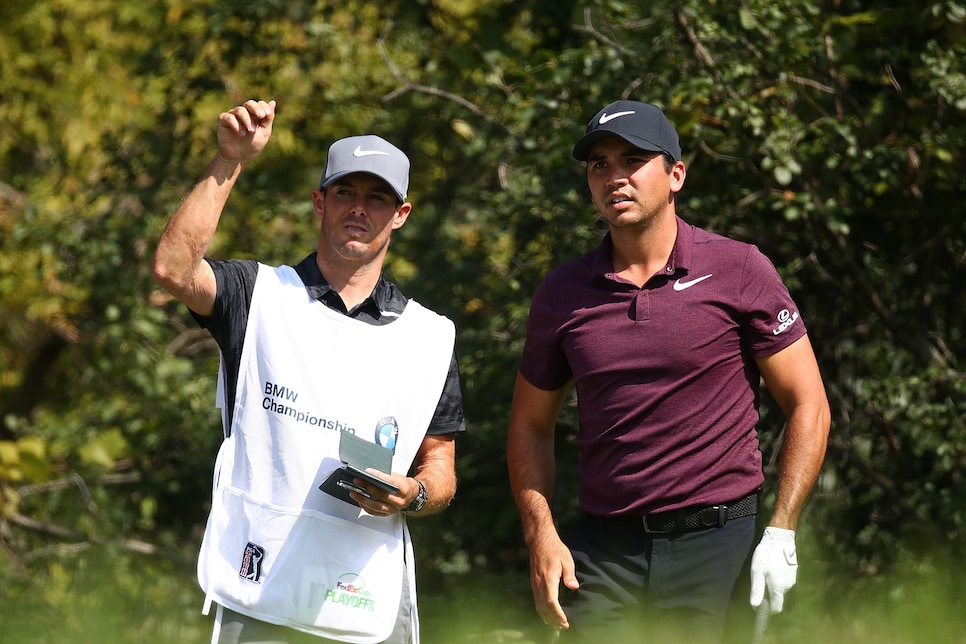 "He was always quiet that week, even though we had a decent result," Swatton said after a T-25 in the Dell Technologies Championship. In their last competitive round together, Day shot 66. As for knowing, Swatton said he didn't know. But he did have a feeling, as caddies instinctively do, that they're expendable.
Going forward, Swatton's profile on tour will be lower. Rather than trying to find it on Tuesday or Wednesday, most of his work with Day will be done at Muirfield Village or Double Eagle near Day's home in the Columbus, Ohio area. Basically, he will be at tour stops when Day needs him, which includes the majors. All in all, this is probably better for Swatton. Not that he lost a step, but that bag gets heavier for a caddie when the player's mood is not where it should be.
"I'm not blaming any one thing," Swatton said, with respect to Dening's cancer diagnosis at the top of the year. "There were a lot of different things that happened in his world this year, and they all play a role in getting the results you want to get."
They had conversations during the off week. Day was respectful in the way he handled it at Conway Farms. In his time of reflection, Swatton came away from his experience appreciating more the role a caddie has. Saying his friendship with Day is more valuable than the position, he goes into this weekend hoping what ignited on Thursday carries through until Sunday—and beyond.