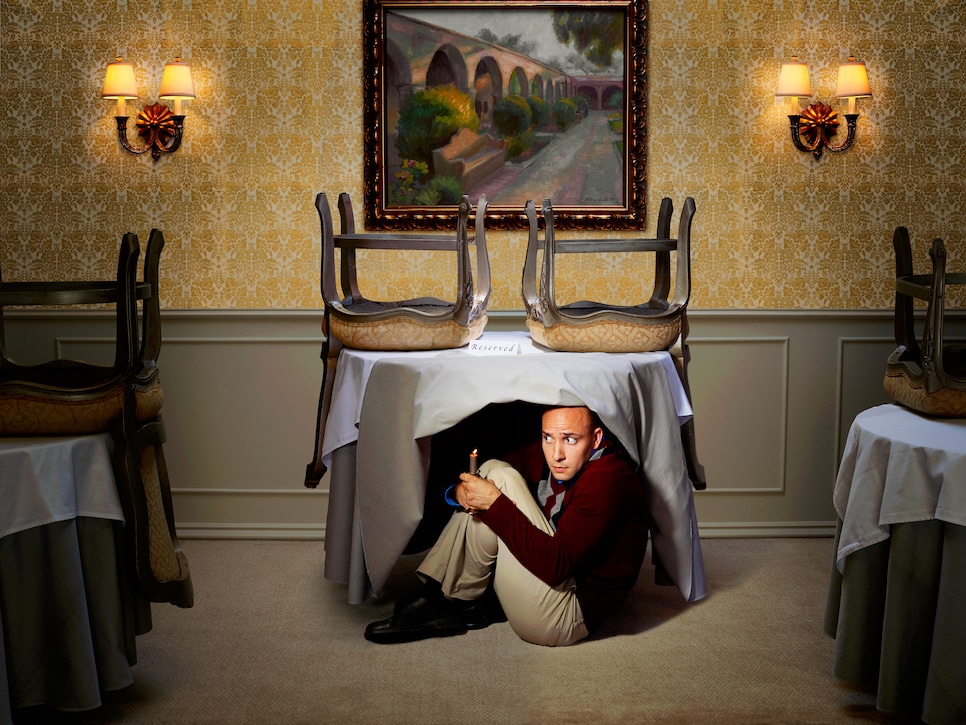 Two words of advice for anyone going to Tiger Woods' sports bar in Jupiter, Fla.: self-park. Should you arrive, as I did, behind a black Maserati and a burgundy Bentley beneath the valet porte-cochere at The Woods Jupiter, head straight to the nearby self-parking ramp unless your mode of conveyance somehow ups the ante: You're piloting the space shuttle, say, or riding a polo pony.
Even better, the yacht dealership a few doors down sells the kind of Bond-villain behemoths that feature a speedboat on the bow like a hood ornament.
They're on display in the glinting marina, on the Intracoastal Waterway, a short nautical jaunt from Jupiter Island, where Woods lives in one of the wealthiest municipalities in the world, close enough to Michael Jordan to borrow a cup of divot mix.
If Tiger's home on this sweltering July evening, he might very well drop by The Woods. "When he's in town, he comes in quite frequently," says a bartender. "That's how you know he's in town."
Outside Buckingham Palace, the Royal Standard flies only when the reigning monarch is in residence. Sadly, there's no similar flag outside The Woods Jupiter, which Tiger opened in the summer of 2015, spending a reported $8 million to make an upscale sports bar-and-restaurant in his image. Inside—a genial footman opens the door—it's dark, cool and inviting. The massive square bar draws you to its white light like heaven, or an open fridge at midnight. I take a load off on one of 40-some barstools and incline my head toward the door. Then I wait for Tiger to walk in like he owns the place.
I wait for Tiger to walk in like he owns the place.
His doppelgängers are everywhere. Male staffers are dressed in Nike golf slacks with a TW on the back belt loop. The women are in Nike golf skirts. Every employee wears a Nike golf shirt embroidered with The Woods logo, so you don't know whether to order a drink from them or offer a wind reading. "He's down-to-earth with us, and he grabs a table pretty much like anybody else," a male staffer says of Woods, whose regular table is behind the ropes, as it were, out of view of other diners. For a man who called his yacht Privacy, and who has endured global Publicity, The Woods offers its namesake a reasonable middle ground, a place to see and be seen—or at least glimpsed, on occasion, every couple of weeks. (The rumor that he sneaks in and out via secret private elevator is untrue.)
The most reliable way to see Tiger here is on the walls, though apart from a few photographs and a handprint near the men's room, The Woods is hardly a shrine to him or even to golf. A few diners have just come in from a round. On this 90-degree evening, there are middle-aged men in Dri-FIT who are neither dry nor fit. But the bar is also a 19th hole for people uninterested in the first 18. There's no chili-dip appetizer, no Bay Rum in the bathroom, and nothing comes with Tour Sauce. The area golf mogul more people are talking about is Donald Trump.
The menu is pricey but not ridiculous—$24 for a pork chop—and not everyone here is obscenely rich. "I can afford to eat or drink, but not both," says a guy in a T-shirt who has opted to drink. There are diners in flip-flops and tank tops, families eating, children devouring blue cotton-candy sticks that look like edible versions of Marge Simpson's hairdo. I order a wedge salad just to see how Tiger's wedge game is. (Delicious, it turns out.) And that's when he suddenly appears.
Tiger has materialized at 7 on a Thursday, albeit on the muted TVs that are everywhere. There are 42 of them, all tuned to ESPN or the Golf Channel. Tiger's head shot appears above his tweets about the day's golf news: Nike has discontinued its line of golf equipment. Though The Woods Jupiter is a shrine to Nike and golf, hardly anyone looks up from their beers. In fairness, some don't even know whose joint this is.
One night later, the packed crowd at happy hour skews 50 and up. (Way up.) And yet there's a pleasant rapport between the friendly young staff and the older patrons, between the white belts worn by male staffers in the manner of PGA Tour golfers and the white belts worn by male patrons because they haven't bought clothes since the Ford administration.
Shirley McGrail is sitting at the bar with her husband, Jack. They drove 3½ hours from Bradenton to celebrate their 40th anniversary. McGrail says she likes the staff, ambience and the jumbo shrimp cocktail, with lemons, on a bed of ice. "The first few times we came in here I didn't even know it was Tiger's place," says Shirley, a great-grandmother. "I've loved Tiger since he started. I know he did wrong, but I still love him. He changed golf. He changed the way people play. He changed the way people practice. He even changed the way people dress." One look around the joint confirms this. A small "Pro Shop" near the hostess stand sells Tiger's line of golf apparel.
When the check comes, it is slipped inside a scorecard from the Tiger-designed El Cardonal course, in Cabo San Lucas. (Should Roberto De Vicenzo fail to sign this particular card, he'll be doing dishes.) And then the happy visitor is disgorged back outside, though not exactly back into the real world. On this night, above Jupiter and Jupiter Island, the planet Jupiter is plainly visible. It's difficult to say which of these Jupiters is the most otherworldly. In this place where Ferraris draw few double takes, nobody seems overly interested in what Tiger is driving these days. Unless or until it's a golf ball.