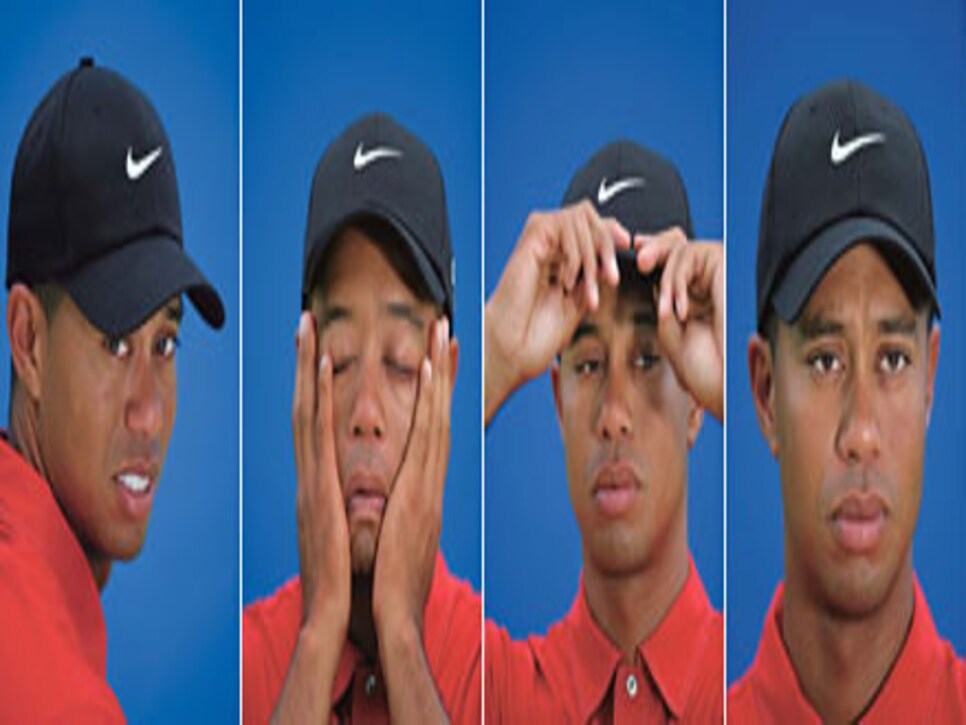 The State of Tiger: This is Jaime Diaz's sixth annual assessment of Tiger Woods' year, and career, in golf. For previous installments, see the related links box below.
Rather than Mike Douglas, this time the daytime talk-show host was Ellen DeGeneres. But 28 years later, there was another cramped television studio fitted with a makeshift tee and a net, and another adoring audience charmed by the guest, Tiger Woods. Although dressed in fashionably torn jeans and an untucked shirt, Woods stayed safely buttoned-down, firmly finessing his way out of a plea from the dance-happy DeGeneres (thus avoiding a clip that would outlive even his record of 142 consecutive made cuts). It was the same instinct for self-preservation that as a 2-year-old on the Douglas show compelled him to take one look at a five-foot putt over creased AstroTurf and hand-mashie it into a tap-in.
By contrast, Woods didn't waver when handed a driver with the task of hitting a ball through a 12-inch-wide opening in the net 20 feet away. First his face transformed into its familiar Zen mask as he took some practice swings. "I had to adjust to hit it higher than normal," Woods explained later. Then, with a motion that has become a perfect medley of right angles and parallel lines, he produced a hyper-speed swish.
The audience erupted. DeGeneres, normally glib, was speechless. The impossible physics of seeing any professional golfer -- never mind the best one -- smash a ball close up with such precision is always stunning, of course. But there was also the thrill of witnessing the master of getting it done getting it done yet again, an athlete so accomplished that he has become the world's leading exemplar of excellence.
Tiger Woods -- living icon -- is back. He had stood on that narrowest of pinnacles back in 2000 and 2001 before slipping off for a few years in pursuit of technical perfection. But by finishing 2006 with a rush toward the epic landmarks of Jack Nicklaus, Sam Snead and Byron Nelson while rising ever higher above his contemporaries, Woods enters 2007 loaded for history. He carries a streak of six straight official victories -- the second time he has achieved the second-longest tour string of wins -- but this time with a more palpable sense that Nelson's 11 straight is actually attainable. Woods will also go into the Masters having won the last two majors, halfway to his second Tiger Slam. If he achieves that, he could do things that have never been done.
Only tennis' Roger Federer among athletes today can rival Woods in dominating and personifying his sport. But whereas Federer confessed he became nervous when Woods showed up last September to watch him in the final of the U.S. Open, it's impossible to envision Woods being nervous in front of Federer, or anybody else. He's simply too wrapped up in a higher calling.
"No one's ever conquered the game of golf," sums up his friend Michael Jordan, the one living sports icon who knows the same rare air as Woods. "He thinks he can conquer it."
Woods arguably came closer than ever in 2006. Ten days before his appearance with DeGeneres, he played in his last official tournament of the year, the WGC-American Express outside of London, and won by eight shots for his eighth victory of the season. Then, drained from his most emotional year and a late run that included a dispiriting Ryder Cup, Woods passed on playing the eight more official rounds he needed to win his seventh Vardon Trophy scoring title and instead took his mountain of chips off the table and walked away. It left his opponents to think about what awaits them in 2007 and beyond.
"I'm sure Tiger will keep getting better," says U.S. Open winner Geoff Ogilvy. "It really doesn't matter what he's working on in his swing or whatever. It just distracts us from the fact that he's always been the best. The level he achieved in 2000 was ridiculous, and after he won at Bethpage in 2002 he must have thought, What am I going to work on now? Tiger needs to have a project, he needs to have a mission. And his mission at the moment is mastering his latest changes. He's doing that, and he'll probably win 10 times in the next year. And then he'll find a new mission."
Adds Jim Furyk, the No. 2 player in the world: "He seems more capable than ever of doing what he wants to with the ball: high, low, draw, cut, whatever. But what impresses me the most is that in a pressure situation, he'll pull those shots off with total calm, like he's out there practicing."
Woods' 12 professional major victories have come in only 40 tries as a pro, an off-the-charts 30-percent conversion pace that would allow him to catch Nicklaus' 18 at the 2011 PGA Championship. And Woods completed his 10th full year as a professional with 54 victories in only 200 starts, putting Snead's career-record 82 official victories, heretofore a distant goal, in reach.
The sum total is a powerfully visceral consensus that -- very quickly -- Woods has become so good that he doesn't have to do anything extraordinary to win. His new "normal" golf is enough.
With the clubs other than the still-too-frequently-sprayed driver and the occasionally inconsistent putter, there is no question that Woods has achieved control of the ball like never before. Now in his 30s, traditionally prime for nearly every great player before him, Woods is swinging better and thinking better. Whereas his epic 2000 season seemed destined to be the period any of his subsequent golf would be measured against, it suddenly seems unreasonable to assume that Woods reached his peak at age 24. And though most observers have taken a prudent wait-and-see attitude toward his prospects of surpassing Nicklaus' career marks, most now consider Woods a lock barring something unfortunate. There's a growing feeling that not only is Woods better than Nicklaus ever was, but that every important record in history -- including the Grand Slam -- is in play.
"Tiger reached a new level at Hoylake," says Nicklaus. "He controlled the ball beautifully and showed great maturity in his management. His short game and putting continue to be amazing. I kept improving into my 30s, and I expect Tiger is going to do the same. Will he break my record? It certainly looks like he will."
Although Woods opened 2006 by winning at Torrey Pines, then at Dubai and Doral, attending to his father's worsening health since late 2005 took a toll. With Earl Woods in his final days, Tiger had pushed -- surely too hard -- at Augusta, three-putting six times to finish three strokes behind Phil Mickelson. "That's why not winning the Masters hurt so bad, more than any tournament ever," he says. "Because I knew it would be my dad's last."
With the loss came the cessation of the momentum Woods had built with his career-turning and swing-change-validating victories at the 2005 Masters and British Open. Mickelson's triumph was his second Masters in three years and his second straight major after the 2005 PGA. Even more than Vijay Singh in 2004, Lefty -- especially when Woods was helping him on with the green jacket -- was starting to look like Tiger's equal.
Woods took nine weeks off after Augusta, a period in which he buried his father, who died on May 3. For weeks Tiger hardly picked up a club, saying later that being on a golf course made him miss Earl all the more. Woods thought he would be ready when he returned to competition at the U.S. Open at Winged Foot, but he played with a strangely vacant expression, putted horribly, drove worse and missed the cut by three strokes, his first weekend off in a major as a professional. Had Mickelson parred the 72nd hole to take three legs of the Mickel-Slam, many thought he would have supplanted Woods as the best player in the game. Debate reopened as to whether Tiger was on the wrong path with teacher Hank Haney. And without his father and best friend, would Tiger ever be the same?
He wasn't. He was better. Although Woods called the year a loss -- "If you take into account what happened off the golf course, it's my worst year," he says -- Earl's passing proved writer David Owen's observation about Woods that "everything makes him better." As Nicklaus at age 30 had made his first major victory after his father's death the British Open, so did Woods at Hoylake.
"Tiger doesn't show much, but after his dad passed, I could sense a change in him," says Haney. "I realized how much he'd been carrying around emotionally for the two years his dad was sick. At Hoylake, the weight was off, and his mind was clearer than it had been in a long time." Quite apart from forgetting about his father, Tiger remembered him better.
"My dad was really with me at Hoylake," he said in a one-on-one interview in late October. "Before, I could always pick up the phone and call him up and talk to him, and he could remind me of things that he'd taught me about the game. It's funny, over all the years Dad would always say the same things over and over and over to me. Then he'd say, 'Tiger, are you a slow learner?' He'd also tell me, 'You know, you're going to have to learn this for yourself one day.' It's made me really remember the things he said. Because if I forget them now, he can't remind me anymore. So in a way, I'm listening to my dad more than ever."
With Woods, it always goes back to knowledge.
"I've always wanted to be an overachiever," Woods told a grandstand full of youth during a recent clinic. "My whole idea is, I will outwork you. So that in the end, I will be better than you."
Given his talent, it's a philosophy almost amusing in its compulsive overkill. "I mean, how do you explain Tiger?" asks Fred Couples. "He can do stuff nobody else can do, wins all the time, but he never stops practicing or thinking of ways to get better. Who's like that? Who's ever been like that? I guess Michael Jordan, maybe Jerry Rice, but which golfer? It's phenomenal. We talk about it all the time. That's why I think he still has 10, maybe 15 more majors to win."
For Woods' main challengers, it's all getting to be too much. The four players who have posed the greatest threat to his supremacy in the last four years -- Mickelson, Singh, Ernie Els and Retief Goosen -- came at him with their best golf. All had successes while Woods was struggling with swing changes, but by the time Woods started winning majors again in 2005, all but Mickelson seemed spent. The gap only got wider in 2006. Woods' victory outside London gave him the largest proportional lead by the No. 1 player in the 21-year history of the World Golf Ranking.
No player younger than Woods has shown the combination of skill, mental strength and drive to cause the king to worry about a princely uprising. With his U.S. Open victory, Ogilvy has demonstrated the most capacity. Sergio Garcia still has to prove he can do it under pressure with the putter. Adam Scott took a step by winning the season-ending Tour Championship -- without Woods and Mickelson in the field -- but his record in majors remains unimpressive. Meanwhile, no sign yet of a horde of cubs spawned by Woods' example.
Woods got dramatically better in 2006, mostly because of three factors. The first was the improvement in his swing. As good as the swing looked in 2000, in a side-by-side comparison, his action in 2006 is technically superior.
The major goal of the swing changes he embarked on under Haney in 2003 -- to correct a tendency for the shaft to cross the line at the top of the swing with a closed clubface -- has been achieved. Woods has done it by flattening his backswing about 20 degrees and achieving a perfectly straight line with his left hand, wrist and forearm. Photos prove that he is "on plane" better than at any time in his career.
"This year, Tiger got the position at the top of his swing in beautiful harmony," says John Jacobs, the venerated teacher Haney calls his most influential mentor. "In the past it appeared Tiger was searching for that position during tournament rounds, which can be very confusing and led to his wildness with the driver. But now he's found it, letting the club rotate toward open on the backswing -- which is what Hogan did -- and which has improved his control. From there he can belt it with a lot of freedom."
Whereas Woods' swing breakthrough in 2005 was the ability to "fix" himself in mid-round, in 2006 he increased his ability to hit precise shots. "Before this year, I could only move the ball by exaggerating certain things," he says. "This year I got to where I could move it a lot or a little, whatever the shot called for. That was big."
Woods not only led the PGA Tour in greens in regulation but also in proximity to the hole with his approaches, a testament to superior iron play. At Hoylake, he sacrificed dozens of yards to players who hit more club from the tee but made up for it with masterful middle- and long-iron approaches, often from more than 200 yards.
With so much command from a good lie, Woods seemed to place a greater value on getting the ball in the fairway, going away from the increasingly prevalent "bomb and gouge" philosophy of bashing the ball and wedging it from the rough. He led the field in fairways hit at Hoylake, and at the PGA at Medinah, he hit mostly a mix of 3-woods and 5-woods off the tee, making only three bogeys and tying the record for least in a major championship that he set at St. Andrews in 2000.
Woods also made strides by reducing the amount of head movement in his swing, the most vivid evidence coming in Nike's slow-motion, cello-accompanied swing sequence. Not only did he reduce a long-ingrained habit of allowing his head to move to the right on the backswing, but more important, he corrected a tendency to let his chin tilt left. The latter caused a compensating right tilt of the chin on his downswing, which led to a damaging habit of hanging back and getting the club "stuck" behind him. Woods also devoted more attention to staying taller through the ball to get rid of a habit of dipping on the downswing. Head position was the focus of Woods' long practice session with Haney after the first round of the Western Open that he calls the turning point of his season.
The increased ease with which Woods finally found himself making all the right swing moves is what prompted him to put his long-absent "stinger" -- which played such an important role at Hoylake -- back in the lineup. Woods had stopped using the shot because his old method of violently clearing the hips, hitting down sharply and aggressively bowing his left wrist at impact was in conflict with the more freewheeling release he was perfecting. Woods is now able to hit the shot with a much more relaxed downswing marked by a shallower path into the ball, the low flight achieved primarily by simply cutting off his finish.
It's all a result of being on the correct swing plane, the guiding principle that allows Woods such newfound and seemingly effortless variety. Whatever shot he is hitting, Woods' swing looks essentially the same from address through impact, the variation coming in the finish: hands high and body fully rotated for a high shot, hands low and turn abbreviated for a low one.
"It's a much simpler and sounder method," he says. "It took me a long time to get it, but once I did, it became very reliable and much easier to repeat."
Only the driver, the club Earl Woods always said would be the last one his son would master, remains on the fringe of Woods' new proficiency. "It's a matter of more practice and more confidence," says Haney. "I know how he can drive it; it's a matter of taking it into a tournament. Yes, the driver is becoming somewhat of a specialty club, but the ultimate goal is to step up even on really tight holes and rip it right down the middle."
Two other major difference-makers in Woods' season were the putter and the 5-wood. Technically, the only thing idiosyncratic about Woods' putting style is its essential correctness. "I putt well when I feel comfortable over the ball," he says. "Usually that's just a byproduct of logging enough practice time."
When he's off during a round -- he three-putted three times late in the third round at Hoylake -- it usually takes only a minor adjustment in posture or ball position to get on track. But for as long as he has worked with Woods, Haney has believed him to be too aggressive a putter. For Haney, the most important putting stat is three-putt avoidance. Through the U.S. Open at Winged Foot, Woods ranked 184th on the PGA Tour in that category. But other than his Saturday lapse at Hoylake, Woods three-putted only five more times during his winning streak. "I've tried to convince Tiger that a three-putt hurts him a lot more than making the occasional 20-footer helps him," Haney says.
Woods' usual replacement for his 2-iron was a 19-degree 5-wood that brought more versatility. "I've won so many tournaments this year because of that club," he says.
The club solved several problems. First, par 5s in professional golf have gotten longer, and Woods can hit the 5-wood about 20 yards farther than his 2-iron (the difference being even greater from the rough). And because 5-wood shots fly higher, he can also get them to stop more quickly on ever-firmer greens. Previously, on approaches too long for a 2-iron but requiring less than a full 3-wood, Woods had compromised with cut 3-woods, with inconsistent results. He also realized that the latest golf balls were spinning less and consequently harder to get in the air, a problem compounded for him because his new, shallower swing path creates less spin. For the ninth time in his 10 full seasons, Woods led the tour in percentage of birdie or better on par 5s (57.14).
It's often said that the better the player gets, the smaller the increments of improvement. But Woods transcended that axiom in 2006. "I can understand why people look at 2000 and say it's a better year," he said. "I won three majors instead of two, and the Open at Pebble by 15 shots. But I think my overall consistency is better now. I've got more shots. I've got more knowledge. I know how to get more out of my rounds. Six years since then, that's a lot of experience and a lot of wins, done in a lot of different ways."
What Woods has tried to keep the same is the love he retains for playing. "It really goes back to my dad," he says. "The cool thing about Pops is that through all the years, he kept it fun. Always competitive, always challenging, always fun.
"As a kid, it's the way I learned to excel, to put myself in challenging positions. When I'm out practicing alone, I still do the same thing, like imagine some announcer going, Here's Tiger Woods on the 18th hole, tied with Ben Hogan, Jack Nicklaus and Bobby Jones. Can he put this 3-wood on the right side of the fairway? It's always about that inner battle. Can I or can I not do it? Your heart's going. That's the beauty of it. And you learn to keep a game face, like playing poker. You don't want to have any tells."
That shield is in place even as Woods enters 2007 with more momentum than he has ever had starting a year. But no doubt he has pondered the possibilities. Woods has thus far lowballed winning 11 in a row, but if he starts the season by winning his opening tournament -- as he has four times in his career -- he'll start stalking in major mode. When the real major season begins, Woods will follow the same route Ben Hogan took with his Masters-U.S. Open-British Open triple in 1953: Augusta, Oakmont and Carnoustie. The first two would give Woods his second Tiger Slam. But if he can win all three, the final step to the never-achieved calendar Grand Slam of professional majors would come at the PGA at Southern Hills in Tulsa. It's just the kind of tight, dogleggy, small-greened, par 70 that has been Woods' nemesis in major championships. Indeed, his only victory on a par 70 among his 12 professional majors came at the U.S. Open at Bethpage in 2002. And he has found Southern Hills difficult, finishing tied for 21st in the 1996 Tour Championship and T-12 in the 2001 U.S. Open.
So what better place to further prove he's a better player than ever? To win the Grand Slam. To win six majors in a row.
Of course it's ridiculous. But after what Woods showed in 2006, everything is in play.