News
How Golf's Hall Of Fame Got Better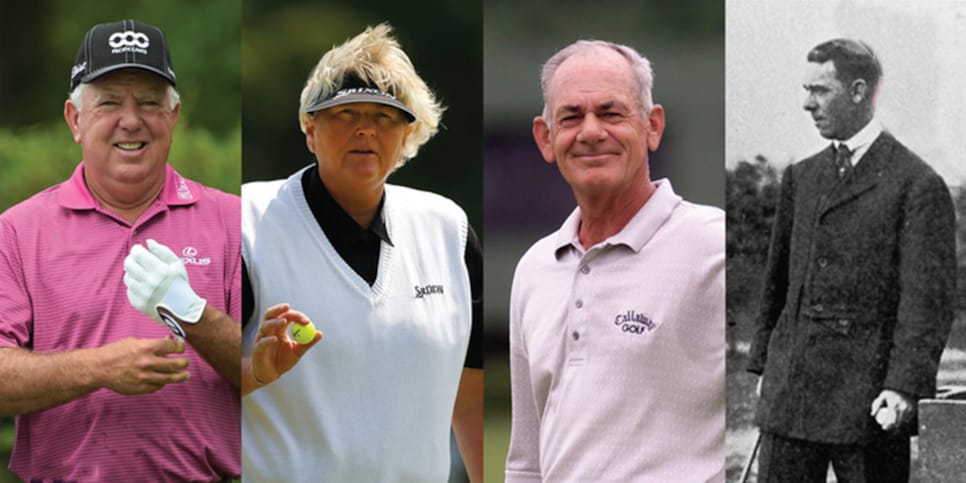 The foursome of Mark O'Meara, Laura Davies, David Graham and A.W. Tillinghast is the first class to be inducted in the World Golf Hall of Fame using its new selection process.
Halls of fame matter. Golf's hasn't mattered enough.
Cooperstown, Canton and Springfield are all places synonymous with the sports halls they host. St. Augustine is not.
But last week golf demonstrated why its hall now matters more.
When the World Golf Hall of Fame announced the 2015 induction class of Mark O'Meara, Laura Davies, David Graham and, in the lifetime non-competition category, course architect A.W. Tillinghast, it showed that its recent "strategic review" had made it smarter and better positioned for the future.
The results were good. All four figures were worthy and had been too long overlooked. More importantly, the process that produced them was better.
What's satisfying is that the WGHOF has turned a weakness into a strength. Through 2013, the selection process was based on a vote of some 275 voters around the world, more than one third of them golf writers. Each year, they were sent a ballot that listed the leading candidates in "PGA" Tour and "International" categories based on career records and past votes. Usually without discussing ideas with others, voters mailed in their choices, most often going with the players at the top of the provided lists, and skewing toward modern players with whom they were more familiar.
It was a system that discouraged independent historical assessment and consideration of important intangibles beyond victory totals. As a result, a lot of deserving older players and figures -- like the 68-year-old Graham -- were forgotten, their only hope of future induction resting with a veteran's committee made up of the Hall of Fame's board of directors.
Behind the scenes, the Hall's leaders had been growing dissatisfied with the system and its results, and were planning fundamental change. The tipping point came after Fred Couples and Colin Montgomerie were inducted in 2013.
Much was made of Couples having only 15 PGA Tour wins, while Montgomerie had no PGA Tour wins and no majors. But it was the election process that was heavily criticized. Because of a loophole in the voting criteria that stipulated that if no candidate received 65 percent of the vote, the next highest candidate in the PGA Tour and International categories would get in so long as they received at least 50 percent. Couples and Montgomerie each received 51 percent. Words like "popularity contest" and even "rigged" were thrown around.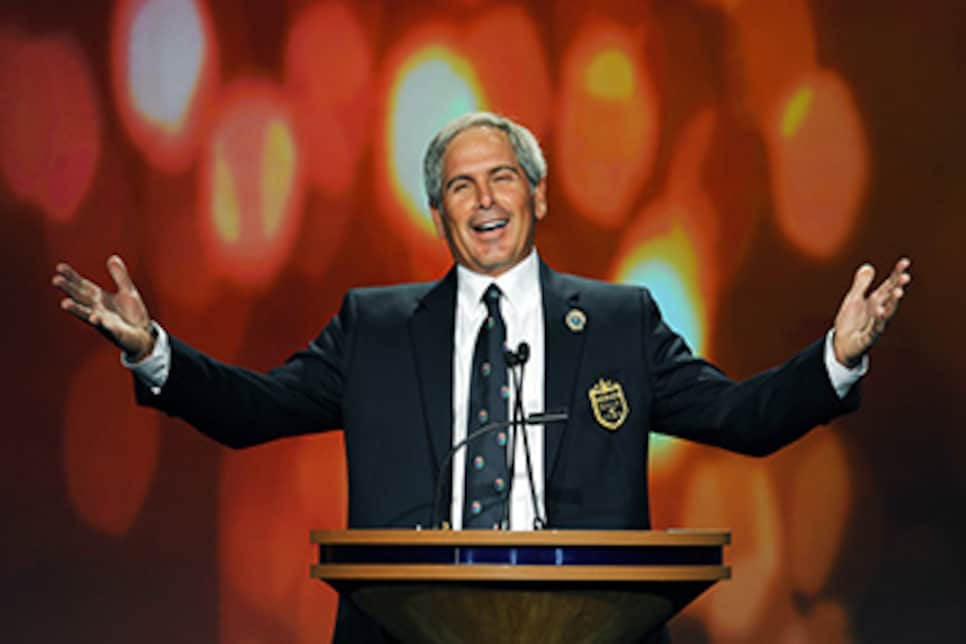 The bad optics did a disservice to both Couples and Montgomerie, each of whom possess a body of work -- Couples with a Masters, two Players Championships, an extraordinary record in unofficial events and on the Champions Tour, and owner of one of the most distinctive and charismatic images in golf history; Montgomerie with 31 European victories, seven Orders of Merit, a superb Ryder Cup record and his own personal style and magnetism -- that justified their inductions. But more critically, because the Hall's criteria and judgment had been called into doubt, its leaders decided to take an emphatic time out. The 2014 induction would be skipped, with the extra time used to put wise heads together and reevaluate the selection process.
Immediately, the former voting system was junked, replaced by a more sensible and credible one. First, it found golf people, students of the game and golf history and formed two bodies, a Selection Sub-Committee of 20 people (including Johnny Miller, Peter Alliss and Carol Mann), charged with putting forth five candidates in four categories for induction: male competitor, female competitor, veterans, and lifetime (non-competitor). A 16-person Selection Commission (this year co-chaired by Arnold Palmer, Annika Soresntam, Gary Player and Nancy Lopez, and including PGA Tour commissioner Tim Finchem, USGA executive director Mike Davis, R&A Chief Executive Peter Dawson and PGA of America CEO Pete Bevacqua, as well as three golf journalists) then makes the final choices based on a candidate receiving at least 12 (75 percent) of the votes in favor.
Gathering them together adhered to a simple principle favored by corporations and governments: When it comes to good judgment and decisions, a small group of invested experts interacting in person trumps a large group of people with varied knowledge, varied levels of interest and no interaction.
"The things all our committee members had in common were advanced knowledge of the game and its history, a real love for the game, and a serious commitment to the job at hand," says Jack Peter, chief operating officer of the World Golf Hall of Fame. "Every selection went through lively debate. Ideas were shared, and opinions were changed. And everyone left the process more energized and more invested."
Other changes have added standardization, equity and understandability. Gone is the International category, with its points system that few understood and seemed arbitrary to those who did, and which gave its inductees a second-class stigma. Also discarded was the PGA Tour category and its 10 victory minimum.
Now a uniform standard minimum is 15 worldwide victories in the male-competitor and female-competitor categories. For the men, the total wins can come from any of the International Federation of PGA Tour's six circuits -- PGA Tour, European Tour, Asian Tour, Australian Tour, Japan Tour, Sunshine Tour. This actually boosted O'Meara's victory total to 22 rather than just his 16 PGA Tour titles. Sergio Garcia, with eight PGA Tour victories but also with 22 counting European Tour and Asian Tour wins, is thus now eligible in the male-competitor category.
Similarly, victories for women competitors can come from any of the five circuits that produce Rolex Ranking points (the LPGA, European, Japanese, Korean and Australian circuits). That makes Helen Alfredsson, Liselotte Neumann and Jiyai Shin, for example, who have not won 15 times on the LPGA Tour, eligible.
Those changes put the emphasis back on the word "world".
The biggest benefactors of the new criteria will likely be top woman players throughout history. Too many for too long have been saddled with the too severe requirements of the LPGA Hall of Fame, which through a point system that gives one point for a victory and two for a major, requires a total of 27 points. In this century, only Annika Sorenstam, Karrie Webb and Se Ri Pak have been inducted in the LPGA Hall of Fame, with the retired Lorena Ochoa scheduled to be go in in 2017. Meanwhile, the current players with the most points are Yani Tseng with 23, Cristie Kerr and Inbee Park with 18, which indicated a troubling dearth of potential future inductees.
The 51-year-old Davies in particular was a victim. Her 20 LPGA victories (the last in 2001) included four majors, gave her 25 points, a total that completely ignored her 45 victories on the Ladies European Tour. That included her Ladies British Open title won in 1986, before it was considered a major.
Multiple-major winners Meg Mallon, Dottie Pepper, Jan Stephenson, Sandra Palmer, Sally Little, Jane Geddes all fell short of the LPGA HOF criteria. Under the 15-win guideline, all are eligible and eminently electable to the WGHOF. So is Jane Blalock, who won 26 times with no majors.
The same people who criticized Couple's induction will contend that 15 victories is too low -- that reduces the WGHOF to the "hall of very good". Of course, any minimum number will always be debated. Fifteen would have been an absurdly low when the game's 60-plus win giants were being inducted. But it's also become clear that winning 15 times in the post-1975 era is a greater achievement than it would have been before, much like a .280 lifetime batting average is now more worthy of a spot in Cooperstown. But here's some reality: even by making all the players with 15 victories eligible, there isn't much enshrinement inventory left.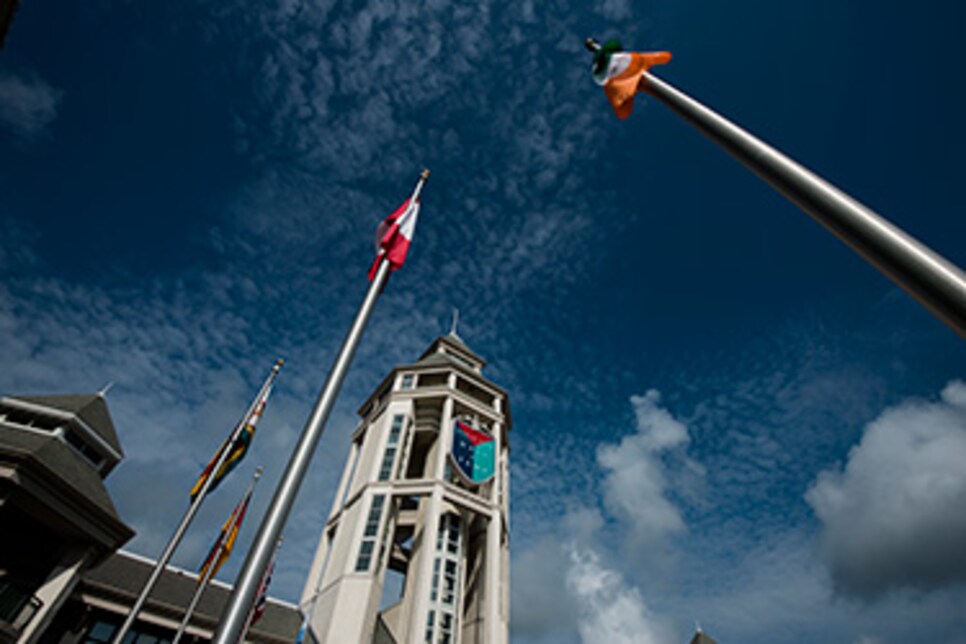 In retrospect, the current "shortage" was brought about in part because the 40-year-old institution began by overspending its relatively limited (compared to baseball, football and basketball) assets. In 1974, the WGHOF's first induction class included 13 -- Patty Berg, Walter Hagen, Ben Hogan, Bobby Jones, Byron Nelson, Jack Nicklaus, Francis Ouimet, Arnold Palmer, Gary Player, Gene Sarazen, Sam Snead, Harry Vardon and Babe Zaharias. The idea was to make a big splash, but the chance to parcel the great champions more gradually over a few years was gone. And then the next year, 11 top of the pyramid players went in. In comparison, baseball only inducted five players in the first Cooperstown class of 1936: Babe Ruth, Ty Cobb, Honus Wagner, Walter Johnson and Christy Mathewson.
Which leads to the last big change -- making the inductions and the accompanying ceremony biennial rather than annual. Given the dwindling inventory, it's an example of less is more, particularly because if 2015 is any indication, it's likely only four honorees -- one for each category -- will be inducted at a time. There are now 150 enshrined in the WGHOF. Over the next 40 years, there will be substantially less than 150.
The safety net designed to ensure deserving players are not forgotten is the veterans category, for which the subcommittee will nominate three candidates each year to be reviewed by the selection commission. Here, individual circumstances and intangibles play a large role, and their consideration was crucial to the induction of Graham, a native Australian who had only eight PGA Tour victories and 12 other official victories on other tours. He won two majors, and his flawless 66 at Merion in the 1981 U.S. Open is considered one of the finest final rounds by a winner of all time. The veterans committee will be the only avenue for Calvin Peete, who with 12 wins and a Players Championship, barely misses the minimum victory criteria.
At the same time, too long overlooked stalwarts with at least 15 victories -- who in the past probably would have only had a chance in the veterans category -- will now probably find their way in through the competitive category. Foremost among these players are Tom Weiskopf, with 16 victories and a major championship, and the colorful Doug Sanders with 20 victories. There are also ancients such as MacDonald Smith with 24 wins, Johnny Farrell with 22 wins including a major, Willie MacFarlane with 21 and 1, Bill Mehlhorn with 20, and Johnny Revolta with 18 and one, who now hopefully will be given a more honest review to see if they had been unduly overlooked.
All the new selection criteria are admirable. Conspicuous in its survival is the previous rule that a candidate need be only 40 years old (or five years retired from competition) for induction. Active players of around that age have understandably lacked sufficient reflection or emotion in their acceptance speeches, and it's lessened appreciation for the feat. Ideally, the minimum age for induction should be at least 50. However, it has to be acknowledged that the induction ceremony is a television show, and has to draw audience interest. Which is what will happen when 40-year-old Tiger Woods is inducted in 2017.
Still, to bring some needed energy and atmosphere to the staging of the ceremony, the strategic review made one more move -- alternating the site of the induction between the World Golf Village in St. Augustine and major championship sites to take advantage of more intensified attention -- and attendance -- by the golf community. Under the premise that the more iconic the site the better, the idea will start out strong, with next year's ceremony held at St. Andrews on the Monday of the British Open. It will return to St. Augustine in 2017, and then go to Pebble Beach during the 2019 U.S. Open.
All the changes showed that the WGFOF leadership has a full grasp of what a hall of fame is for. Which is to thoughtfully define and justly apply a standard that is right and credible, in a way that recognizes the gradations of greatness, not just the absolutes. And to create an honor that is generally acknowledged as the ultimate career achievement in the sport, one that makes recipients proud, grateful and if all goes just right in one of those magical moments that carry induction ceremonies, overwhelmed but still profoundly expressive. All of which leaves the game's followers not only thrilled, but more edified and engaged.
So that the WGHOF matters enough, and golf becomes better.