News
It Says Here He Quit Too Soon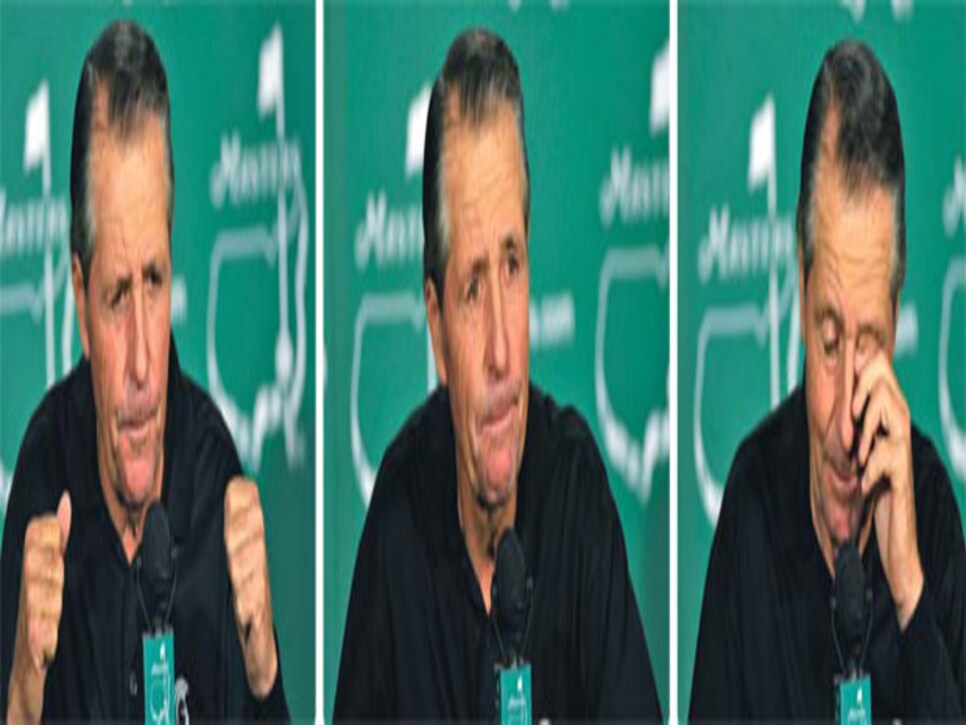 Gary Player last year after taking the last of his official 12,132 strokes in the Masters.
It will be a thrilling moment when Arnold Palmer and Jack Nicklaus step on the first tee as the Masters' honorary starters, one that already feels very right.
However, it won't be totally right until Gary Player joins them.
Player will be at the tournament, attending the Champions Dinner, playing in the Par-3 Contest, lifting the energy level as he always has. But after a record 52 Masters appearances, it won't be as an official competitor.
Last April, Player tried mightily to give the impression that it was enough. "It's getting to the point where I can hear my ball land," he joked. But it was apparent that emotionally, he wasn't ready. "I still train like a Trojan," he said, exhibiting bounce and verve even after his final 83, dropping to one knee at the edge of the 18th green to acknowledge the ovation. It was wonderful theater, but a few hours later, at the annual dinner party he holds at his rented home, I found him in the kitchen looking pensive. "I should have never stopped," he said quietly.
It was sad to see the only 73-year-old in sports history who quit too soon. I consider Player underrated. It's not the term that comes to mind when describing someone who is constantly reminding people of his accomplishments, no matter how great they are. "Insecure" might be a bit harsh, but "striving" gets it right. People resent strivers, especially when they keep beating them. Sometimes, I felt like golf went out of its way to overlook Player.
Player sensed it too, which is why even as his record spoke for itself -- nine major-championship victories and nine more majors on the Champions Tour, counting his three Senior British Opens (which he does) -- he had to jump in. "You can never rub it off the paper," he says. "I hear other things, that someone was a long hitter, or that they were charismatic. I say the record book is what you actually did. I get a lot of letters that say, 'I never realized what you did.' " And he doesn't let up. When he gloated a bit too much after passing the retired Palmer's record of 50 Masters, the King's comment betrayed years of barely enduring an annoying trait: "Well, if he isn't embarrassed, I won't be embarrassed for him."
The irony is, Player's rap drowned out his poetry. Among golf historians, he was too often regarded as an artless grinder with an almost unseemly amount of will, and thus a rung below several more aesthetically pleasing players who didn't win as much. "Never better than a 2-handicap," the late Peter Dobereiner liked to say.
But Player was a genius athlete. Though he always appeared a bit tight over the ball, it was with a technician's obsession, knowing that his 5-foot-7 frame, no matter how muscular, gave him less margin for error.
Nevertheless, he was unfailingly fluid at crunch time, producing some of the greatest shots ever hit, including a 3-wood stiff on the Spectacles at Carnoustie to beat Nicklaus head-to-head at the 1968 British Open, and a nearly holed 9-iron from deep rough and over the lake on the 16th at Oakland Hills to save the 1972 PGA. Palmer calls Player the greatest competitor he ever saw. He also says, "He's my friend, and I love him."
In the end, it's the latter encomium that Player treasures most. Raised in an apartheid society, he has lived an examined life, reaching out to Lee Elder and Arthur Ashe, establishing a school for underprivileged children on his estate near Johannesburg, working closely with Nelson Mandela. He was the intermediary when Palmer and Nicklaus were at loggerheads. In his autobiography, Player fiercely states he's an "animal" for success, but it was love, which he calls the most important in the English language, that he was really after. His mother died when he was 8, and ever since, he wrote, he has sought "to settle some unfathomable debt."
Now Augusta is in his. Asked last year if he was expecting the club to reunite the Big Three, he at first demurred. "You know, I never expect anything." But gently pressed on whether he'd accept the invitation, Player effused, "Would I? Of course I would. I'll exercise even harder and make sure I outdrive Arnold!"