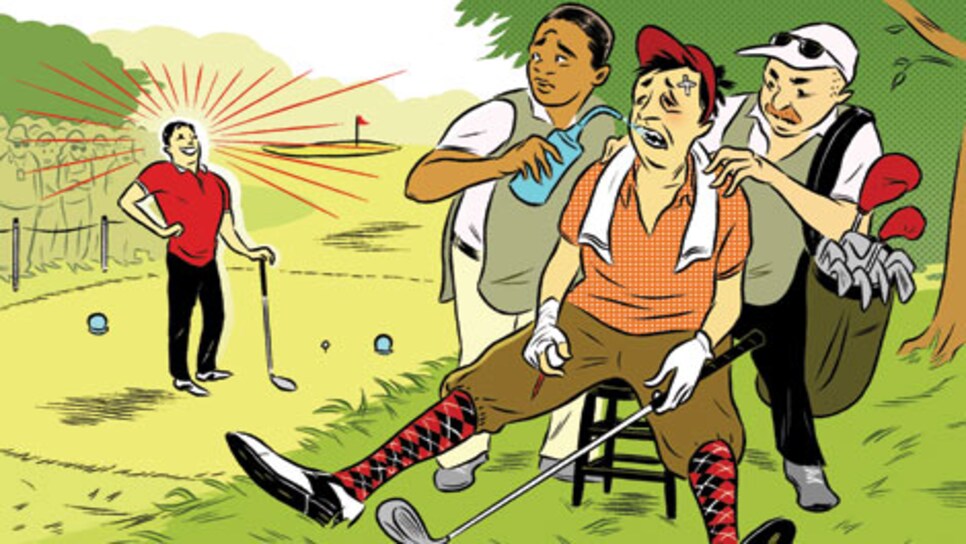 It was gratifying to see Davis Love III win the last official event of 2008. Struggling all year just to stay inside the top 125, Love, 44, finished 64-64 and got up and down on the last two holes to squeeze out his long-sought 20th career victory, a threshold that earns him a lifetime exemption into PGA Tour events and likely a place in the World Golf Hall of Fame.
"Clutch" was the only word for the performance. But what really inspired inner fist pumps was that it was achieved by a popular player who nonetheless, in the quiet corners of locker rooms and caddie yards, has always been considered soft.
Yes, Love has a major, two Players championships, and the crucial putt in the 1993 Ryder Cup to his credit. He has exhibited plenty of grace under pressure. But he has long been notorious for letting tournaments well within his grasp slip away. Assuming every player lacks something, Love -- with power, a great swing, and a full tour bag of skills -- most lacks mental toughness.
Of course, definitively judging any player on the most difficult to quantify intangible is unfair. And "soft" is the easy label to hang on a golf-coddled sweet guy with Roman numerals in his name. It's also harsh to be measured on crunch-time quotient in the Tiger Woods Era. Even Jack Nicklaus suffers retroactively in that comparison.
I liken it to finding the eye of the hurricane and staying in that center, where it's calm... As long as you're in it, you're OK. -- Hale Irwin'
On the other hand, the sheer stun-gun effect of Woods' early years on the egos of his contemporaries might finally be wearing off, and his mental accomplishments seen more objectively. Woods jumped the electric fence that made up the most feared and misunderstood barrier in the game -- the choking point -- and took off running. It has taken awhile, but what seemed at first like a Bob Beamon breakthrough now looks more like Roger Bannister's. There's evidence that several of Woods' pursuers, even if not quite breaking four minutes, have at least gotten on the same lap.
Sergio Garcia has (mostly) stopped whining about luck and reached No. 2 in the world. Padraig Harrington has become a true Celtic Tiger in his ability to close out majors. Camilo Villegas won the last two FedEx Cup events with a Woods-like demeanor: hugely determined, quietly intense, a little haughty. Until recently, all three were considered fragile types who couldn't finish.
But fragile is, of course, a relative term when it comes to mental toughness in tournament golf. Even the game's grittiest characters say achieving it is a delicate dance.
"I liken it to finding the eye of the hurricane and staying in that center, where it's calm," says Hale Irwin. "That eye can be big or it can be small, but as long as you're in it, you're OK. Step out of it just a bit, and it gets real active real quick."
"I think it's definitely a learned behavior," adds Paul Azinger. "I don't think Tiger was born with it. I think he learned how to become a mental giant."
The accepted process has always been trial and error. It could be argued that Love has simply been a slow learner. But Woods' example has given everyone more information. There's also new research. A recent book, Talent is Overrated, posits that a willingness to submit to "deliberate practice" -- highly specific and repetitive training that is intentionally uncomfortable -- is what most separates the very best from the rest.
It's hard enough to do any time, but those who are so engaged as children have an advantage. Earl Woods so guided his son, telling the pre-teenage Tiger, "You'll never meet another person as mentally tough as you in your entire life." An audacious idea, but one Woods became comfortable with early. In the end, that vision of who he is and can be might be the difference between Woods and Nicklaus.
There's nothing normal about it. That's largely the point. Perhaps by osmosis, the best players are apparently learning faster. Before his breakthrough victories, Villegas boldly asserted, "I decided, you know what, I'm on the PGA Tour for a reason. I'm a great player." Vijay Singh, never more than average on the greens, began telling himself, "I'm the best putter in the world."
Audacious. He then won the FedEx Cup.
Something is happening. Players other than Woods are finding better ways to get inside the hurricane without touching the edges. And we're going to see more of it in 2009.