News & Tours
Police investigating vandalism and chemical spill at PGA Tour stop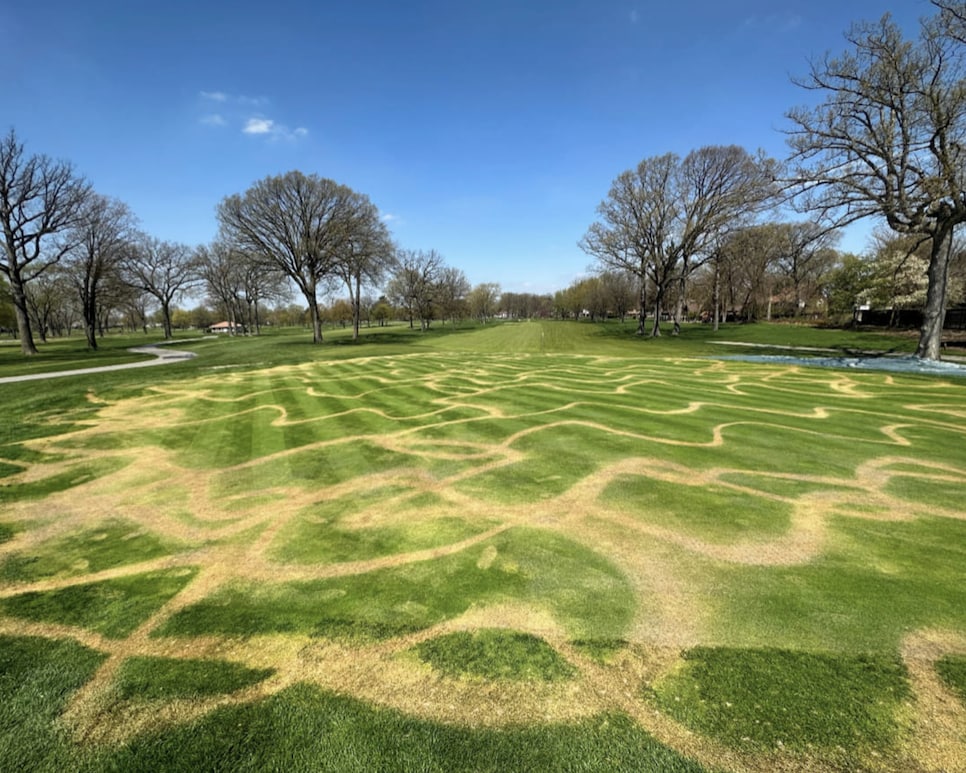 Picture of Detroit Golf Club's vandalism, from MasonGolf.
According to ABC 7 WXYZ Detroit, club superintendent Stephen Moynihan informed membership that the 11th and 12th greens on the North course were believed to have been hit with Glyphosate, which is an ingredient in the herbicide product Roundup. Glyphosate essentially kills off weeds and grass. Photos posted on Facebook by MasonGolf show large brown patches in zig-zag and figure-eight patterns on the greens.
Though the grass has suffered severe damage, Moynihan told members that the roots of the grass remain intact. The Detroit Free Press published part of Moynihan's letter, with Moynihan stating, "The greens will need to remain closed to allow the fastest possible recovery time and to keep any undue stress off the plants. The length of time the greens will take to recover will continue to be weather dependent, the colder the weather, the slower the recovery. I will be working in conjunction with the PGA Tour Agronomy Department to develop an appropriate plan for optimal recovery."
According to local Detroit outlets, police are pursuing leads to track down the parties responsible for the damage, while adding additional security and lights to the club.
Detroit G.C. was founded in 1899 and features two Donald Ross courses on property. The club has hosted the Western Amateur and U.S. Mid-Am, and has served as host of the Rocket Mortgage Classic since the tournament began in 2019. The Rocket Mortgage Classic is scheduled to begin in two months. At the time of writing the PGA Tour had no comment on the matter.


Donald Ross designed two 18-hole courses at Detroit Golf Club on a tight plot of land in the middle of the city. An extensive renovation project was completed by Bruce Hepner in 2015 to restore the greens and bunkers. Most holes are framed by trees and are mostly up and back on flat land, though subtle rumbles in the land provide enough movement to offer strategic value and demanding shotmaking into these Ross greens, which average 5,150 square feet.
Read our full review