News
Despite rules dilemma and wild finish, UK player wins tournament carrying fallen teammate's bag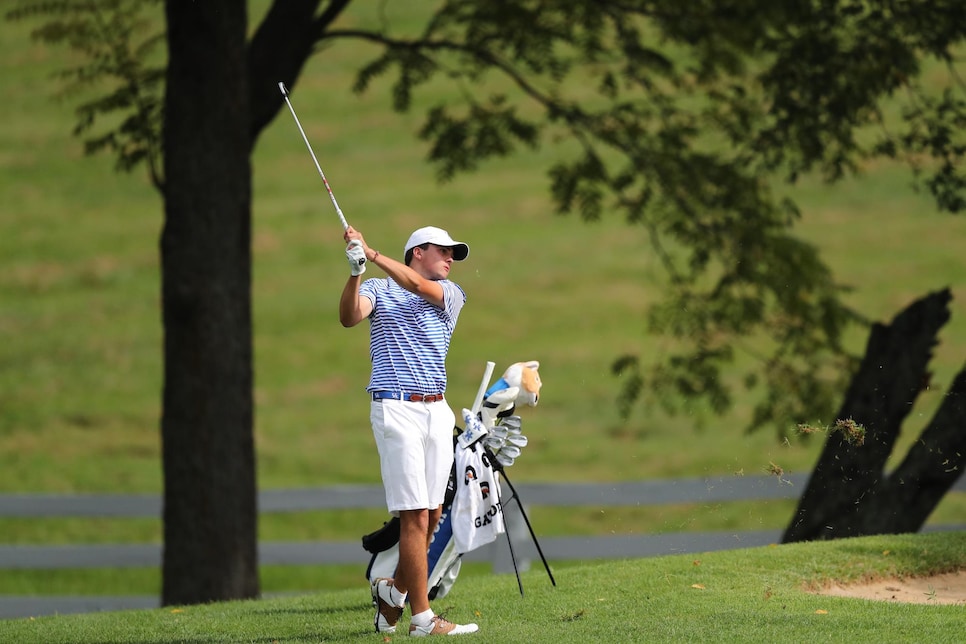 University of Kentucky golfer Alex Goff turned in one of the more emotional, and dramatic, performances of 2020 on Wednesday.
Goff, playing in the SEC's Blessings Collegiate Invitational, had a six-shot lead with three holes to go in the league's kickoff event. But he double-bogeyed the par-3 17th at Blessings G.C. in Fayetteville, Ark., and recorded a triple at the finishing hole after hitting the wrong ball out of a fairway bunker. With Tennessee's Hunter Wolcott making birdie at 17, it appeared Goff's lead had vanquished.
However, there was a live scoring error, as Wolcott remained one behind Goff, and a lipped-out par putt from Wolcott on the final hole cleared up any confusion, giving Goff the individual title.
A title that was a heart-wrencher for the Kentucky family. In August the Wildcats lost teammate Cullen Brown to cancer. An All-SEC performer in his freshman year, Brown withdrew from school in his sophomore season to battle osteosarcoma, a form of bone cancer, and succombed to the disease less than a year after diagnosis.
Though all of the Wildcats were wearing ribbons in memory of their fallen teammate, Goff and Brown were roommates, which is why Goff used Brown's bag this week.
"I knew that Cullan was watching down on me and he was with me every moment, and I truly believe that he was the reason I won," Goff said in a Golf Channel TV interview. "I can also say that if he was still here, I probably would've finished second."
Brown's mother, Emily, was watching the interview, tweeting afterwards, "We were crying with you, Alex. Sure do miss my boy."
Last year a GoFundMe page was established by Wildcat teammate Jay Kirchdorfer to assist Brown and his family with medical expenses.
"The Browns' are facing an emotionally challenging road ahead," wrote Kirchdorfer. "As many of you can understand from personal experience, medical expenses can compound over a period of time. Providing this support would lighten the financial burden of this situation, which would be a blessing for the Brown's. Also, we would really encourage you to share this page to help in the effort to support Cullan and the Brown's during this journey."