The Loop
Derek Jeter wants everyone to know what REALLY happened in his match against President Obama
President Barack Obama and Derek Jeter were among those in Cuba for Tuesday's historic exhibition baseball game between the Tampa Bay Rays and the Cuban National Team. But when the two had a chance to chat, it seems all they wanted to talk about was golf. Specifically, their much-talked-about match.
"It was all about him embellishing a golf game," Jeter said when asked by ESPN about the Yankee legend's lively conversation with the leader of the free world.
"I told him I was coming after him for a defamation of character suit," Jeter joked. "He told everyone he gave me 30 shots on the golf course, which is very untrue."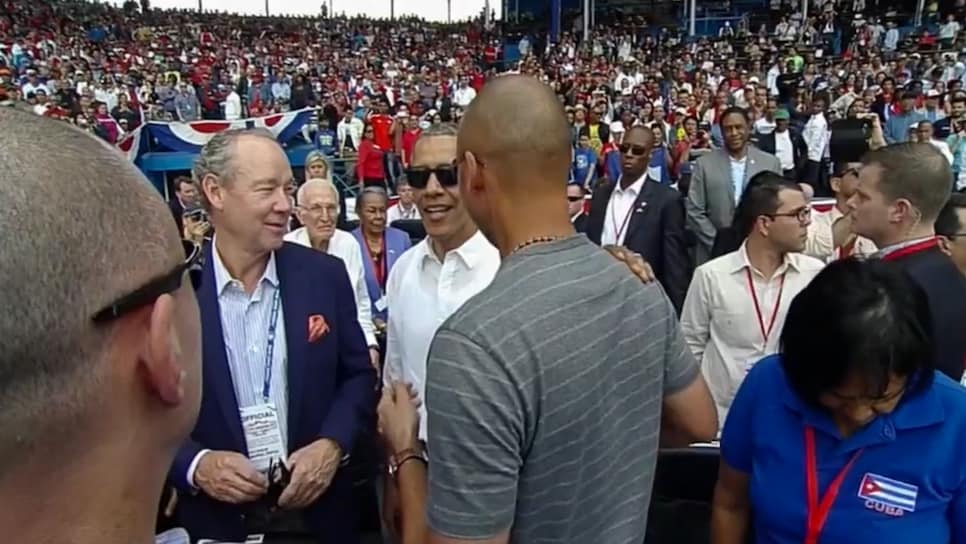 The match in question took place at Las Vegas' Shadow Creek in November of 2014 and also involved Brian Greenspun, owner of the Las Vegas Sun newspaper. Afterward, Obama indicated he got hustled by the future Hall-of-Famer.
"He (Greenspun) and Derek Jeter stole money from me at Shadow Creek," Obama said. "It was clearly a set up, because when we got to the practice range, he was shanking balls everywhere. I said, 'You play golf Derek?' And he said, 'I just started two weeks ago.'"
Obama said he wound up giving Jeter 30(!) strokes and losing badly. Thirty strokes is an insane amount for any match, but let's just remember -- and I say this with all due respect to the most powerful man in the world -- Obama isn't exactly Tiger Woods in 2000.
So why would Obama embellish what happened?
"I took his money, so he wants it back," Jeter said. Sounds like there's going to have to be a rematch.
Watch the full ESPN interview with Jeter here: