Sleeping With One Eye Open
The ESPN producer who put up the shirtless picture of Derek Jeter on Sunday Night Baseball might want to go into witness protection
Television, much like professional sports, is a copycat league. So when the Monday Night Football "Manningcast" featuring Peyton and Eli Manning saw some initial success in 2021, there was bound to be more (insert whoever)-casts in the near future.
For Sunday Night Baseball, ESPN landed on New York Yankees play-by-play man Michael Kay and former Yankee-turned-broadcaster Alex Rodriguez, calling it the "Kay-Rod" cast. If we're keeping it real, it's not even in the same stratosphere as the "Manningcast," partly because a nine inning MLB game can sometimes be a slog and partly because Kay and Rodriguez are not exactly beloved like the Manning bros.
But this past Sunday night, the "Kay-Rod" broadcast finally created some buzz, much of that due to the fact that Derek Jeter was set to be the 8 p.m. guest, making it must-watch TV considering he and Rodriguez's checkered past. Of course, the appearance was mostly going to be to promote "The Captain," Jeter's ESPN documentary, but perhaps there would be a hatchet-burying of sorts between the two former teammates.
A hatchet burial did seem to take place (more on this in a moment), but the highlight of the night came in the fifth inning, just before Jeter was going to leave the set. Earlier in the inning, Kay brought up the infamous shirtless photo of Jeter, A-Rod, Edgar Renteria, Rey Ordonez and Alex Gonzalez from early in their careers. Jeter explained that, at this particular Sports Illustrated shoot, the idea was for all of them to be shirtless in one photo, but Jeter was having none of it. Finally, right as the shoot was about to end, he obliged, and SI got one photo of them all shirtless. On the "Kay-Rod" cast, after Kay brought it up, Jeter specifically asked for the producers to not bring the picture up, or else it would be his last time on the "Kay-Rod" cast. Initially, the producer was scared straight, but later in the inning the photo made its way to the screen and Jeter's reaction was that of a man who was going to put a hit out on the producer:
Hey, he asked nicely. He said please. Joe McCoy, who should probably sleep with one eye open for the forseeable future, did not listen. Does this look like a man who was joking around about never coming back on "Kay-Rod"?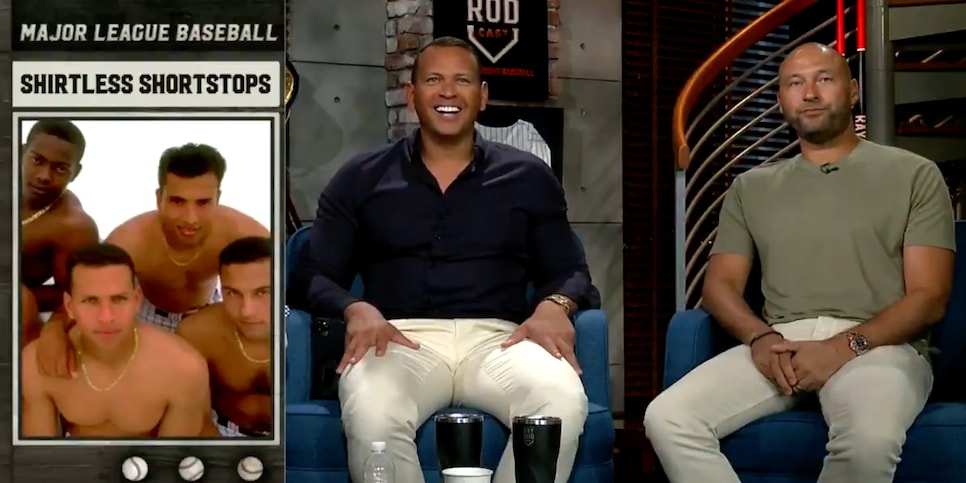 Yeah, he's never returning to that set. Man, is that picture not the perfect summation of Jeter and A-Rod's career? A-Rod always goofing around, smiling way too much, and Jeter being overly serious and stoic to protect his image. On one hand, McCoy might be a dead man, but on the other, he is really, really good at his job for producing that reaction.
As for the aforementioned hatchet burial, this conversation does seem to imply that Jeter and A-Rod are cool now, the untimely death of Jeter's close friend Gerald Williams serving as a reminder that life is far too short to hold grudges:
OK, "Kay-Rod," we see you. Unfortunately, Jeter is never coming back on, so they are going to have to come up with some creative ways to generate more buzz.