The Loop
Demon residing in 'patch of sand that Dustin Johnson didn't think was a bunker...not buried, not yet'
Stories of interest you might have missed…
"That patch of sand that Dustin Johnson didn't think was a bunker five years ago is barely in play at this week's PGA Championship at Whistling Straits," Hank Gola of the New York Daily News writes. "It is half-covered by a sponsor's stand. The demon that resides there? Not buried, not yet. As Johnson returns to the scene of his crime, he is still trying to stay out of his own way enough to win his first major."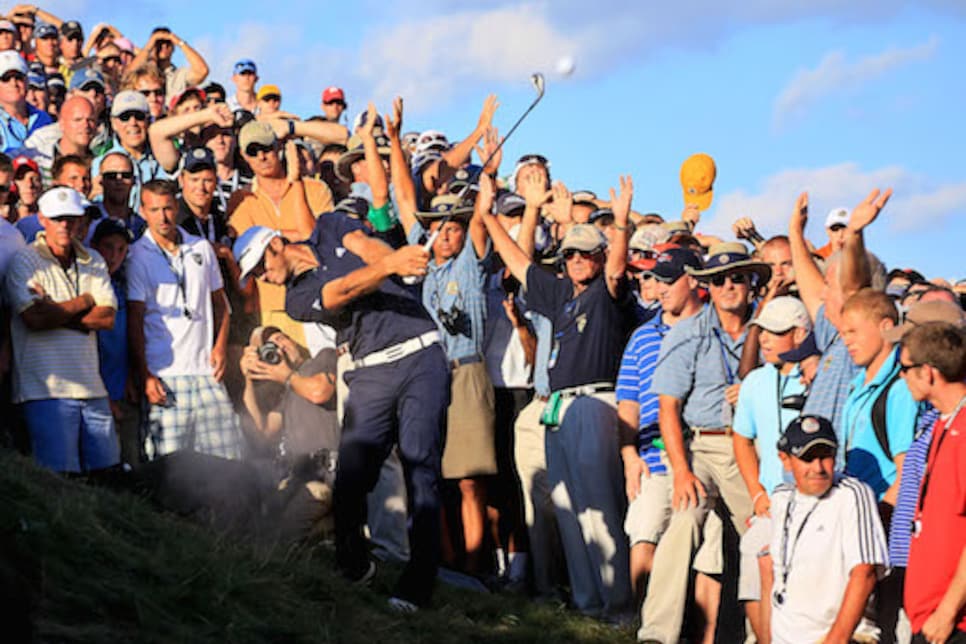 Johnson playing his second shot at 18 in 2010 PGA Championship (Getty Images)
Game on, as they say, between the two top-ranked players in the world, Rory McIlroy and Jordan Spieth. "Spieth is not the world No 1, but he continues to enact a ridiculously good impression of it," James Corrigan of the Telegraph writes in a look ahead to the PGA Championship. "The 22-year-old shot a 66 in the final round of the WGC-Bridgestone Invitational on Sunday night to fire a warning to the returning Rory McIlroy."
"Where in the world is Whistling Straits?" Gary D'Amato of the Milwaukee Journal Sentinel writes in this amusing story on the locale of PGA Championship. "Good question. The Associated Press uses Sheboygan as the dateline, but the golf course is several miles north of the city limits. The PGA of America and CBS Sports use Kohler as the dateline. In that case, follow the dollar signs, not the ones on the map, because Kohler is 10 miles away. Technically, Whistling Straits, which will host the 97th PGA Championship starting Thursday, is in the Town of Mosel, a rural/farm community with a population of 781 and fewer than a dozen businesses."
Louise Suggs, an LPGA founder and a star, died last week at 91 and Bill Fields at ESPNW writes about her legacy. "In his wonderful biography, Johnny U: The Life and Times of John Unitas,' writer Tom Callahan begins the book with this description of the great quarterback's era: On black-and-white televisions, in a black-or-white time, men played football for something less than a living and something more than money.'" For Suggs, Fields writes, "the work was a game, and the game was a love."