News
Defending champ Tommy Fleetwood steals the show—and the title—in Abu Dhabi with a closing 65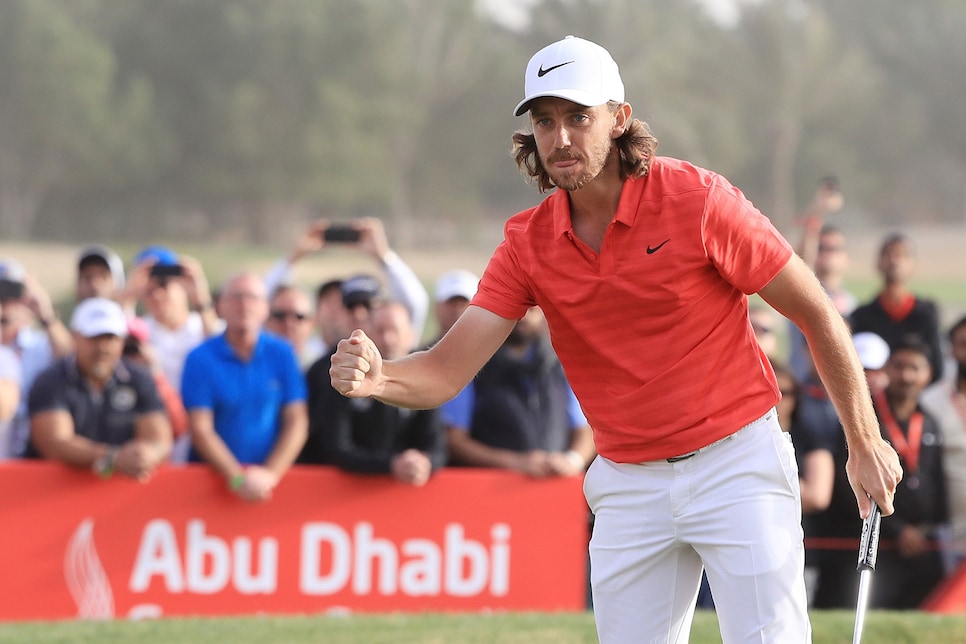 With one round to play in the Abu Dhabi HSBC Championship, and only one-shot off the lead, a rejuvenated Rory McIlroy, just back from more than three months away from competitive golf, looked like the man to beat. Unfortunately for the Irishman, that is just what Tommy Fleetwood and Ross Fisher did.
In difficult, blustery conditions, Fleetwood closed with a stunning round of 65 at the Abu Dhabi Golf Club to reach 22 under par and defend his title with a two-stroke victory over Fisher. McIlroy tied for third—his eighth top-five finish in this event over the last decade—alongside a third Englishman, Matt Fitzpatrick, four shots adrift of the now two-time champion.
It was Fisher who appeared to make the decisive move over the opening seven holes. By the turn, the 37-year-old former Ryder Cup player was five strokes ahead of Fleetwood and looking good to claim his first tournament win since 2014. It wasn't to be, however. As both Fisher and McIlroy became somewhat becalmed—the latter made only birdie after the eighth hole—it was the soon-to-be owner of the $500,000 first-place check who came alive.
Six birdies dotted Fleetwood's card in a back-nine of 30 that McIlroy was moved to describe as "seriously impressive." It was a verdict no one was disagreeing with, least of all the man who hit the shots and made the putts that mattered.
An up-and-down for birdie at the 10th, then a crucial par-save at the 11th were the first hints Fleetwood was on a roll. From there, birdie putts fell at the 12th, 13th, 15th, 16th and 18th. Over a stretch of holes that gave many of the elite field trouble, it was an unanswerable run of form.
"It was pretty good on that back nine," said Fleetwood with smiling understatement. "Without going over tournaments or rounds in my head, I think that run of holes will definitely be at the top of my list of most memorable play. I actually never felt like I didn't have a chance, and after I got a bit lucky with the tee shot on the 13th, the rest of the round went perfectly. The putts were going in, and suddenly I was wondering if this could be my day again. And the up-and-down on the last was one of the best I've ever made. Happy days.
"This means so much to me," said Fleetwood, the European Tour's Race to Dubai winner a year ago who at 27 is trying to establish that 2017 was the rule, not the exception. "I feel a lot more emotional than last year. I don't know why. I just wanted to win this one. I had the year of my life last year. So backing it up is the next big thing. It's a weird feeling to hit form this early and defend. You could say this is validation, but it is just nice to show that I am still moving forward. That score on this golf course is very, very good."
McIlroy was only too willing to agree, even as the four-time major winner was stressing how pleased he was with his performance over the four days. Which is a fair point; 18 under par for 72 holes is pretty impressive after a long period of inactivity.
"I'm really happy with how I played," he said after a closing 70. "I would have taken this score at the beginning of the week. I wasn't quite sure what to expect. I just wanted to get back out there and play. Today I felt like anything in the 60s would be a good score. I didn't quite manage that, but my game is in really good shape. I saw a lot of positive signs. This week has been huge success for me even if I didn't win.
"Tommy's play was incredible. It was very tough to get close to those pins. He's a great addition to the world of golf, a great addition to the European Tour and he'll be a great addition to the Ryder Cup team in September."
The long-hitting Fisher will be hoping for something similar. Having played in the biennial contest against the Americans at the K Club in 2010, he has endured a more than quiet spell on the European Tour. But the signs of recovery are good. Only last October, he shot a course-record 61 over the Old Course at St. Andrews (with three-putts on the last green) during the Dunhill Links Championship. He was runner-up that week, too. But one place higher cannot be too far away.