News
Defending champ Oregon, improbably, faces Oklahoma in finals of 2017 NCAA Championship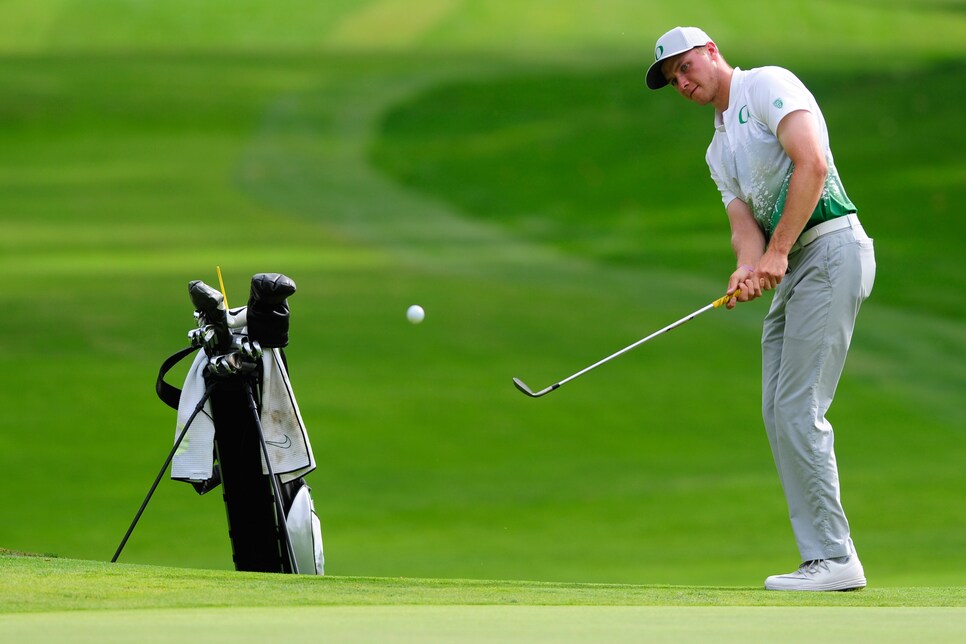 A whirlwind 28 hours at Rich Harvest Farms outside Chicago has the University of Oregon men's golf team on the verge of something many didn't think was a possibility on Monday afternoon—repeating as NCAA champions.
The Ducks are set to face Oklahoma on Wednesday in the finals of the 2017 NCAA Championship. A victory over the Sooners would make Oregon the third school to repeat as national champions in the match-play era, joining Augusta State (2010 & 2011) and Alabama (2013 & 2014).
With 18 holes left in stroke-play qualifying on Monday, the Ducks sat T-13, 10 strokes out of one of the top eight spots needed to advance to match play and looking like they were on their way back to Eugene. But a furious rally jumped them into T-5 and gave the squad new life.
On Tuesday, coach Casey Martin's crew continued to play inspired golf, knocking off Oklahoma State in the quarterfinals, 3-2, then taking out top-seeded Vanderbilt, 3-2, in the afternoon semifinals match.
"It's an incredible feeling to be back here," Martin said. "Trying to back it up, it's hard to put into words, and I'm proud of the guys and how they've played all year, and then in particular how they battled to get here because we were way on the outs, and here we are. So it's pretty cool."
Leading the way on Tuesday was fifth-year senior Sulman Raza, the same golfer who secured the winning point in last year's finals match against Texas. Raza defeated OSU's Hayden Wood, 2 and 1, in the deciding match of their quarterfinal tilt Tuesday morning, making a eight-foot birdie on the 17th hole to seal the win. He then took out Vanderbilt's top player, Matthias Schwab, No. 5 on the World Amateur Golf Ranking, 2 up, in the deciding match of the semifinal round, lifting his NCAA match-play record to 5-0.
"I would say when I was walking down 18 [against Schwab], it kind of popped into my mind," Raza said. "It was a little déjà vu to me, a little bit as to what happened last year and how things transpired this year, but the experience from last year definitely helped. It helped me know what I need to do when the situations get really intense and I start getting nervous, what I need to do to calm myself down. I'm just so proud of all these guys, and to do it out here in front of these crowds and on this golf course, I'm very, very happy."
Interestingly, Raza was not in the Oregon lineup at NCAA Regionals, Martin choosing instead to play freshman Kevin Geniza. After the team qualified for nationals, Martin and assistant coach John Ellis decided the experience that Raza had from the previous year's victory was too much to leave behind.
"As you saw today, he handled it incredibly well," Martin said, "and that's a lot of pressure, and to hit just tremendous shots. I feel like last year and what he went through helped."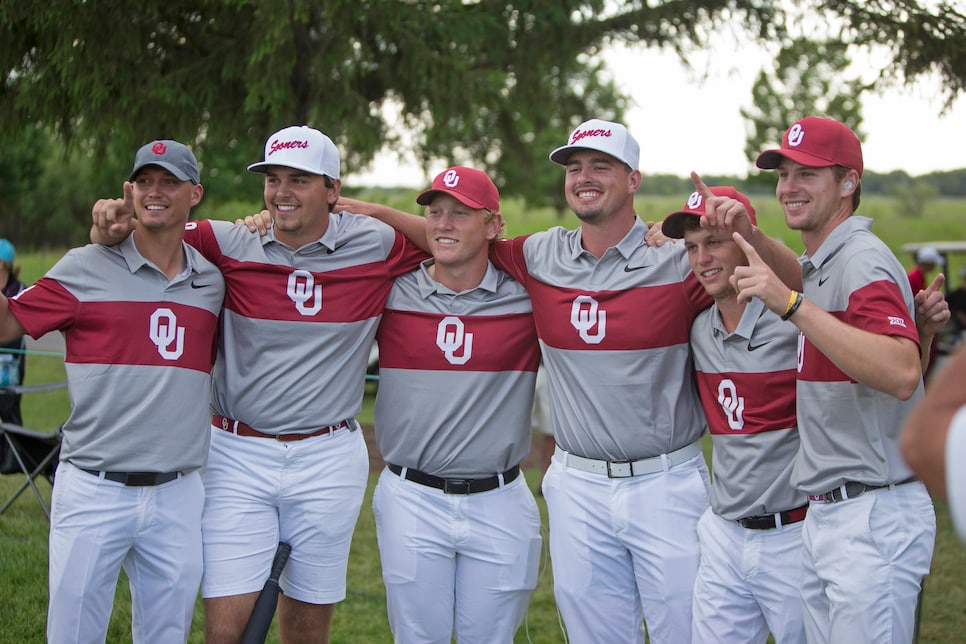 Oklahoma, the No. 2 seed in stroke-play qualifying, had its own excitement in reaching the final. The Sooners were down in all five matches in their Tuesday morning quarterfinals test with Baylor. The Bears won the first two, but then the Sooners saw Rylee Reinertson and Grant Hirschman turn around their matches and post 1-up victories.
In the deciding match, Brad Dalke, the 2016 U.S. Amateur runner-up, defeated Matthew Perrine in 19 holes. Dalke had held a 2-up lead with two holes to play, only to have Perrine win both to extend the match. But a par on the 19th hole gave Dalke the win.
Oklahoma then defeated Illinois, 3-1-1 in the semifinals, Sooners Blaine Hale, Max McGreevy and Reinertson winning their matches to give the school a chance to win its second NCAA title, the first coming in 1989.
"We've been playing good golf all week long, and our guys did something really special this morning against Baylor," said OU men's coach Ryan Hybl. "We fought hard and got back into all the matches and ended up getting three points, one closing it out on the 19th hole, which was really special. I think we carried that momentum over to this afternoon, and our guys took care of business. Our first three guys got the first three points, and I thought they played some really good golf."
The way the matches in the finals shake out could lead to another thrilling ending on Wednesday afternoon, as Oregon's Raza and Oklahoma's Dalke square off in the fifth and final game.
NCAA CHAMPIONSHIP
Oklahoma vs. Oregon
2:10—Blaine Hale vs. Norman Xiong
2:20—Max McGreevy vs. Edwin Yi
2:30—Rylee Reinertson vs. Wyndham Clark
2:40—Grant Hirschman vs. Ryan Gronlund
2:50—Brad Dalke vs. Sulman Raza