The Loop
Deciphering Chambers Bay: Good move by Fox Sports using architect Gil Hanse
Chambers Bay is unique, both as a U.S. Open course and as a U.S. course in general, and as such is one that needs deciphering. Who better to do so than an accomplished course architect?
One of the best personnel moves made by Mark Loomis, Fox Sports' coordinating producer for golf, was adding architect Gil Hanse to his team. Hanse's insight on the course design was a welcome enhancement to the opening day of the U.S. Open.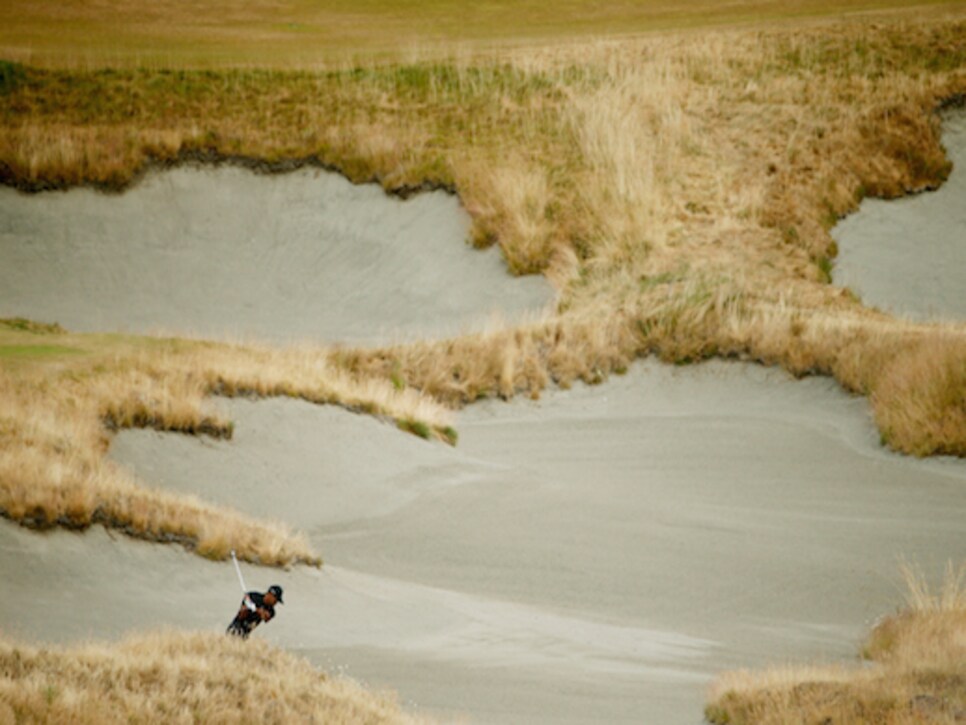 Tiger Woods in a fairway bunker at the fourth hole (Getty Images)
For instance, his analysis on the importance of the massive bunkers on what has been described as a links-style course.
"One of the byproducts of all this elevation change is the scale of the bunkering out here," Hanse said. "Because you're going up these hundreds of feet you really need large-scale bunkering, which is not a trait of links golf courses. But to fit the aesthetic of this overall property, the architects chose to do this. I think the rugged nature of it ties in nicely."
Hanse, who designed the course for the 2016 Olympic Games, even proved adept at deflecting criticism of a member of his own fraternity, Chambers Bay architect Robert Trent Jones Jr.
"Talking to Robert Trent Jones Jr., he was saying the inspiration [for the par-3 17th at Chambers Bay] was the 17th at Pebble Beach. Can you see that?" Fox anchor Shane O'Donoghue asked.
"Not in any way," Tom Weiskopf replied.
"Well, they're both par threes," O'Donoghue said. He then asked Hanse his thoughts.
"It's a dramatic green complex," he said. "[Jones] actually told me he thought it looked like a seagull from the upper tees. He's a poet. He's a very interesting character, so maybe he sees a lot of things in his greens complexes. At the end of the day, right along Puget Sound, by the railroad line, it's a lovely setting."