DeChambeau's new driver has B-9 swingweight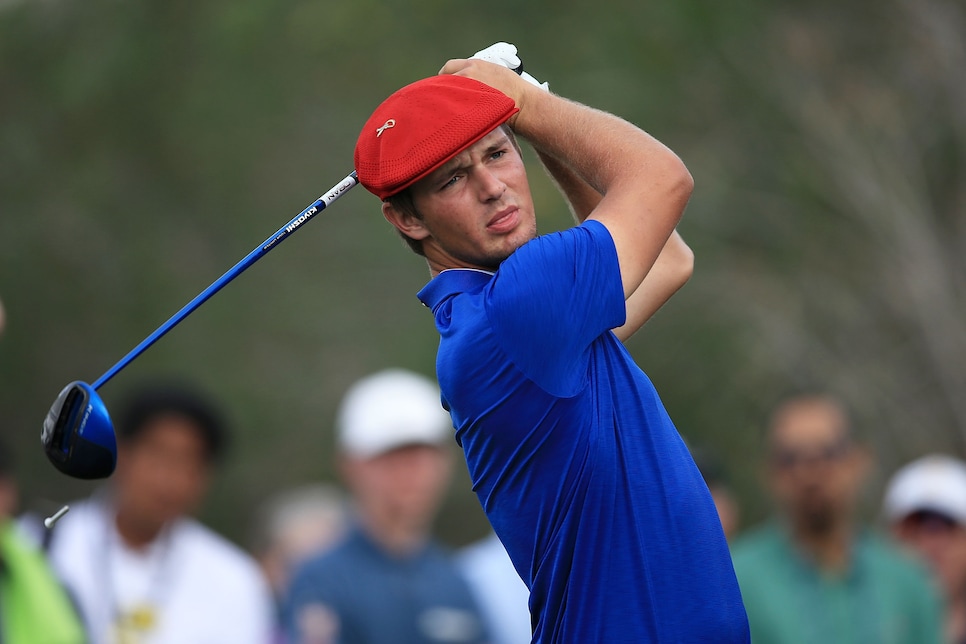 In putting a new driver into play at the Arnold Palmer Invitational, cerebral amateur Bryson DeChambeau, to no surprise, chose an adjustable club he could alter to his unique style of play. The driver was a blue Cobra King Cobra F6+ playing to a loft of 7 degrees. One of its technological features is a track on the bottom that allows a sliding 18-gram weight to be positioned in one of five locations to alter center-of-gravity location and, in turn, the club's shot trajectory.
That would seem to be a feature DeChambeau could appreciate, so what did the former NCAA and U.S. Amateur champion do? He took the weight out completely. "We cut the slide piece out along with removing the 18-gram weight to get his overall swingweight down," said Ben Schomin, tour rep for Cobra. "He was looking to lower his overall head weight so he could get to his target swingweight of B-9." Removing weight from the head wasn't the only thing needed to achieve that feathery swingweight. DeChambeau's driver also features a 121-gram (conventional is around 50 grams) JumboMax XL grip. DeChambeau, who plans to turn pro after competing in next month's Masters and can't sign an equipment deal until then, finished T-27 at Bay Hill averaging 289.4 yards off the tee.