The Loop
DeChambeau goes pro with Cobra-Puma clubs, apparel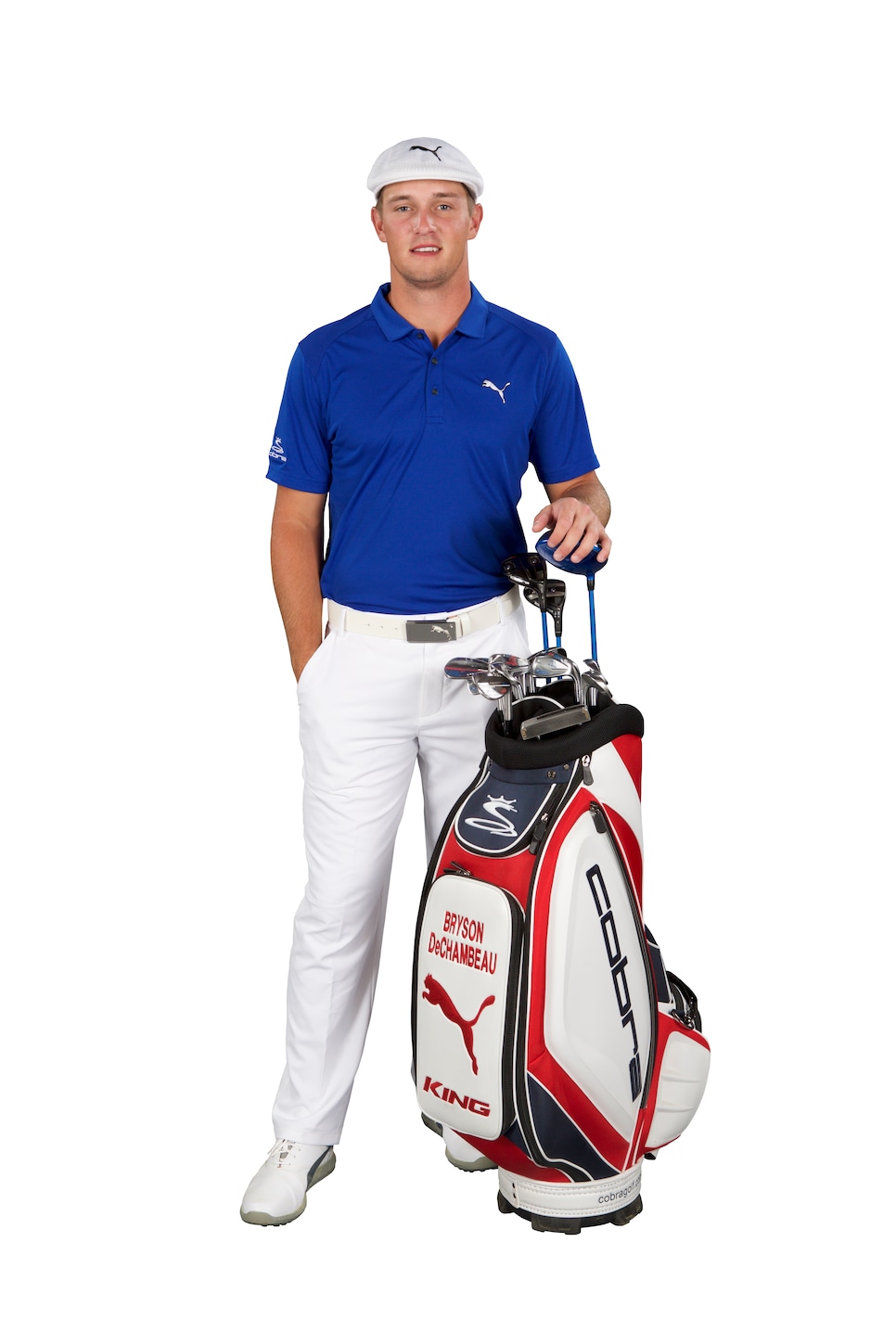 In a move easily divined by several of his equipment choices in recent weeks, Cobra Puma Golf announced on Tuesday that it had agreed to an endorsement contract with standout amateur and first-week professional Bryson DeChambeau.
"Bryson shares in our mission of game enjoyment and our desire to grow the game and make it more fun and inclusive for golfers of all levels," said Robert Philion, president and CEO of Cobra Puma Golf.
In the last few weeks, DeChambeau, the current NCAA and U.S. Amateur champion and the low amateur at last week's Masters, had put in play both a Cobra driver and a custom-made Cobra set of irons, the latter tailored to the single-length theory he espouses. DeChambeau has been playing a Cobra King F6+ driver set to 7 degrees of loft and configured to his unique specifications. While the King F6+ features an 18-gram weight that slides to five different positions from front to back in the sole, DeChambeau's version has removed the weight entirely to get to his preferred swingweight of B-9. He also will play a Cobra King F6 fairway wood (14.2 degrees) and a Cobra King Utility iron (18.5 degrees).
DeChambeau also played specially configured Cobra King Forged MB irons at the recent Georgia Cup. Each iron is 37.5 inches long and each club head weighs 280 grams. At the Masters, however, DeChambeau returned to playing a new set of the customized Edel irons he had used in his amateur victories, and he will continue to play those irons, Edel wedges and Edel's The Brick putter for the start of his professional career. Edel Golf is the relatively tiny custom fitting company founded by David Edel and based in the Texas Hill Country. Prior to DeChambeau's prominence and success with his unique clubs, Edel Golf had largely only been known for its putters and wedges. Edel worked extensively with DeChambeau in developing his single-length specifications, including determining the custom head weights and lie angles, in addition to the 37 1/2-inch-length through the set.
But DeChambeau chose the partnership with the larger Cobra and Puma brands, which is a division of Puma SE. Puma SE is the Germany-based footwear and sports brand that also includes Dobotex and Brandon. Its parent company is Kering SA, which includes luxury brands Gucci, Bottega Veneta, Saint Laurent, Alexander McQueen, Balenciaga, and Brioni, among others. Puma SE generated more than $3.8 billion in worldwide sales in 2015. DeChambeau joins a Cobra Puma staff that includes two of the game's most popular young stars, Rickie Fowler and Lexi Thompson. For perspective on Puma SE's endorsement spending power, Puma signed gold medal sprinter Usain Bolt to a three-year deal worth $10 million a year in 2013, likely more than it pays either Fowler or Thompson. (According to Golf Digest's ranking of golf's top 50 earners, Fowler's off-course income totaled $9 million in 2015, while Thompson was not listed in the top 50.) Puma also has signed singer-songwriter Rihanna as a brand ambassador and creative director for a reported $1 million.
Given Cobra already has produced two different sets of single-length irons for DeChambeau to use (there also was a set of King Forged CB irons made), it seems likely that in the coming months DeChambeau will change to Cobra irons. In addition to Cobra clubs, DeChambeau also will wear Puma apparel and shoes, including the Ignite line of footwear. No terms of the multiyear deal were announced, and while Cobra does not have a set of single-length irons currently in its slate of offerings to the public, it seems likely the company's R&D team might be working on the concept to see if it can find a place in the larger golf retail market.
Still, DeChambeau's unique approach to the game's technology will be a selling point for Bridgestone. In a new Bridgestone commercial, DeChambeau is called "part athlete, part scientist, part artist," and it suggests that DeChambeau by opting to play Bridgestone "has dared to question the consensus and choose his own trajectory."