News
Debating the 'playoffs' in FedEx Cup Playoffs, the PGA Tour's future in Boston and the tour's hardest worker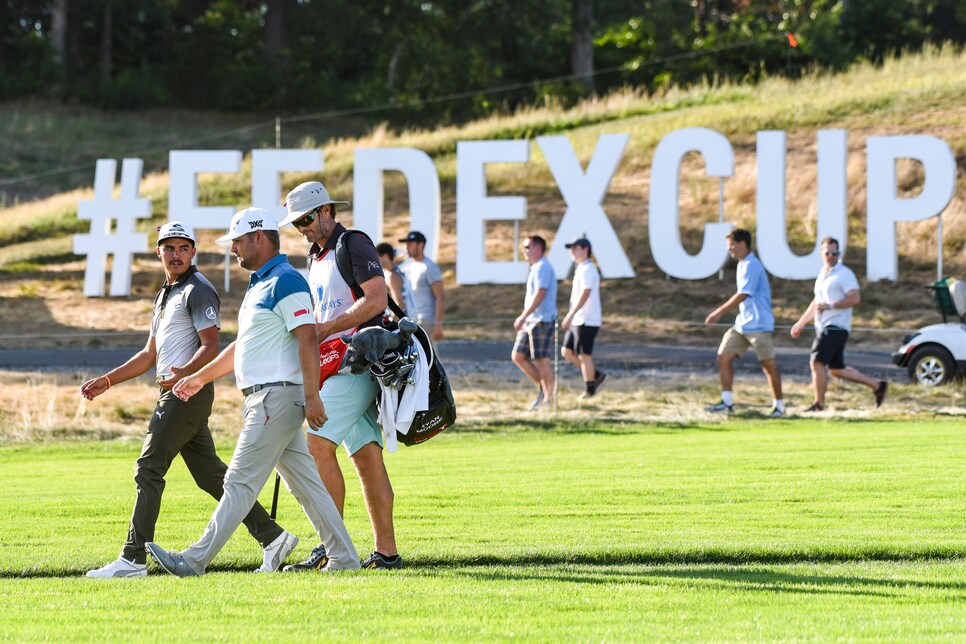 NORTON, Mass. — What exactly does the word "Playoffs" in FedEx Cup Playoffs mean? It depends whom you ask.
"If you're going to have playoffs," William McGirt told me recently, "then make it where there's more volatility. Why would you reward a guy for letting that guy sit at home and take the week off?"
At last week's Northern Trust, 120 of a possible 125 players were in the field. Sergio Garcia wasn't one of them. For the third year in a row the Spaniard skipped the opener to the postseason. At 22nd in the standings, he could easily afford to with little repercussion. It was the benefit of a season in which he won a major (the Masters) and racked up seven other top-25 finishes, though his "reward" was dropping a handful of spots, to 30th, in the points race.
Others were in more precarious positions but also weren't at the Glen Oaks Club, due to injury. As a result, Dominic Bozzelli fell to 115th and was eliminated from the Playoffs, while Scott Piercy dropped to 85th after not playing last week on Long Island and will be eliminated from the competition for being outside the top 70 in points after not entering the second event, too.
This week at the Dell Technologies Championship at TPC Boston, 96 of a possible 100 players are teeing it up. Adam Scott, who was among those not in the Northern Trust field wasn't supposed to be at TPC Boston, but his son was born earlier than expected and he high-tailed it to the second leg of the Playoffs with the hopes of keeping his year going (he's 73rd on the points list starting the week). Those who aren't in the field include Brandt Snedeker (season-ending rib injury), Henrik Stenson (sore knee), J.B. Holmes and Piercy.
The system has certainly improved from when it was created 11 years ago. In 2008, the second year of the Playoffs, Vijay Singh had accumulated so many points that he didn't even have to finish the Tour Championship to win the FedEx Cup.
Throw in a change in points two years ago from 2,500 for a Playoffs victory to 2,000 and there's even more emphasis on the regular season.
As for the idea of penalizing players for skipping an event? That seems unlikely.
"It's up to the tour to say, 'Hey you need to play them all,' " Emiliano Grillo said. Not that he thinks they should. "If you're a top player maybe it doesn't matter until the [third playoff event] but everyone's different."
Grillo comes into this week 88th in the standings. If he were much higher?
"If I played well all year and could skip New York or Boston," he said, "then yes, I would if I thought it would help in the end."
There is plenty of drama at each Playoff event, but for the first few, it's usually at the bottom end with players are simply trying to play well enough to advance to the next tournament.
"I look at it as a whole series," said Brian Harman. "You do get to see guys trying to make the next event and that creates some intrigue. It's sort of like the old Q-school."
BOSTON'S FUTURE
This year marks the 15th straight that the PGA Tour rolls into TPC Boston for Labor Day weekend. But it also could be one of the last.
Out is Deutsche Bank as the title sponsor, replaced this year by Dell Technologies. The Tiger Woods Foundation had run the event the last four years, but now that task falls on the tour.
A shake-up in sponsor is only part of the story. The tour has made it clear that it wants to end future seasons by the start of football season. One part of the equation would be cutting the Playoffs from four events to three with no break between tournaments. In that scenario, the stop at TPC Boston, according to sources close to the tour, is likely to be the odd man out.
That decision would be a shame given the enthusiasm for golf in the region, particularly shown at this event each year on a holiday weekend.
But ending the season earlier wouldn't mean a longer offseason, according to those same sources. The next season would start a week after the previous one ended, which would still compete with football season.
Or, as one player said, "It kind of defeats the whole purpose."
PRACTICE, HE'S TALKING ABOUT PRACTICE
When Adam Scott said a few weeks ago that Hideki Matsuyama "is the hardest worker out here," it wasn't hyperbole.
On Tuesday at TPC Boston, an afternoon that was the equivalent of a Monday of any other week because the tournament doesn't start until Friday, Matsuyama was among just a smattering of players on site and already grinding on the practice green, testing four putters and agonizing over missing a couple of short-range putts.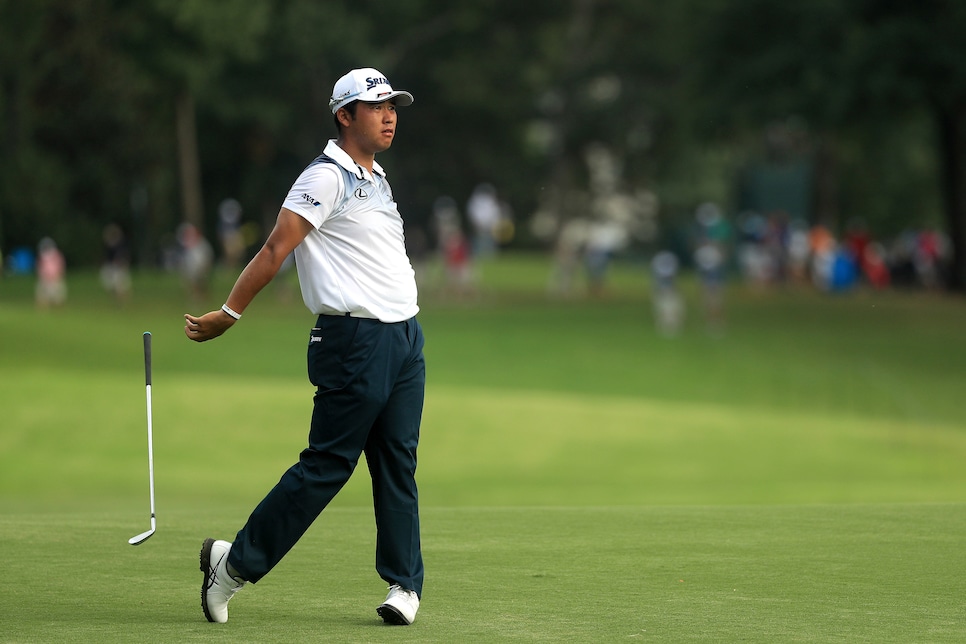 Mike Ehrmann/Getty Images
"I haven't been happy with my putting stroke of late," said the third-ranked player in the world, who earlier this month won the WGC-Bridgestone Invitational and followed with nearly his first major at the PGA Championship before finishing fifth.
Using a mirrored plate, Matsuyama was doing drills to work on his stance, eye line and feel of the ball off the putter. The Japanese star also looks for a distinct sound when he putts as well as a certain speed off the clubhead.
Don't be surprised if he makes a tweak to his putter this week.
THREE THINGS I THINK I THINK
I think (or know) that when talking to players about who the most talented player on tour is when at his best, the two names that pop up consistently are Rory McIlroy and Sunday's winner Dustin Johnson. It wasn't just the booming 341-yard drive over the dogleg on Glen Oaks' 18th that was stood out, it was the wedge to a few feet. That's been a huge area of improvement for Johnson the last couple of years. …
I think there's still a long way to go in determining who the Player of the Year is on the PGA Tour after Johnson's victory on Sunday. …
I think the best news of the week by far was Jarrod Lyle announcing that his third bout with cancer is in remission, saying on Facebook, "The first round of chemo has done a good job of getting rid of most of the bad stuff. Back into hospital next week to have another round of chemo to keep on top of it all. Couldn't be happier with today's news. Still a long way to go but heading the right direction."
WHO I LIKE THIS WEEK
With TPC Boston one of just two Playoffs venues that doesn't change, you can rely (at least somewhat) on past history in the event. At least that's my story and that's what I'm going with. With that in mind Paul Casey stands out for a few reasons. He's coming off a fifth-place finish last week, he has finished no worse than 13th in his last five starts and he lead by three entering last year's final round here.