News
Day One at the Ping Junior Solheim Cup
The American girls started decisively yesterday with winning margins in the morning four-ball and afternoon foursome matches. At the close of competition Tuesday, the Americans had scored 7.5 points to the Europeans 4.5 points.
Commenting on her team's effort, U.S. Captain Nancy Lopez said, "They played awesome. They played hard and they played with heart. I appreciate that so much."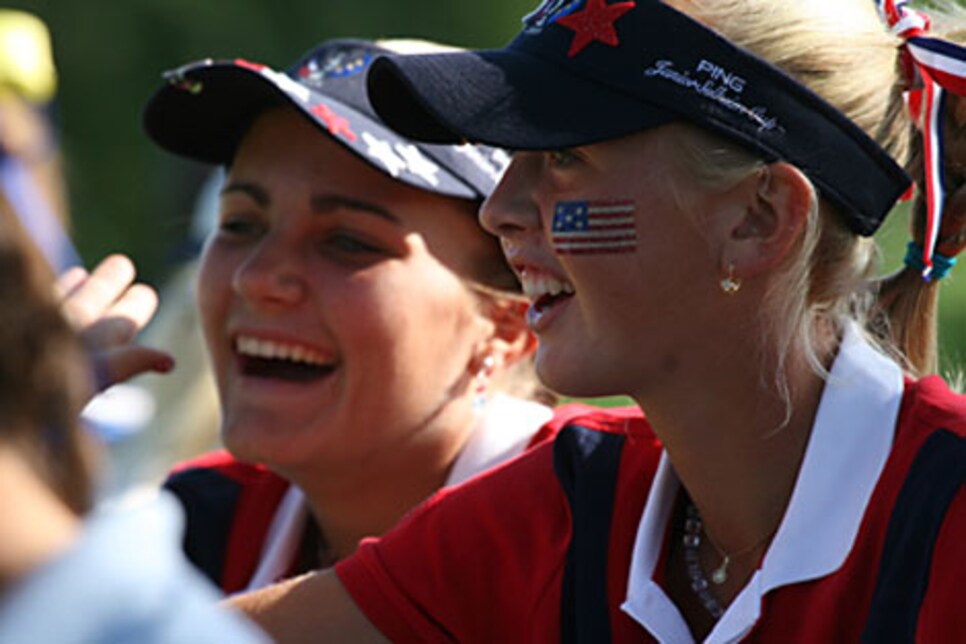 (Photo: Jessica Korda, right, and Alexis Thompson at the PING Junior Solheim Cup. Photo courtesy of the AJGA.)
Leading the American side, Alexis Thompson was one of five U.S. players to capture two points, winning in the morning with Jessica Korda and then partnering with Sarah Brown in the afternoon. The team of Tiffany Lua and Jane Rah, both with previous cup experience, were undefeated for the day. Kristen Park won the four-ball with Alison Lee and then her foursome match with Jennifer Johnson. Lisa Maguire and Kelly Tidy proved Europe's most formidable combination, taking two points for the visitors. Speaking of her team's challenge in the singles, Tidy said, "We know what we need to do. We need to win our own matches."
Competition resumed at 9 am CDT today, the last day of competition, with 12 singles matches. As holders of the cup, the Europeans have some catching up to do to get to the 12 points required to retain it. The Americans need 12.5 points to wrest it away. For real time scoring, click here.
Morning Four-Ball Matches, Tuesday, August 18:
Jessica Korda, Bradenton, Fla., and Alexis Thompson, Coral Springs, Fla. (USA) def. Anna Arrese, Barcelona, Spain, and Ana Fernandez de Mesa, Puerto de Santa Maria, Spain (EUROPE) 4 and 2
Tiffany Lua, Rowland Heights, Calif., and Jane Rah, Torrance, Calif. (USA) def. Rosanna Crepiat, Toulouse, France, and Johanna Tillstrom, Taby, Sweden (EUROPE) 5 and 4
Sarah Brown, Phillipsburg, N.J., and Alexandra Stewart, Peoria, Ariz. (USA) def. Leona Maguire, Co. Cavan, Ireland, and Sally Watson, Earlsferry, Scotland (EUROPE) 2 and 1
Sherlyn Popelka, Zurich, Switzerland, and Klara Spilkova, Prague, Czech Republic (EUROPE) def. Ani Gulugian, Irvine, Calif., and Stephanie Kim, Whitestone, N.Y. (USA) 5 and 3
Alison Lee, Valencia, Calif., and Kristen Park, Buena Park, Calif. (USA) def. Tonje Daffinrud, Tonsberg, Norway, and Sophia Popov, Weingarten, Germany (EUROPE) 2 and 1
Lisa Maguire, Co. Cavan, Ireland, and Kelly Tidy, Bolton, England (EUROPE) def. Jennifer Johnson, La Quinta, Calif., and Kristina Wong, Bradenton, Fla. (USA) 3 and 1
Afternoon Foursome Matches, Tuesday, August 18, 2009:Â
Jessica Korda, Bradenton, Fla., and Alexandra Stewart, Peoria, Ariz. (USA) vs. Leona Maguire, Co. Cavan, Ireland, and Sally Watson, Earlsferry, Scotland (EUROPE) HALVED
Tiffany Lua, Rowland Heights, Calif., and Jane Rah, Torrance, Calif. (USA) def. Sherlyn Popelka, Zurich, Switzerland, and Klara Spilkova, Prague, Czech Republic (EUROPE) 3 and 2
Sarah Brown, Phillipsburg, N.J., and Alexis Thompson, Coral Springs, Fla. (USA) def.Anna Arrese, Barcelona, Spain, and Ana Fernandez de Mesa, Puerto de Santa Maria, Spain (EUROPE) 1-up
Tonje Daffinrud, Tonsberg, Norway, and Johanna Tillstrom, Taby, Sweden (EUROPE) def.Ani Gulugian, Irvine, Calif., and Alison Lee, Valencia, Calif. (USA) 2-up
Jennifer Johnson of La Quinta, Calif., and Kristen Park, Buena Park, Calif. (USA) def.Sophia Popov, Weingarten, Germany, and Rosanna Crepiat, Toulouse, France (EUROPE) 4 and 3
Lisa Maguire, Co. Cavan, Ireland, and Kelly Tidy, Bolton, England (EUROPE) def.Stephanie Kim, Whitestone, N.Y., and Kristina Wong, Bradenton, Fla. (USA) 3 and 2
TOTAL: USA 3.5, Europe 2.5