The Loop
With record day, Chappell continues to shine in 2013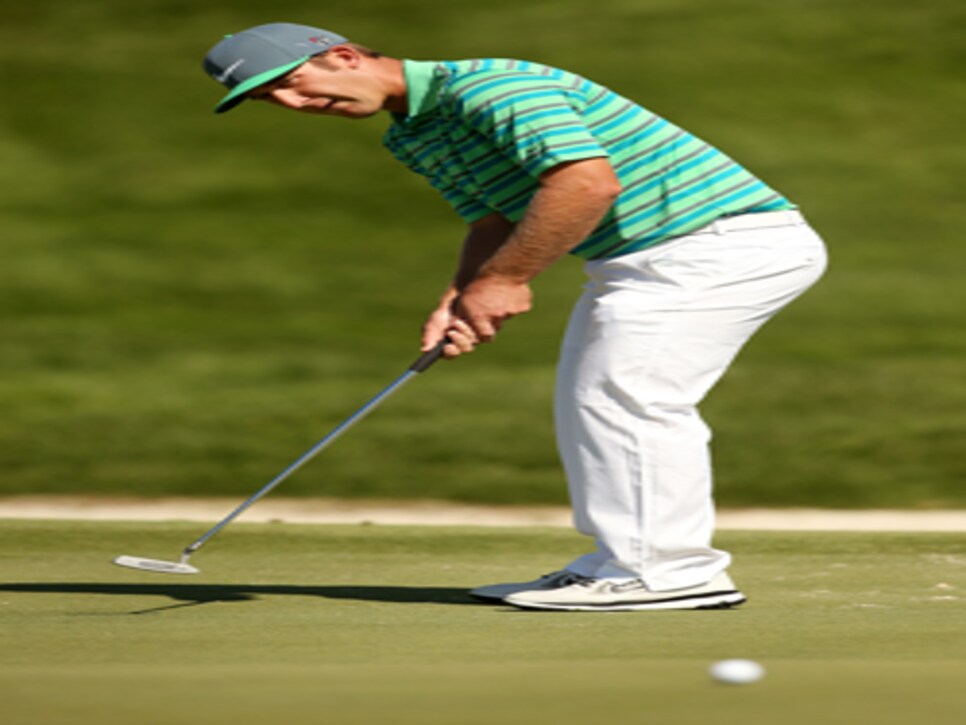 No doubt the input of coaches Mark Blackburn (full swing) and James Sieckmann (short game) -- as well as that of Chappell's fiancee, Elizabeth Petrie -- played a part in the 27-year-old's course-record, nine-under 62 at Liberty National GC Saturday in the third round of The Barclays.
The 62 eclipsed by one stroke the mark Keegan Bradley established just one day prior, and vaulted Chappell into good position to jockey for his first PGA Tour victory on Sunday.
In addition to the instruction from trusted mentors, an impromptu trip with Petrie on the eve of The Barclays -- the first event of the FedEx Cup Playoffs -- to the National September 11 Memorial & Museum in New York City has figured in Chappell's strong play across the water from Manhattan.
A visit to the emotional site, which honors the thousands of people killed in the terrorist attacks at the World Trade Center a dozen years ago, was a reminder to Chappell about keeping his playing career in perspective.
"It just really puts golf in its place," Chappell -- who has been a longtime volunteer for Special Olympics -- said of spending time at the 9/11 Memorial. "It seems to be whenever I get too caught up or too emotional about my game, life hits me hard. That was was a great experience and a learning one for me, and it kind of tightened my screws mentally."
Starting his third round at No. 10, Chappell shot three-under 32 on his opening nine Saturday, then turned it on with birdies at Nos. 1, 3, 4, 5, 6 and 8. "I had a chip-in and then I just really holed all the putts that you kind of expect to hole that you don't always hole a lot of 10-, 12-footers to make birdies. [I] just was able to keep doing it."
Chappell has been practicing hard on his putting with Sieckmann, working on "repetition, seeing the ball go in the hole." Chappell said, "I've just been hitting putts from three, six, nine, feet, different spots around the hole. Broke down the stats on what the average on tour would be, and then the goal that day is to beat the average."
The former UCLA golfer finished second at the Memorial Tournament this year, but instead of building on that result, he started pressing. Chappell's best finish in six tournaments since being runner-up at Muirfield Village was T-28 at the AT&T National.
"Since Memorial, I felt like my game was pretty good, and I felt like being that close to winning there, I really felt my time was coming," Chappell said. "I was close, and probably added some pressure from those thoughts. [It] didn't allow me to play the game the way that I know I can. My game's been pretty poor since Canada. We'll see."
It is hard to back up a great round with another great round, but Chappell's 62 was exactly what he needed "to get right back in the golf tournament" and give him an opportunity to soar from 58th place in FedEx Cup points.
However lively the scene is at Liberty National Sunday afternoon, Chappell carries a much different memory of going to the 9/11 Memorial.
"It's such a sobering experience," he said. "It's eerily quiet in that area for such a large city, and just to see the amount of people that you see there, all feeling the same thing. It's not too often that you get to see a group of strangers [that] have the same emotion. At least that's what it felt to me while I was there."
Chappell and Petrie are getting married Sept. 28. If he can break through Sunday, it would be quite the early wedding present.