The American Express
Rookie is 18 under after two AmEx rounds and still has Jon Rahm breathing down his neck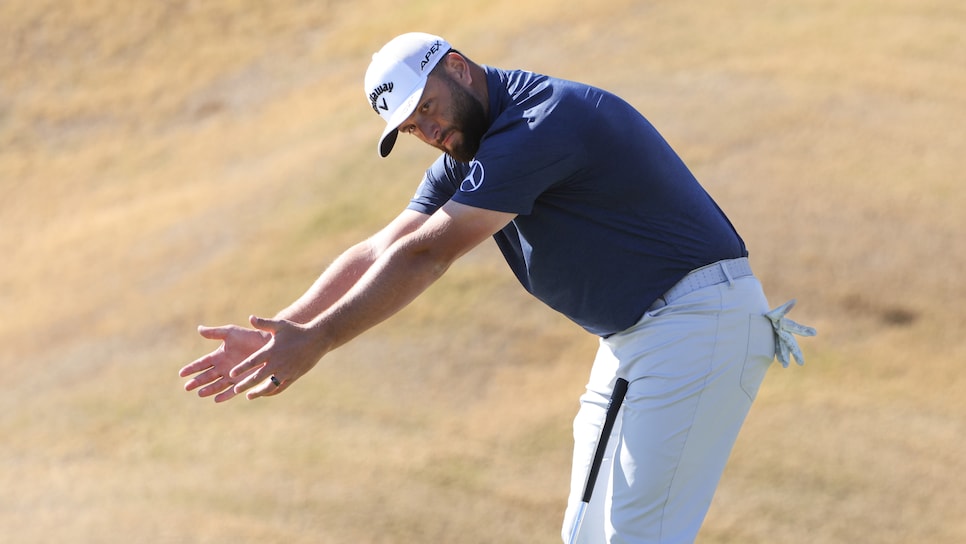 Jon Rahm reacts to his putt on the first green during the second round of The American Express.
Katelyn Mulcahy
PGA Tour rookie Davis Thompson doesn't know if he has ever been 18 under par in back-to-back rounds. Maybe he has, maybe he hasn't. But he certainly hasn't gone that low in a professional tournament. "That's a good question," Thompson laughed. "I don't really know; definitely not in a tour event."
Thompson, who had two eagles on Thursday, added three more on the par 5s on Day 2 of The American Express in La Quinta, Calif., and in shooting an eight-under-par 64 on the Nicklaus Tournament Course at PGA West, he's got a two-shot lead over World No. 4 Jon Rahm.
Thompson has already tied the PGA Tour record for most eagles for a 72-hole event, and it's only halfway done. Recounting his eagles Friday, Thompson, who teed off No. 10, forgot one of them.
"No. 4 [his 13th], I hit 5-iron to about 15 feet and made [the eagle]," he said. "Then on 7, I hit a really good 6-iron and made like a 20-footer. So, it was really nice to see some really good execution with those holes."
"The one on the back nine today?" A reporter asked.
"Oh, yeah, that's right," Thompson said. "No.11, I hit a 7-iron in and made about a 20-footer."
Tom Kim, J.T. Poston, Jason Day, Sungjae Im and Tyler Duncan are tied third at 13 under.
Here are some of the takeaways from round two at The American Express:
Rahm, who won the Sentry Tournament of Champions two weeks ago for his eighth PGA Tour title, fired a second straight 64—this time on the Nicklaus Course—and has 17 birdies and just one bogey on his two cards.
"It's been very organized golf, is what I can say," Rahm said. "I wouldn't say I've got my 'A' game, but even [my] mishits, a lot of them are in play and I could take advantage of them. So, hopefully, I tidy up a bit of that for tomorrow; the [Pete Dye-designed] Stadium Course is a little less forgiving. But my short game feels really good. I'm rolling the ball really, really well on the greens and that's going to give me a lot of confidence through the rest of the game.
"Obviously I have a lot of good visuals going into a lot of these holes. I've done a lot of good things around all the golf courses here and I've posted good scores. My level of comfortability is very high. I'm looking forward to playing the weekend."
In his interview, the Spaniard briefly thought his 16-under total was the same relative to par as the 2018 edition, which he won in a playoff. It's actually one better; Rahm was 15 under (62-67) through two rounds that year [when it was called the CareerBuilder Challenge]. Still, close enough.
Either way, we're guessing that's enough to make Thompson look over his shoulder. Did we mention that Rahm has won three of his last four starts between the PGA Tour and DP World Tour?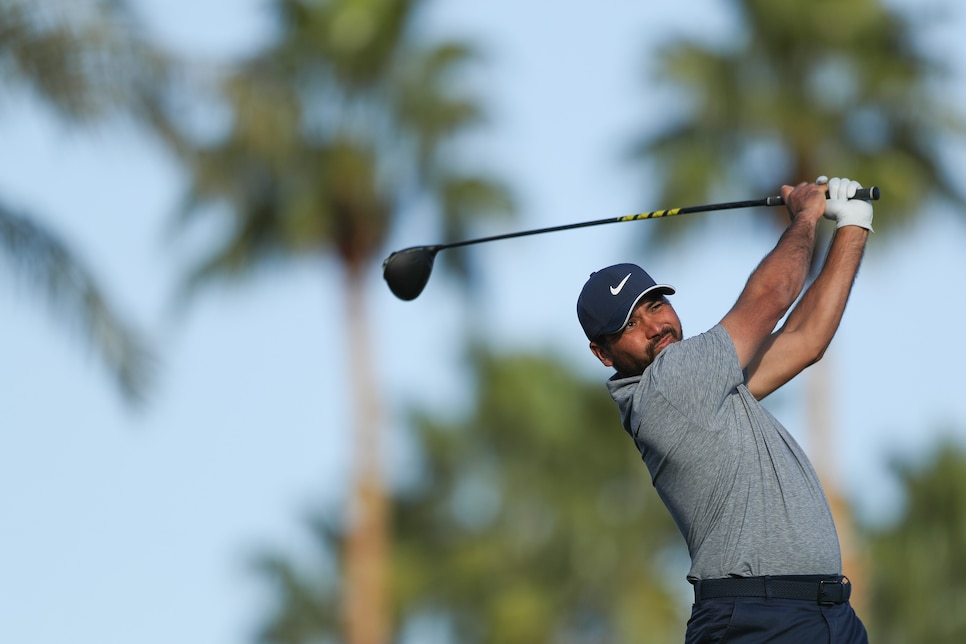 Jason Day of Australia plays his shot from the ninth tee during the first round of The American Express.
Meg Oliphant
Former World No. 1 Day showed flashes of his 2015 and 2016 brilliance on Friday when he shot a 64 on the tougher Stadium Course. The 12-time PGA Tour winner from Australia sits 13 under and five back of Thompson, but has the more forgiving La Quinta Country Club on Day 3.
Day, the 2015 PGA Championship winner, has struggled on the course the past few years and has fallen down the World Ranking to No. 115. But he's had some solid results in the 2022-23 season, including a T-8 in Las Vegas and three other top-25s in the fall.
Day credits the improvements to a healthy body—he has struggled with back injuries in recent years—and swing changes made with his coach, Chris Como, who previously worked with Tiger Woods. Day said his swing was more shallow and allowed for more body rotation and less arm action.
"My swing has changed dramatically," Day said. "I feel those changes are slowly cementing. I'm shallowing out more compared to last year. It took me a year and a half to get the body correct before I could shallow out."
Day would typically skip The American Express in his schedule and either start his calendar year in Hawaii if he was eligible for the Sentry Tournament of Champions, or at Torrey Pines, where he's won twice. But Day had a good excuse for adding the AmEx to his schedule—the 35-year-old is in the California desert anyway, using it as a practice base for several weeks while his adopted home of Columbus, Ohio, is too cold for a pro golfer.
"I feel like it's a good opener for the start of the year," Day said. "… I felt like I was playing like a U.S. Open times a thousand [in the Farmers Open] when you go from doing nothing for a month and you go straight to Torrey."