Ryder Cup
Davis Love III added to U.S. Ryder Cup team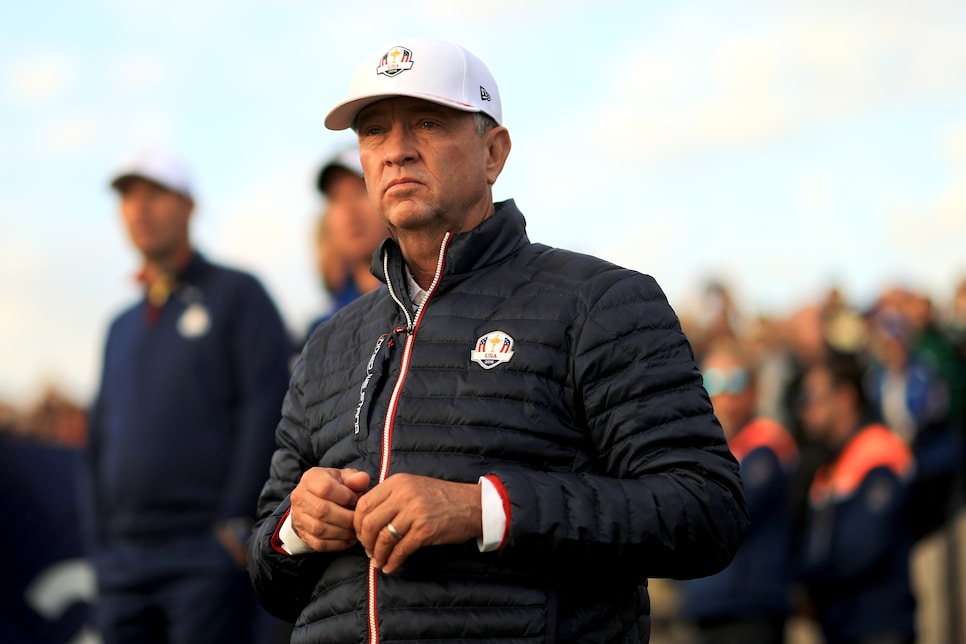 Davis Love III has been named a vice-captain for the 2023 Ryder Cup.
United States captain Zach Johnson made the announcement Tuesday. Love joins 2021 captain Steve Stricker on the American staff.
"I've been involved in the Ryder Cup since 2006, and I can tell you, without a doubt, that Davis Love III's passion for the event is unmatched," said Johnson. "As I thought about the 2023 U.S. Team and those who we'd ask to serve as a Vice Captain, there was no doubt that Davis would be one of those individuals. I will lean heavily on the experience and insight of DLIII in Italy as the U.S. Team works to retain the Ryder Cup."
Love has been a Ryder Cup captain twice, serving in 2012 and 2016, and recently guided the United States to victory at the 2022 Presidents Cup. Love has also been an assistant to the U.S. team three times, including at the 2021 match at Whistling Straits, and competed in six Ryder Cups as a player.
"The Ryder Cup is one of the truly special events in all of sports, and I am so honored to be named a Vice Captain in Italy in 2023," Love said. "Zach has worked tirelessly since he was named Captain, and I'm ready to do whatever it takes to help Zach and the entire U.S. team to win in September."
Last week Johnson hinted that Tiger Woods, should he not make the team as a player, would be involved in Team USA in some capacity. "If there is anything I trust in Tiger Woods is that he's extremely invested in this team and the future Cups. Extremely invested," Johnson added. "I can't speak to that enough. And then I think you would do anything and everything for the betterment of the team. I assume he would say—I don't like making assumptions—but I'm confident that he would say, 'Yeah, I can play, or no, I can't.'"
The 2023 Ryder Cup begins Sept. 29 in Rome. The Americans are the defending Ryder Cup champs after a resounding victory in 2021, but the Europeans have not lost the event on home turf since 1993.