PGA Tour
Davis Love III reveals the one thing that makes Tiger Woods a great team captain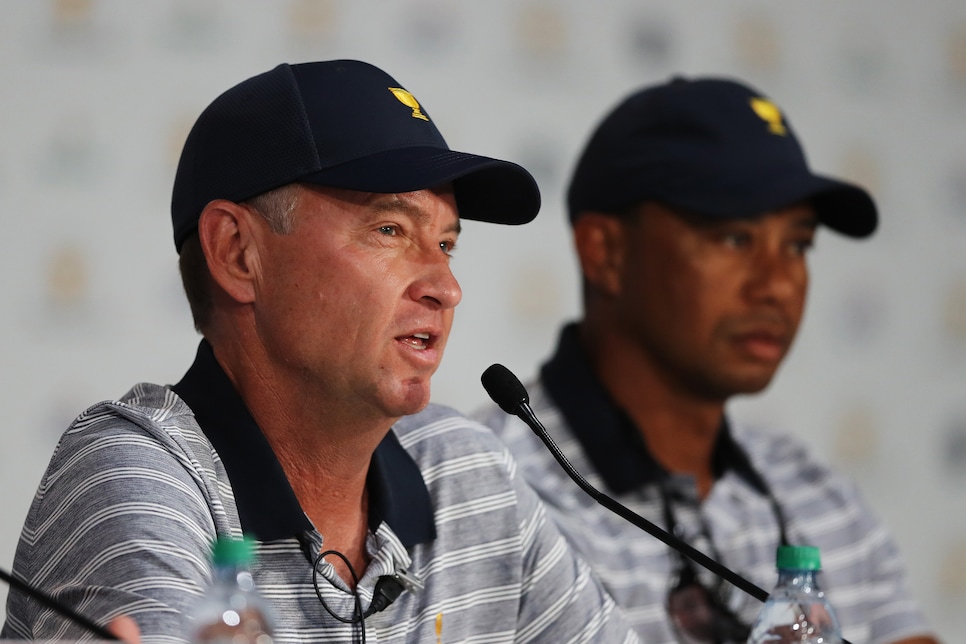 At the 2019 Presidents Cup at Royal Melbourne, Tiger Woods did double duty as both captain and player for the United States. Not surprisingly, he did both jobs well, with the American team beating the International squad 16-14 and Woods going a perfect 3-0-0 in his matches.
After that impressive performance, the plan was to run it back at Quail Hollow in 2021. Things have drastically changed in the time since, with COVID pushing the event to 2022 and Woods' car accident putting his future status as both player and captain in doubt. Davis Love III, captain of the 2012 and 2016 U.S. Ryder Cup teams, will oversee the team in Charlotte next Septemberr.
"It would have been a great captaincy for Tiger to continue on," Love said on Tuesday at Sea Island ahead of the RSM Classic, which his foundation hosts. "At the time we were discussing it, he said, 'No, I'm playing really good, I'm gonna make the team, and I enjoyed Australia being playing captain, but I want to be a player on the team.'"
Obviously, the chances of Woods competing in the 2022 event appear to be slim. But Love still hopes he's there in some capacity, and if that's the case he can play any part he'd like, says Love.
"His role is whatever he wants it to be. If Tiger calls me up and says, 'Hey, you're kicked out, I'm taking over,' that's Tiger's role. If he wants to be an assistant, you know …
"I would hope that he comes back and starts playing and can make that a goal, to be on the team. He was a big part of our Ryder Cup [in 2021]. It took us a while to get him to the point where he would engage. Obviously, he had a rough start to the year, but once we got him in the loop, he was a big help and a lot of fun for the Ryder Cup and for the team. Obviously, the guys were going to see him down there in south Florida all summer, but leading up to the Ryder Cup, obviously he had a watch party at his house. He can do whatever, and I know he'll be a big part of it."
Part of the reason Love would appreciate Woods' presence in Charlotte, other than being the greatest golfer ever, is that Woods is a huge asset even in a non-playing capacity. Love values Woods' input in everything from captain's picks to actual pairings for the matches. "He's a tactician," Love said. "He watches a lot more golf than I do, so he has a lot of information."
Woods' best quality, according to Love, is his alpha personality, which comes in handy for some of the bigger decisions that arise during a team event.
"One of the great things Tiger does is, 'Would you please make a decision?' That's really good for me. Like quit waffling around, you know what you want to do, let's make a decision and stick with it."
Clearly, Woods' role in these team events has dramatically shifted as he's gotten older, which has been a welcomed development for everyone involved, Love included.
"Tiger went from a guy we didn't know to now he's a leader and an inside guy," Love said. "So he has good information on some of the players that we don't know.
"He's a great leader for us on and off the golf course obviously."