The Loop
David Toms shows the kids a thing or two
PONTE VEDRA BEACH, Fla. -- For two days, David Toms toured TPC Sawgrass with a pair of much flashier and much, much younger players. Hopefully, they were taking notes.
Toms followed an opening 66 with a 68 on Friday to take sole possession of the lead at the Players when he signed his scorecard. His 134 total left him five shots ahead of 23-year-old playing partner Jason Day and 16 clear of 25-year-old Anthony Kim, who continued to struggle with his third missed cut in four tournaments.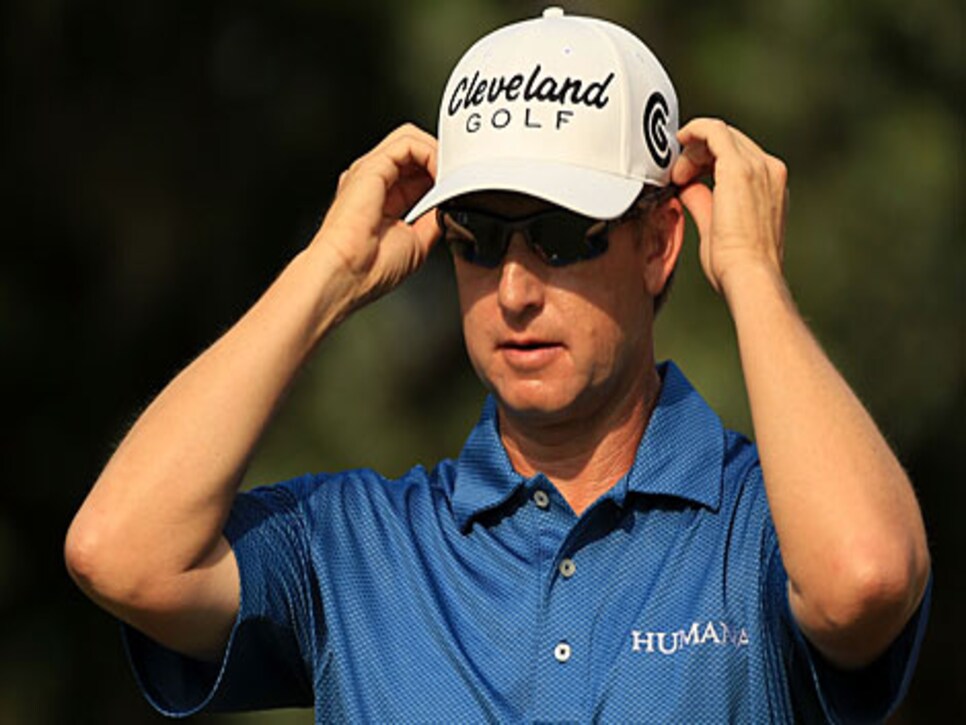 "I take from it that anybody can do well on this golf course. You know, I watched those guys hit 3-woods probably 70 percent of the time around the golf course, and that was the way for them to play," Toms said. "But for me, you know, it kind of evens out because if I was aggressive and hit driver and I could get it into the right spot, I was right there with them, so I wasn't way behind the guys all two days."
The 44-year-old is in the midst of a winless drought of more than five years. This would be an odd place to end it considering he only has one top 10 (A T-9 in 2009) at the Stadium Course in 18 appearances. The Louisiana native feels more comfortable here since the tournament moved to May four years ago.
"I like this better. I like the warm conditions," he said. "I like the Bermuda through and through. I like the golf course. It's obviously firmer now than it was in the springtime, so I prefer it now."
After Toms' first win on the PGA Tour in 1997, he averaged more than one title per year for the next decade. Following a win early in 2006 at the Sony Open, however, Toms has yet to get back into the winner's circle.
"I haven't done anything great, haven't made a lot of long putts or chip-in or anything like that," Toms said. "I've just played very, very solid."
Solid, but not great is a good description of Toms' play the last five years. He's still been a cut-making machine and has produced several high finishes, including a T-3 at Bay Hill in March.
"I've had a lot of good rounds this year. Haven't had a lot of great tournaments," Toms said. "That's probably the difference in the last four or five years from, say, early 2000s where I had a chance to win a lot and won a lot of tournaments is just putting four rounds together. Now, why that is, I don't know."
While he would like to win again, he's not putting extra pressure on himself to do so.
"I just try to play because I mean, if you wear yourself out thinking, hey I have to win again or I have to do this or I have to do that," Toms said. "It's all about enjoying the game, enjoying the competition, and if you get the results, that's a bonus as well."
That's how Toms, who has 12 PGA Tour titles -- including the 2001 PGA Championship -- and $34 million in career earnings, feels about a possible induction into the nearby World Golf Hall of Fame as well.
"I consider myself lucky that I've played the vast majority of my career at a time where golf was at a peak, you know, when Tiger came into the game," he said. "I think I still have a lot of work to do to get in the Hall of Fame, so I'll just keep playing as long as I can and as long as I enjoy it, and when we get to the end, see what happens."
Follow on Twitter: [@AlexMyers3
](http://twitter.com/AlexMyers3)
(Photo: Sam Greenwood/Getty Images)
](http://twitter.com/AlexMyers3)