PGA Tour Champions
David Toms faced down an 18th-hole calamity and won the Cologuard Classic with a clutch bogey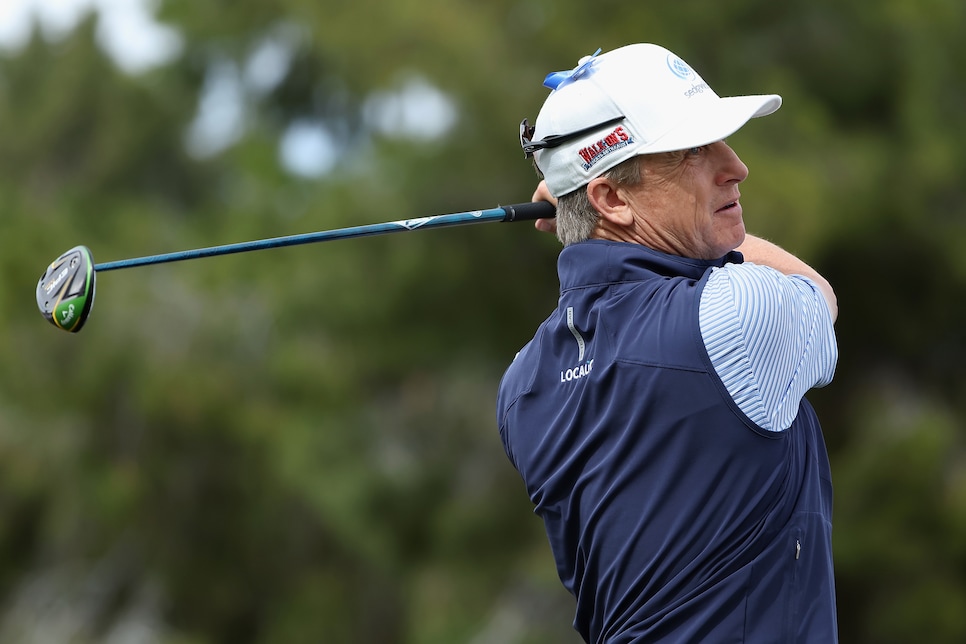 David Toms' stellar PGA Tour career augured similar success on the PGA Tour Champions, though it hasn't played out that way. Still, the wizardry hadn't abandoned him entirely and resurfaced on Sunday at a most opportune time.
On the par-4 18th hole at Omni Tucson National, water on both sides of the fairway, Toms threatened to squander a two-stroke lead, but made a difficult bogey save by holing a six-foot right-to-left putt to defeat Sweden's Robert Karlsson by a shot.
It was his first victory in two years and only his third in this his sixth season on the senior tour. He shot a final-round 68 for a 54-hole total of 201.
"I got the monkey off my back," Toms said. "It's hard to win out here. I've had a lot of close calls. It's been a while. [Putting] is why I haven't won, to be honest. My stroke felt good. I kind of gave a tip to myself, to try to do something different and it worked all week. And I hit some good shots to back it up."
Toms, who has 13 PGA Tour victories, including a PGA Championship win, entered the final round with a two-shot lead and increased it to four with seven holes remaining. But he bogeyed 13 and Karlsson birdied 14 to reduce the lead to two.
Then at 18, Toms, as he did in each of the first two rounds, had his tee shot down the right side of the fairway trickle into the penalty area. He took a drop, then missed the green with his third shot, but made a good pitch to six feet and holed the putt after Karlsson missed his birdie attempt.
"I was trying to play smart," he said. "I was hitting fairways, and with some of those tough pins I was trying to play away from them. I hit it in the water all three days on 18. I thought I hit the fairway [on Sunday]. I had no idea until I looked at Steve Stricker's ball. I thought it was my ball. But I made a great up and down."
It marked the end of an era for Tucson National, which has been a part of Tucson's professional golf scene since 1965, when the PGA Tour's Tucson Open was first played there. The course was hosting the Cologuard Classic for the last time, as it will move to La Paloma Country Club in 2024.