Instruction
My Swing Meets *The A Swing*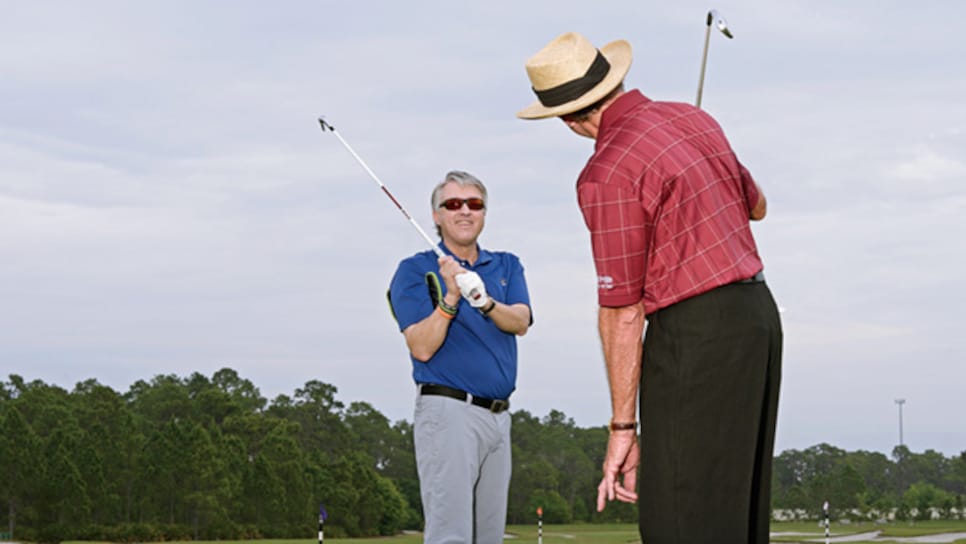 One of my roles at Golf Digest is testing new ideas to find out whether adopting them will ruin your life. I've gone to golf school, changed equipment, taken putting lessons and tried to learn to swing like Moe Norman, among other things. My most successful project was my "midlife makeover," a decade ago, because in exchange for a few days of instruction, from Shelby Futch, I received 10 years (and counting!) of dramatically improved golf. Recently, the editors decided that I should put all that at risk by allowing David Leadbetter to help me learn his new A Swing—which you can read about in detail beginning on page 86 and in his book of the same name.
Submitting to Leadbetter isn't actually very risky. I watched him work with Nick Faldo on the range at The Belfry, in England, before the Ryder Cup in 1993. Faldo would take the club to the top of his backswing; Leadbetter would adjust the shaft's position by a centimeter or two; and Faldo would return the club to address and do it again, times a thousand. Watching them was unbelievably boring, and it can't have been thrilling for them, either. But Leadbetter had already helped Faldo become one of the game's all-time greats, and Faldo still had one green jacket to go.
I started my A Swing education in my living room, with Leadbetter's book. One reason golf is so hard is that you have to put your body in positions that don't feel the way they look, or look the way they feel. Leadbetter has always been creative at devising images and drills that help you find those positions anyway. I don't think I had ever truly understood the "pivot," for example, before doing a drill in the book in which you assume your address position, place your hands on your legs, and coil and uncoil your torso so that your arms "slide up and down your thighs in a piston-like motion." The book is filled with clear illustrations, but even without them I'd have understood. Another terrific drill is one that Leadbetter calls "push-palm," which teaches pretty much the same thing but with the hands in different positions.
After I'd absorbed as much of the book as I felt I could on my own, I spent most of an afternoon with Leadbetter, at a private club in Florida called The Concession. He explained that his new approach isn't entirely new, because it's the culmination of many years of semi-obsessive thinking about how to simplify the parts of the golf swing that players at all levels struggle with. "The key to the A Swing," he said, "is synchronization"—a longtime theme of his. One of his goals is to eliminate the power-robbing, consistency-killing motions that most of us clutter our swings with, usually in an effort to hit the ball farther or straighter. "It's all about getting the club on the right plane coming down," he said. The genuinely radical element of the A Swing is his belief that the simplest, most efficient way to do that is to keep the club on a very different plane going up. The resulting backswing looks like something a different teacher would try to correct, but it's so compact that at first you feel you can't possibly be working hard enough.
One of Leadbetter's hopes for the A Swing is that guys like me will be able to learn it without spending an (extremely expensive) afternoon with him—by reading the book, doing the drills, trying things at the range, watching videos and using apps that are still being tweaked. I'm not sure that goal is entirely realistic. I thought I had sort of figured out everything in my yard, before going to Florida, but the day after my lesson with Leadbetter I had sore muscles up and down both sides—making it clear to me that what I did with him was different from what I'd been doing at home. But I do agree that the book is a powerful tool, and that any player who reads it thoughtfully will gain from it. "It's not like you have to swallow the whole bottle," he told me, as he helped me get my wrists into position during my backswing. "You can take a few of the pills. And there isn't one part of it that anyone can actually overdo."